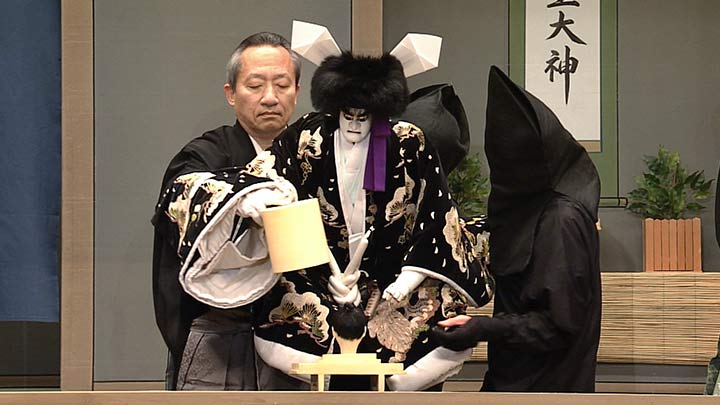 The National Bunraku Theatre 
The National Bunraku Theatre 
In Japan, you may know that Noh and Kabuki are some famous forms of theatrical traditions in Japan. The third great theatrical tradition in Japan is Bunraku which is a sophisticated form of puppet theatre. Bunraku first developed in the 17th century in Osaka and was developed as a form of entertainment for the common people. One of the most famous places where you can view Bunraku today is in Osaka's Nippombashi district at the National Bunraku Theatre.
(picture source: https://en.japantravel.com/osaka/national-bunraku-theater-osaka/17012)
So if you are still wondering what Bunraku is it is a complex puppet performance blended with musical accompaniment and also a chanted narrative. The puppets used for the performance are handcrafted with beautiful costumes that are elaborately decorated and has many moving parts so that they are able to give a full range of expression. The size of the puppet is very large and requires about three people to operate one puppet.
(picture source: http://traditionalkyoto.com/culture/bunraku/)
The puppeteers are surprisingly visible throughout the entire performance and the person who narrates the performance chants and sings the story but is also the voice of the puppet characters. So the narrator will change his speech and intonation based on the gender, age and social ranking of the character. Most of the stories that are performed are historical plays about revenge or romantic tales.
There is a tragic love story set in Osaka that is said to be very much like Shakespeare's Romeo and Juliet called the Love Suicides of Sonezaki. Bunraku was recognized as being extremely important by the Japanese government in 1955 and was therefore designated an Intangible Cultural Property. Then it was designated as an Intangible Cultural Heritage of Humanity by UNESCO in 2003.
(picture source: http://www.kotobuki-seating.co.jp/en/cd/app/?C=project&H=default&D=00671)
The National Bunraku Theatre was first built in 1984 as the home of Bunraku in the Kansai area. There is a main hall that has about 753 seats and a smaller hall with 159 seats. The Bunraku performances are mainly performed in the main hall but they also hold traditional Japanese dance performances and other forms of drama in the main hall. Rakugo storytelling and musical performances are performed in the smaller hall. In a year, a total of five Bunraku plays are performed and sometimes they hold an introductory event of Bunraku for overseas visitors which is all explained in Chinese, French, English, Spanish and Korean. There are audio earphone guides in English available for Bunraku performances for 700 yen.
The National Bunraku Theatre also has a small restaurant which serves Japanese meals and other refreshments. There is even an exhibition rooms which you can enter for free that displays puppets, photographs, costumes and videos of performances.