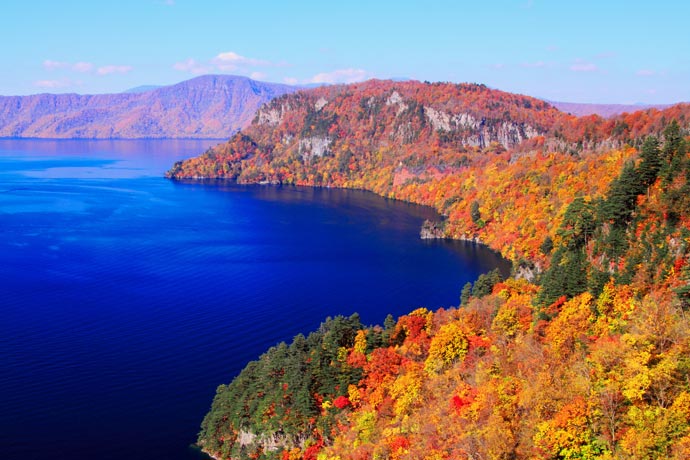 Things to do in Aomori
Aomori Prefecture has many famous tourist location such as the Hirosaki castle and the Oirase Stream as it is surrounded by nature. Nebuta festival is also one of the most well known festivals in Japan that takes place in the Aomori prefecture. Aomori is almost most famous for growing some of the most delicious apples in Japan. It is a prefecture that is often overlooked by tourists but if you have time or any interests in the prefecture it is definitely worth the visit.
(picture source: https://japan-magazine.jnto.go.jp/en/1706_towada.html)
There are many recommended sights in Aomori but some of the top include the Nebuta house, HIrosaki Castle, Lake Towada, and Oirase stream. At the Nebuta House, also known as Wa Rasse in Japanese, shows the history and the most charming points of the Nebuta festival which has long been a very famous festival in Japan. The Nebuta Festival often only takes place during the summer but the Nebuta House is open all year long allowing you to get a bit of the Nebuta festival experience at any time during the year. And if you are in Japan for the cherry blossom season then visiting the Hirosaki castle should be on your list of places to visit. There are over 2,600 cherry blossom trees that are planted around the castle and has become a popular place for tourists to visit during cherry blossom season.
(picture source: https://japan-magazine.jnto.go.jp/en/1706_towada.html)
If you want to get away from the busy and rushed life of Tokyo and experience all the beautiful nature filled areas that Japan has to offer then Aomori is the place for you. Lake Towada is absolutely stunning and when fall arrives you get to see the beautiful yellow, red and orange coloured leaves and when summer comes it turns into a beautiful luscious green colour. Another Natural beauty you'll want to see while in Aomori is the Oirase strea which is a mountain stream that flows from the Oirase River. It then flows through towards Lake Towada and all the way to Yakeyama.
(picture source: https://matcha-jp.com/en/3970)
Using the shinkansen from Tokyo you can reach the Shin-Aomori station in about 3 and a half hours which makes for a great place to go to for a weekend getaway if you run out of things to do or just want to get away from the busy life of Tokyo.
If you are looking to rent a pocket wifi device or a prepaid SIM card make sure to check the Genki Mobile website at the following link: https://genkimobile.com/