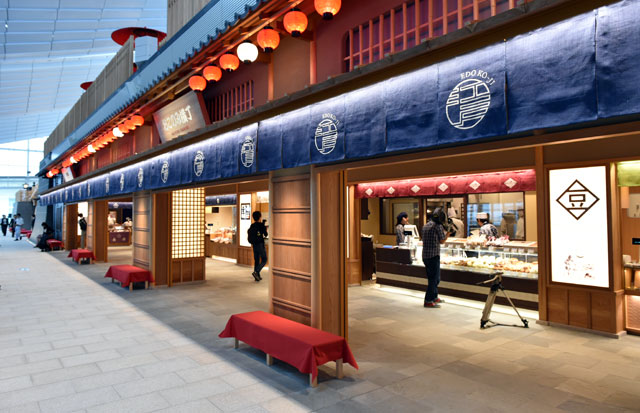 Things to do at Haneda Airport
Things to do at Haneda Airport
Haneda Airport is definitely one of the busiest airports in Japan and also one of the busiest in the world. Most International flights land at Narita airport but a lot also land at Haneda airport and to be honest it would be more convenient to go to Haneda airport than Narita airport because Haneda airport is much closer to the city.
If you are waiting for your flight back home or you're waiting for your flight to go somewhere else in Japan then i'm sure you'll want to explore at the airport. There are a few interesting things to do at Haneda airport so if you are interested then keep on reading.
(picture source: https://release.co.jp/r/39508/)
One thing that you can do is dine at the Planetarium cafe. It is a planetarium dome covered in around 40 million stars which run for about 3 to 15 minutes. The cafe is open from 7:30am to 2pm and there are lots of options on their menu. There is a bunch of different pastas to choose from and also coffee and tea. If you want to go to a cafe that's a bit different then this is worth checking out. From 2pm to 5:30 pm is when you can sit down and enjoy the constellations. After 5:30 pm the cafe is turned into a bar that serves cocktails and desserts.
(picture source: http://www.dfsa.jp/shop12/shop02/)
Another thing that you can enjoy while killing time is retail therapy. There are lots of different shops at Haneda and so if you are looking for some last minute gifts to buy your friends and family then there are lots of places that you can get gifts. You can buy the famous Tokyo Banana which is a banana shaped cake with banana custard inside. You can also find kit kats of every flavour. You can also find lots of Japanese cosmetics and other quirky Japanese gifts.
(picture source: http://www.dongjinggonglue.com/gouwu/dianpu/1631.html)
And of course there is a Hello Kitty store right in the airport. It is an outlet store that is stocked full of all the cutest Hello Kitty gifts. You can find Hello Kitty dolls, Hello Kitty shaped snacks and a whole bunch of other goodies. So if you are Hello Kitty lover then this is your heaven and i'm sure you will love to check it out.
(picture source: http://panco.blog.jp/archives/4871192.html)
(picture source: http://www.aviationwire.jp/archives/44733)
If you are at Haneda Airport you will definitely want to go over the Haneda Nihonbashi Bridge. This bridge is symbolic in Japan as it was the bridge that connected the two banks of Nihonbashi River since 1603. Once you come across the bridge you can walk around the Edo-koji. The Edo-Koji is a section that was made to look like Japan during the Edo period. The traditional architecture and aesthetics is absolutely stunning. Here you will find a bunch of restaurants where you can grab your last meal before heading back home.
(picture source: https://ameblo.jp/ginza-hakuhinkan/entry-12347893809.html)
If you love Japanese toys or you are traveling with kids who love toys then you will definitely want to check out the Hakuhinkan Toy Park. The Hakuhinkan Toy Park is one of the most well known toy shops in Japan and there is an outlet version of it right in Haneda. There is a huge assortment of toys, characters and anime goods and also a bunch of games that you can buy.
If you are looking to relax before getting on a long flight back home then there is a great Japanese spa that you can go to right in the airport. They offer a variety of different massafes and treatments. Their massages and treatments mix traditional and new Japanese spa techniques that are bound to get you all relaxed.
(picture source: https://search.yahoo.co.jp/image/search?ei=UTF-8&fr=lmd_poi&p=%E7%BE%BD%E7%94%B0%E7%A9%BA%E6%B8%AF%E5%9B%BD%E9%9A%9B%E7%B7%9A%E3%82%BF%E3%83%BC%E3%83%9F%E3%83%8A%E3%83%AB%20TIAT%20Sky%20Road)
Another thing that you can do is explore the TIAT Sky Road which is a corridor that features all the different airlines that outline the future possibilities for air travel. You can even experience going on a flight simulator to see what it's like to be a pilot.
So now that you know what exactly there is to do at Haneda airport now you don't have to sit around for another few hours before boarding your long flight back home. There's no excuse to be on your phone! Go explore everything you can at Haneda Airport!
If you are interested in renting a pocket wifi or a prepaid SIM card during your trip to Japan then make sure to check out the Genki Mobile Website: https://genkimobile.com/