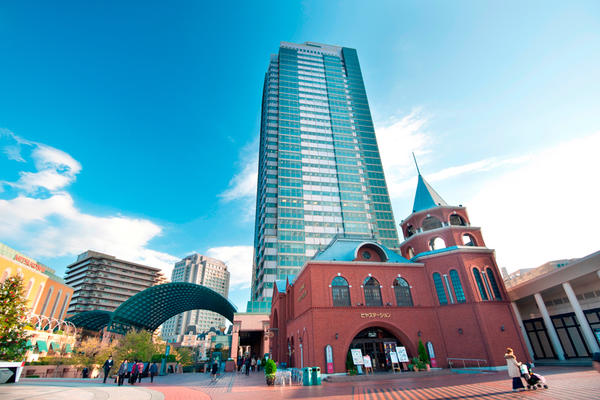 Things to do in Ebisu
Ebisu is a place you must go to if you are a foodie. It has some of the most delicious foods to offer in the area but there are other things that you can see and do in Ebisu. Ebisu is also located very close to Shibuya so if you are traveling to Shibuya make sure to stop by Ebisu as well.
(source: https://www.enjoytokyo.jp/shopping/spot/s_13012115/)
One of the most famous places in Ebisu is the Ebisu Garden Place. It is only a three minute walk away from the Ebisu station and so it should be the very first spot that you visit in Ebisu. This area has lots of buildings, skyscrapers, a department store, restaurants, shops and the Westin hotel. The Chateau Restaurant Tailvent Robuchon is located in this area as well and is famous for being a three star Michelin Restaurant. You can also visit the Photography Museum and the Museum of Yebisu Beer.
And during the Winter time there is a huge Christmas tree that is put up and decorated with a long red carpet that is laid out. The Ebisu Garden Place is one of the most famous illumination locations to visit. The illumination takes place around the beginning of November to the beginning of January.
(source: https://www.nippon.com/en/views/b07411/)
As I mentioned above you can find the Tokyo Photographic Art Museum is located right in the Ebisu Garden Place. There are lots of exhibitions that have an interesting cultural and artistic value and so it is a great place to go with a partner or friends. There are lots of photographies from Japan and abroad that they have on display and each one has an explanation of it's background.
(source: https://www.tripadvisor.com/Attraction_Review-g1066456-d320614-Reviews-Museum_of_Yebisu_Beer-Shibuya_Tokyo_Tokyo_Prefecture_Kanto.html#photos;aggregationId=&albumid=101&filter=7&ff=26096535)
If you like beer then you can learn all about the Yebisu beer at the Museum of Yebisu Beer  which displays the history and origin of the beer. At the end of the museum you can also experience a yebisu beer tasting. And the best part is that the tour around the museum is only 500 yen and this includes the cost of two beer tastings.
(source: https://cosmosjapaneselanguageschool.com/2016/02/18/ebisu-yokocho-恵比寿横丁/)
Ebisu Yokocho is another famous place located in Ebisu. It is a very popular place to grab a drink and something to eat for a very cheap cost. There are a bunch of small restaurants under one roof and all of the tables are placed close together so you can easily make friends while having drinks. You can also hop over from one restaurant to another as it is a small area and they all have different kinds of foods.
(source: http://jpninfo.com/6213/imamiya-ebisu-shrine-1)
In Ebisu there is a shrine called the Imamiya Ebisu Shrine. And to be honest it is not the most popular shrine to visit as it is not the most aesthetically impressive shrine. However, it does have major significance and it has history. It was first built in 600 and has the Ebisu deity enshrined along with other Shinto gods. The Ebisu deity is believed to be responsible for commercial prosperity.
And for those of you who are foodie's you should look on a website called tabelog which lists all of the most delicious restaurants. You'll find restaurants of all types of cuisines. Some of them are super trendy and others are very traditional Japanese looking. You can find a lot of cafes in the area as well and popular bubble tea shops.