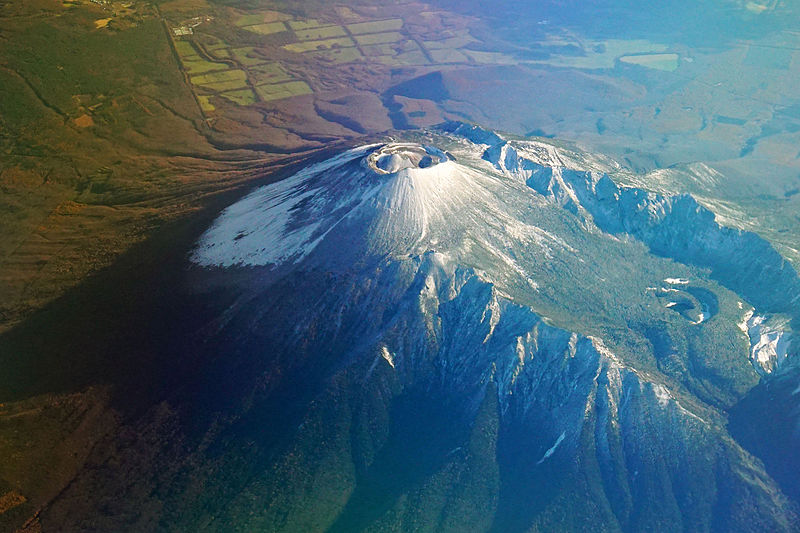 Things to do in Iwate
Iwate Prefecture is located in the northeastern part of Japan. It is full of nature and has some of the best Japanese cultural sightseeing you can do in Japan. There are a lot of great places that you can go to in Iwate and so here are some of my most recommended places to go in Iwate.
(picture source: https://ja.m.wikipedia.org/wiki/%E3%83%95%E3%82%A1%E3%82%A4%E3%83%AB:151101_Mt_Iwate_Japan02bs.jpg)
The first thing that I would recommend seeing is Mount Iwate. It is about 20,38 meters high and is listed as being one of the 100 most beautiful mountains in Japan. In Morioka city you can see the Mount Iwate from pretty much anywhere. If you would like to hike up Mount Iwate there is a lot of information at the Tourist Information Centre so if you're interested then make sure to check it out. Some of the routes to go up are easy but there are some difficult routes as well.
(picture source: https://www.jalan.net/kankou/spt_03301cb3520079823/)
Another popular places to visit is the Koiwai Farm which is most famously known for producing most of the dairy products sold in Japan. It first opened up in 1891 and with 3,000 hectares of land it is said to be the largest private owned farm in Japan. During the winter time, many people come to the farm to enjoy the snow festival. And during the winter festival the entrance fee is free. They have a few different products that you can try right here on the farm and that is the beef and their ice cream that is made with their fresh milk. They also have some of the most delicious omelettes made from their fresh eggs.
(picture source: https://sophiesjapanblog.com/2017/06/22/take-me-to-ryusendo-cave/)
In Japan, you can find some of the greatest limestone caves and one of them can be found right in Iwate and it is called the Ryusendo Cave. It is said to be one of the 3 most amazing limestone caves in Japan. The lake that runs in the cave is said to be a clear beautiful blue colour. There are four different lakes in the lake that are some of the most crystal clear lakes that you can find in the world. If you want to go to the Ryusendo Cave make sure to bring protective clothing and proper walking shoes because it will be about 10 degrees in the cave and there will be a lot of stairs that you need to go up and down.
(picture source: https://allabout-japan.com/en/article/1025/)
If you are looking to go to a beach while you are in Iwate then one of the beaches that I recommend going to is Jodogahama Beach. This is one of the most beautiful local beaches that you can go to in this area. This beach has beautiful white sand and there are clear calm waters but there are some pretty rocky areas so be careful when going in the water. The great thing about this beach is that there are showers, restrooms, shops and a boat rental service too.
(picture source: https://digjapan.travel/ko/spot/id=6948)
If you are in Iwate then you must go to the Fujiwara Heritage Park. If you want to learn more about what it was like in Japan during the Heian period then this is a great place to go because it is a huge historical theme park of the Heian period. It is a 20 hector park with so much to do including looking at the temples, dining at the restaurants and shopping at their shops. There are also a bunch of activities that you can enjoy like wearing a samurai armour, painting clam shells, trying out samurai style archery, and wearing a kimono from the heian period. This theme park has been used as a filming location for countless dramas, movies, commercials and music videos.
(picture source: https://www.trekearth.com/gallery/Asia/Japan/Tohoku/Iwate/Iwate/photo448030.htm)
If you are in Iwate you will want to try Wanko Soba which is a unique style of soba noodles from the Iwate Prefecture. Traditionally, with wanko soba you are given a small amount of noodles in your main bowl. And then once you are done another serving is brought to you. A popular competition that is often held is the Wanko Soba challenge which you see how many bowls of Wanko Soba you can eat.
If you are interested in renting a pocket wifi or prepaid SIM card during your trip to Japan then make sure to check out the Genki Mobile website : https://genkimobile.com/