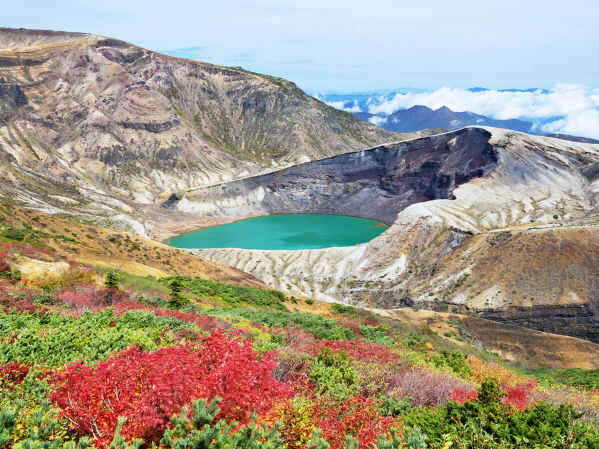 Things to do in Yamagata
Yamagata is located in the Tohoku Regios and is known for having an abundance of natural beauty. It is also very well known for agricultural products like rice and cherries. It also has some of the most popular hot springs which is also one of the most prized possessions of each town and village. There are so many great places that Yamagata has to offer so if you are interested make sure to keep on reading!
Some of the recommended sites include the Uesugi Jinja Shrine, Mount Haguro, The Sankyo Storehouses, Studio Sedic, Ginzan Onsen, Zao Peaks, Zao Onsen and Akayu Onsen.
(picture source: https://www.odigo.jp/spots/10734-uesugi-jinja-shrine-yonezawa-shi)
The Uesugi-jinja Shrine is where Uesugi Kenshin, a warlord most well known during the Warring States Period and who was also the founder of the Yonezawa Uesugi clan, is enshrined. In 1923, it was rebuilt after it was unfortunately burnt down by a fire. This shrine is most visited by people at the very start of the New Year, for getting married, and making prayers. This Shrine is located about 10 minutes by bus fron the Yonezawa Station.
(picture source: https://en.wikipedia.org/wiki/Mount_Haguro#/media/File:Hagurosan_Gojunto_2006-A.jpg)
Another great location to visit is the Mount Haguro. Mount Haguro for mountain worshippers is a place of holy land as it is known to be the gateway to the Dewa Three Mountains. The five story pagoda that is located on Mount Haguro is also considered a National treasure.
(picture source: https://www.tripadvisor.com/LocationPhotoDirectLink-g1023683-d1397236-i265106926-Sankyo_Soko_Storehouse-Sakata_Yamagata_Prefecture_Tohoku.html)
The Sankyo Storehouses is famously known for storing grain for more than a century. There are about 12 storehouses in all and even a museum and gift shop. The Sankyo Storehouses is about a 15 minute walk away from the JR Sakata Station.
(picture source: http://www.tohokuandtokyo.org/spot_209/)
Studio Sedic is an outdoor movie studio where a lot of movies are filmed. Although it is an outdoor studio it is also open to the public so fans of movies that have been filmed here can get to see what the set looks like in real life.
(picture source: https://matcha-jp.com/en/4099)
The Ginzan Onsen is a popular hot spring town that makes you recall an era of times past. There is even an old fashioned clothing store at the entrance of this hot springs town where you can rent Japanese clothing so that you can have a much more authentic experience while you are here.
(picture source: http://www.tohokuandtokyo.org/spot_60/)
Zao Peaks is right between the border of Yamagata and Miyagi prefectures. There is a beautiful Crater Lake at the very top of Mount Katta-dake and there are also tons of beautiful alpine plants growing in the Natural botanical garden of Zao.
(picture source: https://tabijikan.jp/2016/08/21/24858/)
Zao onsen which is located on the mountainside of the Zao peaks, is also another extremely popular hot springs area. Zao onsen is also famously known for using the highland spring water which is approximately 800 meters in altitude. It is also an extremely popular skiing area in Japan so many people will go skii and also enjoy the onsen during the winter season.
(picture source: https://www.gotenmori.co.jp/english/bathing-img.html)
Akayu Onsen is yet another popular onsen area in Yamagata and is famous for people going spa hopping. The town is surrounded by many orchards so you can enjoy the natural goodness of this area.
If you are interested in renting a pocket wifi or a prepaid SIM card during your visit to Japan then make sure to check out the Genki Mobile website: https://genkimobile.com/