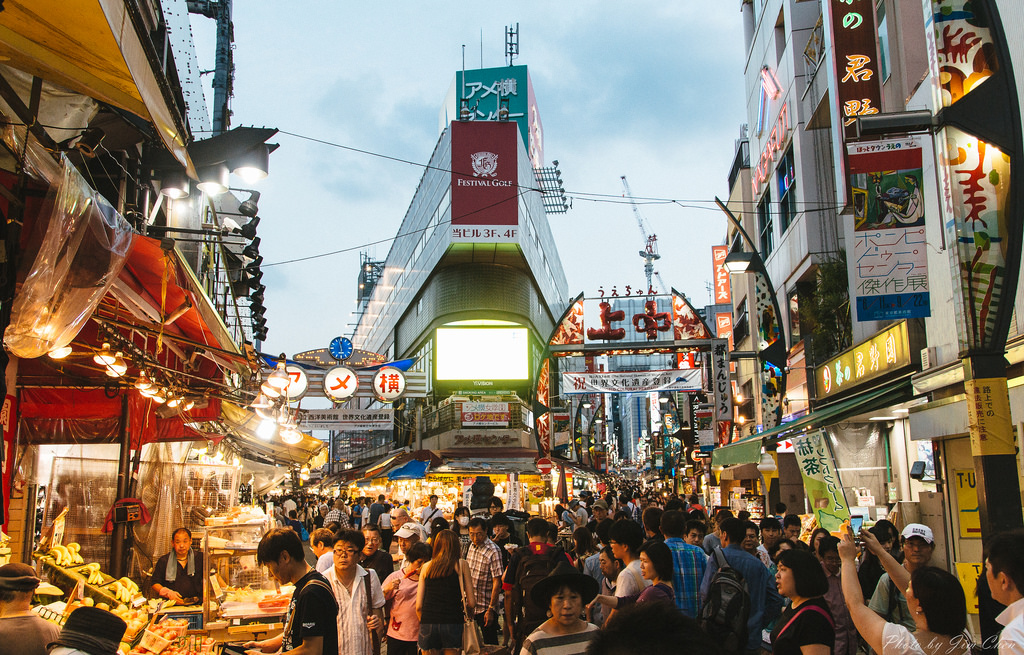 Things to do near Ueno Station
Things to do near Ueno Station
Are you staying near Ueno station during your stay in Tokyo? Well, here are a few things you can do that are near Ueno station.
1. Ameyoko (Ameya Yokocho) Shopping Street
(picture source: Jim 陳 <a href="http://www.flickr.com/photos/40593439@N00/30517179412″>IMG_6138</a> via <a href="http://photopin.com">photopin</a> <a href="https://creativecommons.org/licenses/by-nc-sa/2.0/">(license)</a>)
Ameyoko which is short for Ameya Yokocho (candy store alley) was originally an area in which candies were traditionally sold. In the following year after World War II, it became like a black market where a lot of the American products were being sold and therefore it was named "Ame" which stands for "America".
Today, there are various products being sold from clothes, cosmetics, fresh fish, spices and sportswear. It is said to be a place where you can bargain and therefore it is very popular amongst tourists and locals.
The stores along Ameyoko typically open around 10 am and close around 8pm. And on selected Wednesdays many of the stores remain closed throughout the whole day.
2. Ueno Park / Shinobazu Pond
(picture source: inefekt69 <a href="http://www.flickr.com/photos/23409752@N08/45609515111″>Ueno Park – Tokyo, Japan</a> via <a href="http://photopin.com">photopin</a> <a href="https://creativecommons.org/licenses/by-nc-nd/2.0/">(license)</a>)
Within walking distance of Ueno station you will find a beautiful park and the Shinobazu bond. Here you can rent a row boat (700 yen for 60 minutes or 300 yen for 30 minutes), cycle boat (600 yen for 30 minutes), or swan shaped boat (700 yen for 30 minutes).
The open hours vary depending on the month:
From April through July: 10am-6pm
July and August: 10am-6:30pm
September: 10am-6pm
October: 9:30am-5:30pm
November: 9am-5pm
December: 9am-4:30pm
January: 9am-5pm
February and March: 9:30am-5;30pm
*Please note that the pond will be closed on Wednesdays from December through February.
3. Ueno Zoo
picture source: http://www.air-home.jp/fdetail/17666/
Ueno Zoo first opened on March 20th, 1882, making it one of Japan's oldest zoo. The zoo has over 400 species which is more than any other zoo in Japan. Many of the animals at Ueno Zoo were received from abroad. In 1972, Ueno received their very first giant panda from China. And since then, they have been cooperating with Beijing Zoo and San Diego Zoo in breeding giant pandas. Ueno Zoo has a five storied Pagoda and tea ceremony house that was given to the Tokyo Metropolitan Government and was assigned to be managed by Ueno Zoo. The pagoda was built in 1631, however, it was destroyed by a fire and then rebuilt in 1958. The tea ceremony house was built in the 17th century as a place where the Shoguns could be entertained. The Pagoda and tea ceremony house gives the zoo a beautiful and unique Japanese touch.
4. Toshogu Shrine
picture source: http://fc2mcchu.blog.fc2.com/blog-entry-36.html
The Toshogu Shrine was built in 1627 in memory of Tokugawa Ieyasu, who was the founder of the Tokugawa Shogunate. Unifying all of Japan's feudal domains and forming the basis of rule during the Edo period, Tokugawa Ieyasu became one of the most famous warriors in Japanese history. The shrine was rebuilt by Tokugawa Iemitsu in 1651.Tokugawa Iemitsu was Tokugawa Ieyasu's grandson and the 3rd Tokugawa Shogun. The shrine became the representative of the Edo period architectural style.
5. Nezu Shrine
Over 1,900 years ago, Nezu Shrine was established by Yamato Takeru no Mikoto, a legendary priest. Nezu Shrine was later relocated from Sendagi to Nezu during the Edo Period by the 5th shogun Tsunayoshi. Tsunayoshi did this in order to commemorate Ienobu as his successor. And Nezu-jinja shrine was chosen as the guardian deity by the 6th shogun Ienobu.
If you are looking to rent a pocket wifi device or prepaid SIM card please visit the following link:  https://www.genkimobile.com/