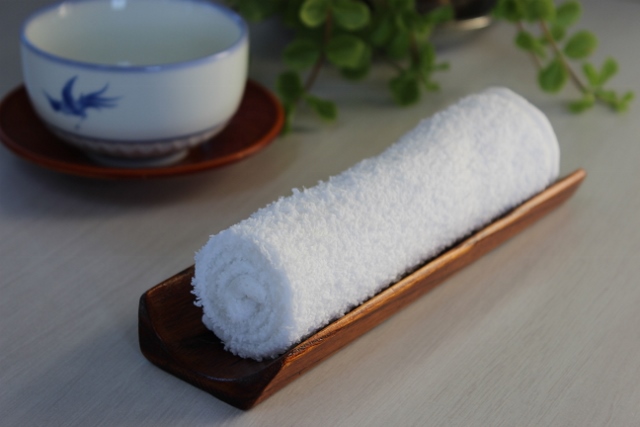 Things you will only see in Japan
Things you will only see in Japan
The longer you live in Japan the more normal things become. But if you have never been to Japan there will definitely be a lot of things that will be a culture shock. And here are some of the top things that I can think of that you will only see in Japan. I'm pretty sure that in most countries you will not see a lot of these things.
(picture source: http://www.j-towel.jp/?p=342)
One of the most unique but nice things that all restaurants in Japan do is that they had out something called an oshibori when you arrive at your seat. This is a warm wet towel that is given to you before you order to clean your hands before having a meal. Not all restaurants do this but a lot do. It's great because you can sanitize your hand without having to get up to go to the bathroom to wash your hands. So it is a very kind omotenashi thing that Japanese restaurants do for their customers. There is a saying in Japan that the customers are Kami which means that the customers are like gods. This is because without the customers they would not be able to make a profit. So no matter what they treat their customers with the best service they can possibly give.
(picture source: http://www.dannychoo.com/en/post/25903/Japan+House+Name+Plates.html)
In Japan, you will see that most houses and apartments have a nameplate. This nameplate has the last name of the family that is living there. So when people go to the house or if a delivery is being made people know that it is the right house. Because a lot of houses don't have an address so it can be hard to know if you are a at the right place so people will usually look at this nameplate.
(picture source: http://www.chinanow.jp/2013/05/06/article3974/)
Japan is also known for love hotels. These are hotels where people can rent a room for an hour or just a couple hours to do as they please. Every city usually has a district with love hotels lined up row after row. To people who aren't aware that it is a love hotel it may just look like any hotel but people who do know of love hotels will know right away that it is a love hotel.
(picture source: https://www.jalan.net/news/article/114904/)
Another thing that is different that you will only see in Japan is capsule hotels. This is definitely a very unique hotel. It is usually meant for a cheap stay meant for a single traveler. It basically has all the basic necessities that you need with the most needed amount of space. It is often also divided into men and women areas so that women feel safe to stay alone in a capsule.
(picture source: http://honyakualfa.blog.fc2.com/blog-entry-77.html)
Japan also has some of the most interesting toilets you will ever see. There are so many different functions on a Japanese hotel and often times they are not used because there are so many different functions. You will also find that almost all toilets/bathrooms will make certain noises such as the sound of running water or the sounds of birds chirping. This is because Japanese people find the sound of urinating is a bit embarrassing so they turn this noise on to cover up the sound of them urinating.
(picture source: http://www.iworks-bio.com/tissuekubari-baito/)
If you walk around the streets in Japan I'm sure you will come across a lot of people handing things out. A lot of times they are advertisements for new restaurants or maybe a new product but then you will also see a lot of people handing out little packs of tissue. This is also used for advertising so the package will usually have the name of the company that is advertising and whatever service or product that they are advertising. This is a way to create part time jobs and people who find these pocket tissues useful will take the tissue packs. People are more likely to take these tissue packs as they can stick them in their bag and use them when necessary.
(picture source: http://kaigainohannoublog.blog55.fc2.com/blog-entry-857.html)
Hopefully it doesn't happen but if you do ever lose anything during your trip to Japan the possibility of you finding it is pretty high. In most countries this is definitely not the case. In fact, I would probably not even try looking for it because there's a good chance that you will not ever get it back. I don't want to get your hopes up too much but if you do lose something you do have a good chance of getting it back. But it also really depends on where you lose it as well. Say if you lost something on the train or at a convenience store or a department store. Then I would say you can expect to get it back. If you lose it at a club then the chances of you finding your lost item is pretty low. But i've definitely lost my phone or wallet either on the train or dropped on the way somewhere and it has also been returned back to the police station or to the store I was at.
(picture source: https://epole.exblog.jp/5780368/)
Another thing that will be shocking is the number of vending machines that Japan has. It's almost ridiculous the amount of vending machines that are lined up one after another. And a lot of them sell the same drinks as well. There are obviously other interesting vending machines that sell other things as well but for the most part it is all the same stuff. I can say that even though I have lived in Japan for years now it is still hard to get used to seeing the amount of vending machines there are.
If you are interested in renting a pocket wifi or prepaid SIM card during your trip to Japan then make sure to check out the Genki Mobile website: https://www.genkimobile.com/