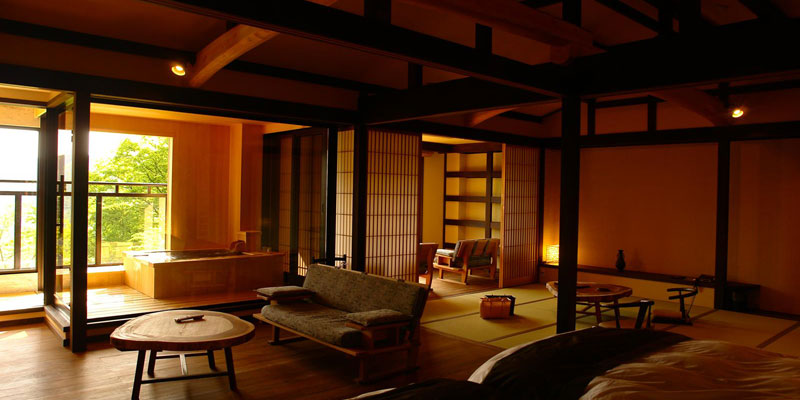 Top Hotels in Hakone (Part 3)
Top Hotels in Hakone (Part 3)
If you haven't read part 1 and part 2 of Top Hotels in Hakone then make sure to check those out as I've listed a bunch more hotels that you can choose from when you plan your trip to Hakone.
In the Tounosawa region of Hakone is the Ichinoyu Shinkan Hotel. It is in a slightly hilly area so the hotel is surrounded by greenery. And it is only a 10 minute walk away from the Hakone Yumoto station which can be easily reached from Shinjuku station in Tokyo. The lobby of the Ichinoyu Shinkan is designed with beautiful stain glass and they serve some of the most exquisite seasonal dishes at the hotel restaurant. The onsen at this hotel is very modern and elegant which is unlike most onsens at the other hotels in Hakone. It is a very European like onsen as it has tall ceilings and stained glass. Some of the rooms at the hotel also have an open air onsen. And you can reserve to have a massage in your own room.
(source: https://gorahanaougi.com/english/)
Gora Hanaougi Hotel gives all of its guest a fantastic view of the surrounding nature. There are five different rooms that you can choose from which all have a Japanese style wooden design. Both breakfast and dinner is served in your room and they are all full course Japanese meals. The water of the onsen here is said to be good for muscle fatigue, nerve pains, joint pains and more. You can go to two of the open air baths that they have. You can also choose rooms with private open air onsens.
(source: https://www.tripadvisor.jp/Hotel_Review-g298171-d1165492-Reviews-Hotel_Harvest_Hakone_Koshien-Hakone_machi_Ashigarashimo_gun_Kanagawa_Prefecture_Kanto.html#photos;aggregationId=101&albumid=101&filter=2)
Harvest Hakone Koushien is a hotel located in the Sengokubara area and is surrounded by mountains. It is located right by the Hakone Lalique Museum so it is very convenient which means it is a great location for you to be able to go exploring. The onsen at this hotel is located on the top floor of the hotel. There are indoor baths, open air baths, a Jacuzzi and there is also a sauna. There are also free massage chairs in the lounge that all the guests can use.
(source: https://www.laforetgora.com/en-us)
Laforet Club Hakone Fora Yunosumika is a hotel that has a very modern style yet has a very Japanese feel to it and is located in the Naka Gora area which is a quiet area rich with greenery. There is a restaurant available and a souvenir shop where you can purchase Hakone souvenirs. There are forty four rooms available in which 24 of them have a private open air bath. If you are on vacation with your dog there are 6 rooms available that allow dogs. There is also a communal bath which is said to be good for muscle fatigue and for the skin.
(source: https://www.odakyu-travel.co.jp/eng/search/faci.php?faci_cd=4635009010)
Tenseien Hotel is famous for the Tamasudare Waterfall that is located right within the hotel compound. And their onsen uses a mixture of three different natural springs to create a unique kind of onsen. The open air onsen provides a view of the natural landscape of Hakone and at night you can see all the stars in the sky.