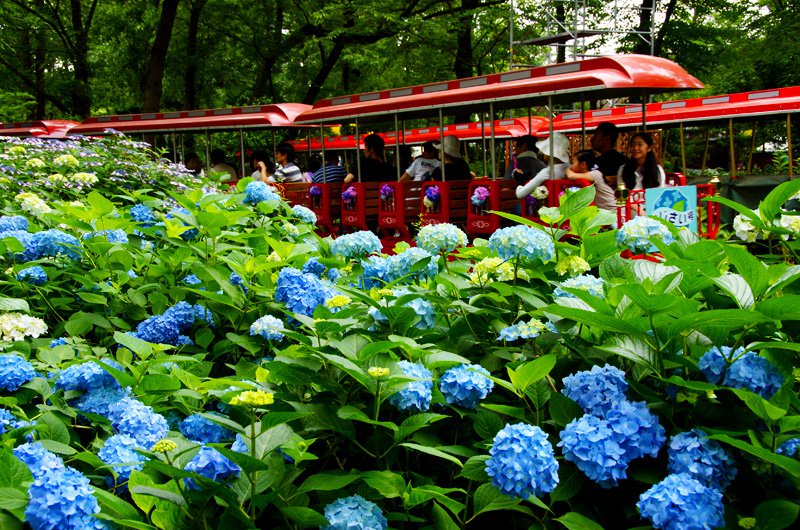 Top Hydrangea Spots Around Tokyo
Top Hydrangea Spots Around Tokyo
In Japan, my least favorite time of the year is the rainy season. I'm sure a lot of you guys can relate because rainy days often are gloomy and they kind of put a damper on my day. But luckily rainy season also means that it's hydrangea season and this makes rainy season so much more bearable.  You can spot hydrangea flowers here and there around the neighbourhood but there are a few places in Tokyo that are filled with hydrangea flowers that you have to check out!
(source: http://ellegirl.jp/article/ajisai-hydrangea-tokyo-neighbour-170530-hns2/node_98130/)
One of the places that I would recommend going to is Takahatafudoson Kongo-ji. This is a temple from the Shingon sect in Hino, Tokyo. In the Kanto area it is believed to be one of the oldest temples. This temple is located near the Takahatafudo station and there are over 250 types of hydrangeas that are planted in the area. So rather than walking around and looking for hydrangeas in the neighbourhood if you go to the Takahatafudo station you are bound to see tons of beautiful hydrangeas.
(source; http://picbear.online/media/1805139391578836018_6256513015)
Near Shin-Koenji station in Suginami there is a temple called Horinouchi Myoho-ji and it was a temple that was once just as famous as the Sensoij Temple during the Edo period. The contrast of the hydrangeas and the historic building is absolutely stunning and there are just no words that can justify the beauty of it. So you'll have to go and see for yourself.
(source: https://www.instagram.com/p/BVtKkmDl2Hx/)
Near Hakusan station there is a shrine called the Hakusan Shrine that dates back to the Tenryaku Era which was from 947 to 957. In June, they hold a Bunkyo Hydrangea Festival which has become very popular over the last few years.
(source: https://girly.today/14608)
In Nerima, the Toshimaen Amusement Park holds a hydrangea festival every year and there is a beautiful illumination that takes place here during the hydrangea festival as well. Toshimaen Amusement Park is only a short walk away from the Toshimaen Station.