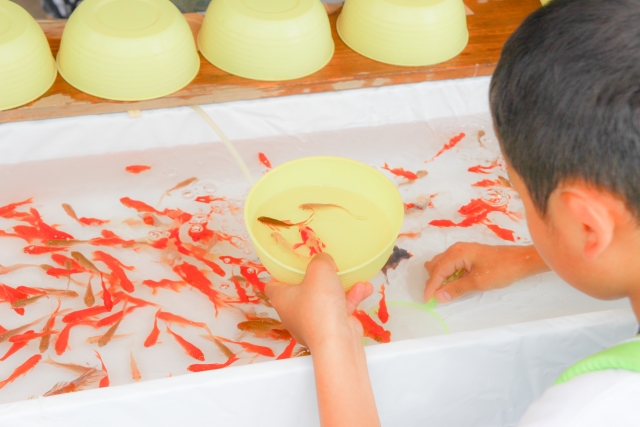 Traditional Japanese Festival Games
Traditional Japanese Festival Games
If you go to a Japanese Festival it is like no other festival that you have been to before. It is really exciting with so much to see, do and eat. There are a bunch of different festivals throughout the year and depending on the festival there are different events that occur. In my opinion the summer festivals are the best. And there are lots of festivals that take place during the summer. There are also lots of fireworks festivals that take place as well.
During the summer festivals you'll find that there are parades, dances, food stalls and also games. Not all festivals have games but if you go to one that does have games it is a great experience. These are all traditional games that have been played in Japan for a very long time. There are many different games that you will see in Japan. Most festivals will just have a few of these.
(source: https://tropica.jp/2017/10/11/post-7124/)
One very popular game that you will often see at festivals is Kingyo Sukui which means goldfish scooping. With this game you'll see a big pool with a bunch of kingyo fish in water and you will usually pay the person running this game a certain amount of money to play the game. Then you will be given something called a poi which is a tool with a thin washi paper. The rule is simple you can keep scooping until the washi paper breaks. It is actually a lot harder than it looks as soon as the washi paper hits the water it breaks very easily. Once you try it it may seem impossible but it definitely is not impossible there are just certain techniques to it. To see how hard is it make sure to go and try it at a festival!
Kingyo Sukui is a very popular game but what has become much more popular is the super ball sukui. The reason why this has become more popular is because with the kingyo sukui most people don't have water tanks and so they don't have anywhere to put the fish and also because these fish often tend to die quickly. So instead of taking fish home it just makes it a lot easier to have kids take home a bouncy ball. It basically works the exact same way that the kingyo sukui does. And just as hard.
(source: https://news.mynavi.jp/article/20130814-a147/)
Another game that is very similar to the kingyo sukui and the ball sukui is the Ningyo sukui. This again is just like the ball sukui and kingyo sukui. It works the same way and the rules are the same. The only difference is that instead of a fish or a ball that you scoop up and take home it is a doll. A lot of these dolls are popular characters like from Disney, Pokemon or an anime.
(source: http://www.psmile.com/omatsuri/ennichi-yoyo.html)
Yo-yo tsuri is another favourite game that kids like to play at festivals in Japan. For this game, you will usually find a bunch of balloons floating in a kiddie pool and then you will be given a string of paper with a hook on the end of it. With the hook that you are given you are to try to hook the elastic band attached to the balloon with it. If you're able to scoop up the balloon without having your hook rip then the balloon is yours to keep. You could say that this is another game that is very similar to the ningyo sukui, ball sukui and the kingyo sukui.
There are actually a few other popular games that you will come across at these festivals in Japan so for information about the games make sure to check out the second blog on this topic.