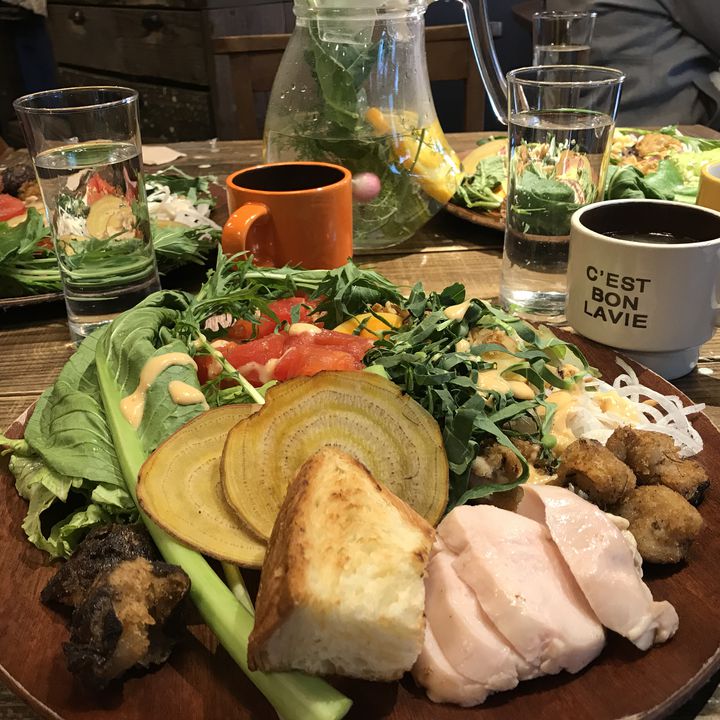 Trendy Cafe/Restaurant Ebisu
Trendy Cafe/Restaurant Ebisu
We are the Farm (Ebisu)
There are a few different We Are The Farm cafes located in Tokyo but the one in Ebisu is different compared to the other shops. The interior is designed perfectly and they have a nature theme going on. Their tables and chairs are made from wood and you are surrounded by a bunch of plants. So you can relax and enjoy a healthy lunch with your girlfriends.
(source: https://retrip.jp/articles/103995/)
At We Are The Farm, there are plenty of healthy options on their menu. They use the freshest vegetables that are all grown right in the Chiba Prefecture. They use vegetables for all of their main dishes and even their desserts so it is a great place to dine if you are on a diet and still want something sweet to eat.
(source: https://www.value-press.com/pressrelease/208182)
Every dish is so colourful that you'll want to take a picture of your food. We Are The Farm is a place where you can enjoy not only the taste of the food but the visual appearance of it as well.
Shirononiwa
Shirononiwa is a great place to stop by if you are looking for a place to have lunch near Ebisu station. The concept of this cafe is Ebisu no Paradise which translates into Ebisu's Paradise. This cafe was produced by Seiji Nishihata who is a plant hunter traveling the world for all sorts of different plants.
(source: https://ameblo.jp/sweets-minister/image-12339732871-14099764956.html)
Shironiwa is a cafe that serves ethnic cuisine made by the popular French Bistro Shilo in Hiroo. Their ethnic dishes use a lot of spices and herbs.
(source: http://www.instagub.com/tag/%E3%82%B7%E3%83%AD%E3%83%8E%E3%83%8B%E3%83%AF)
They even have a special party plan starting from 2,500 yen per person and you can make reservations up until noon of the day you want to have the party. Because of how beautiful this place looks it is often used for company parties and also wedding parties.
Burger Mania
Sometimes we go to a different country and at first we eat all the local food that we can. But then we get sick of eating all of the local food and just long for a fat juicy burger. Well if you are looking for a good burger place in Ebisu that is also very instragram worthy then make sure to stop by Burger Mania. Burger Mania is extremely popular that it is known to have many famous Japanese celebrities visit it.
(source: https://press.chiku-wa.jp/spot_910/)
The food is great and the interior is very photogenic. Which is great for those who are looking for a place to photograph for your instagram or blog. Their burgers taste amazing. Try the burger first without dipping it in ketchup to taste how juicy the patty is.