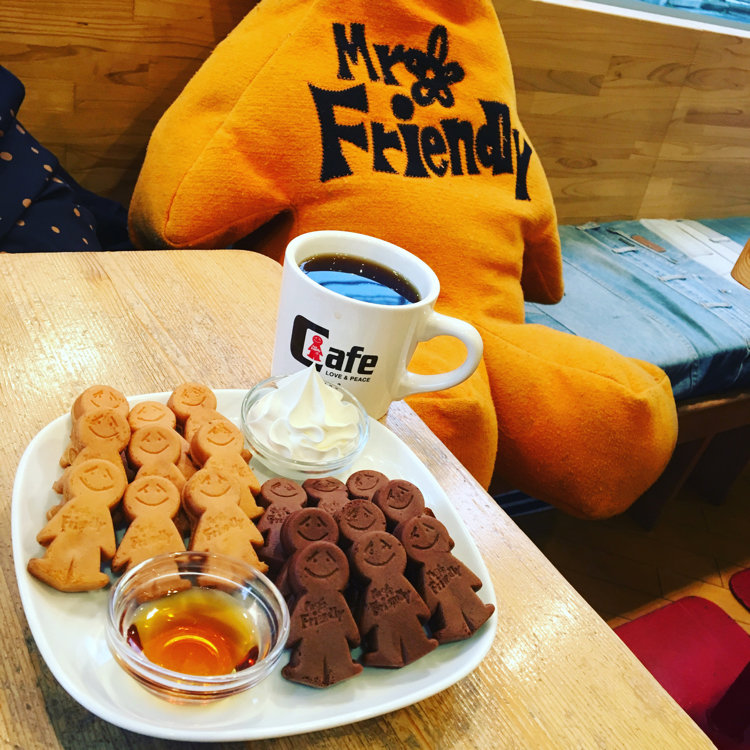 Trendy Instagram Worthy Cafes in Daikanyama (Part 1)
Trendy Instagram Worthy Cafes in Daikanyama (Part 1)
Daikanyama is an area located right beside Shibuya. It is considered to be an area filled with fashionable clothing stores and trendy cafes. Many of these trendy cafes not only serve delicious foods but they are also great places to get shots for your instagram.
Mr. Friendly Cafe
(source: https://co-trip.jp/article/113240/)
The first cute spot that I found in Daikanyama is Mr. Friendly Cafe. This was a popular character that was born in Japan. And so this shop has all the character goods which can only be found at the Mr. Friendly Cafe. And a part of the store is also a cafe.
(source: http://www.mrfriendly.jp/main/02_shop/)
The Mr. Friendly Cafe has a lot of cute photo spots outside and also inside of the shop. Lot's of people take picture outside and inside of the cafe to post on their SNS accounts like instagram and over time it became known as an instagram worthy cafe.
At the Mr. Friendly Cafe, there most popular foods on the menu is their pancakes and parfait. They are both very cute looking and decorated with the Mr. Friendly character. Their pancake can be taken to go so even if you're in a hurry you can just pop by to get their pancakes to go.
Maison De Reefur
The second cute spot that I found in Daikanyama is Maison De Reefur. This shop was produced by a popular model named Rika. As she is model she is committed to her clothing line which can be purchased at this shop. There are also many other goods that you can find at Maison De Reefur.
(source: https://www.maisondereefur.com/en/webshop/shop)
Inside of Maison De Reefur, there are tons of cute photo spots. At the entrance you will see the cute neon logo sign which is where everyone likes to take pictures. This place is so popular amongst young women that you will for sure run into someone in Daikanyama holding the Maison De Reefur bag.
(source: https://travel.navitime.com/en/area/jp/spot/02301-1406181/)
On the second floor of Maison De Reefur, you will find the Glou Glou Reefur which is the cafe by Maison De Reefur. As you can take things to go, it's a great place to stop by to get a drink for when you walk around Daikanyama.
Curly Collection
The third cute and trendy shop on the list is a place called Curly Collection. Curly collection is a handmade brand that has been in business for over 30 years. It is a shop where girls are bound to find goods that they will love.
(source: https://curlycollection.jp/about/)
This shop is filled with so many cute things that it will make you want to visit this shop every time you visit Daikanyama. And the great thing about this place is that it is only a three minute walk away from the Daikanyama station.
The moment you walk into the store you will feel as though you walked into a very girly girl's room. You can also find some of their handmade goods on their online shop so if you're interested go take a look!
Futsuni Furutsu
Last on the list is a place called Futunifurutsu. This is a relatively new shop that opened up in Daikanyama about two years ago. It is by the same company that opened up the very popular Bread and Espresso shop.
(source: https://www.herenow.city/tokyo/venue/futsu-ni-fruits/)
Futsunifurutsu is most popular for their fruit cake sandwiches. Bread and Espresso on the other hand is known for having very delicious bread. Both of these shops are so popular they are often brought as gift to friends, family and coworkers.
(source: https://www.herenow.city/tokyo/venue/futsu-ni-fruits/)
Both the Futsunifurutsu shop and their fruit cake sandwiches are very photogenic and is a great spot for doing an instagram photoshoot. The fruit cake sandwiches are so popular they are known to sell out quickly so it is recommended to go a bit earlier in the day.