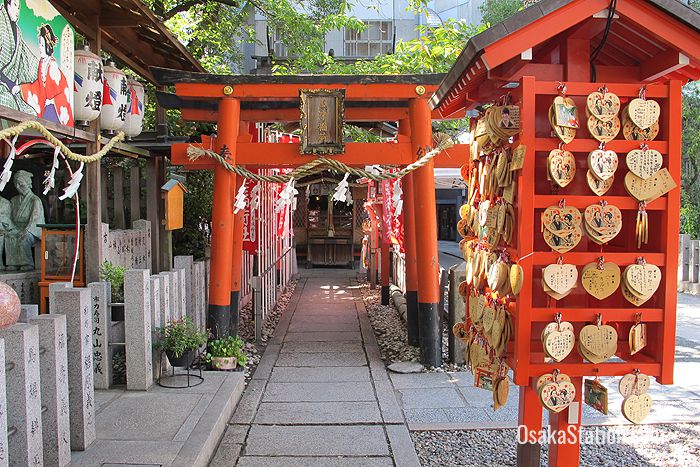 Tsuyu-no-Tenjinja Shrine (Ohatsu Tenjin)
Tsuyu-no-Tenjinja Shrine (Ohatsu Tenjin) 
The Umeda area is known for having a guardian shrine which has become known as the Tusyu-no-Tenjinja Shrine. It is believed that this shrine first founded over 1,300 years ago on an island which used to be a marshy bay at the time. However, today it stands at the end of the shopping arcade in the famous Ohatsu Tenjindori Shotengai which has a bunch of cheap eateries, bars and shops as well as other entertainment.
(source: https://alchetron.com/Sugawara-no-Michizane)
Suguwara Michizane was a great Heian era scholar who wrote a poem in which the shrine takes its name after. In 901, Michizane came to the shrine to write a poem after he had been exiled from Kyoto's Imperial court. The poems goes along something like this:
dew falls
with tears my sleeve
is soaked
when I think back
on Kyoto
Tsuyu is the Japanese word for dew and after Michizane's death he was deified into the Shinto pantheon as the god of learning, Tenjin. That is why the shrine has become called the Tsuyu-no-Tenjinja or also called Tsuyunoten.
(source: https://japanesestation.com/ohatsu-tenjin-tempat-bunuh-diri-yang-menjadi-tempat-suci-bagi-pasangan-kekasih-di-osaka/)
But today, the shrine is known for a tragic romantic love story. The shrine is a key setting of The Love Suicides of Sonezaki which is a bunraku puppet play.
(source: https://www.yelp.com/biz/曽根崎心中-ブロンズ像-大阪市)
The Love Suicides of Sonezaki is about two star-crossed lovers named Ohatsu and Tokubei who both committed suicide at the shrine in 1703. Ohatsu was a geisha and Tokubei was an apprentice trader and they both fell deeply in love. In the play, the story goes that the two were forced to be apart because of pressure from their families, financial misfortune and the betrayal of a friend. But because they were so in love they were not able to be apart from each other. So they decided to meet at the shrine and commit suicide.
The full story can be read at the shrine which has become popular amongst young couples and for people who are seeking true love. People write their prayers on an ema praying for a successful love. The shrine is also sometimes called the Ohatsu no Tenjin, after the heroine of the story, and on the grounds of the shrine you can actually find a love sanctuary.
At this shrine you can even buy an ema and draw the face of a geisha on it and pray for beauty. Many young women are seen doing this. In 1945, the shrine was once destroyed as a result of the bombing raids. But in 1957, it was rebuilt and restored to the way it once was.
The shrine holds a flea market on the first of every month. Many antiques, second hand clothing, and second hand household goods are sold at this flea market. You can definitely find something that is unique here as a local souvenir. There is a Reitaisei summer festival that takes place on the third Friday and Saturday of July where there are drumming performances, lion dancing, parasol dancing and a parade through the area of Umeda.