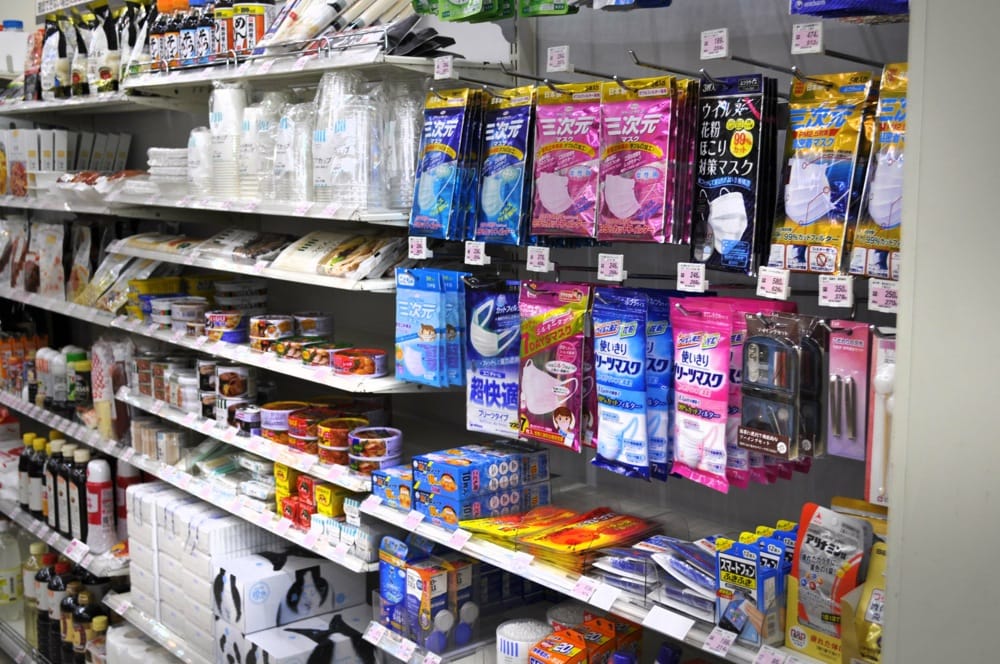 Types of Stores/Shopping Area in Japan
Types of Stores in Japan/Shopping Areas
If you are planning to do some shopping in Japan then you'll probably want to know some of the different types of shops and shopping areas that there are. While walking around you will most likely encounter some of the following types of shops:
Department Stores
In all major cities, you are bound to find department stores and especially at any major station you will see that there are huge department stores. Department stores in Japan are known for having brands that are high end products. So this is where you are likely to find more of the foreign international clothing and cosmetic brands.
2. Electronic Stores
There are a bunch of chain electronic stores that you'll find all across Japan. At some of the main stations in Japan you'll find that these electronic shops are HUGE. There are just floors and floors of all kinds of electronic products. Some of the chains electronic shops include: Yodabashi Camera, Bic Camera, and Yamada Denki. In the Tokyo area some of the biggest electronic shops are included at places such as Shinjuku, Ikebukuro, and Akihabara. If you are looking for products to buy though I would definitely go to Akihabara because they have the most amount of tax free products and they have goods that are specifically for international customers.
3. 100 Yen Shop
If you know of Daiso then you will know that Japan has some of the best 100 yen shops. They have 100 yen shops everywhere and they have some very good products available.
4. Convenience stores
There are a lot of convenience stores all across Japan and when I say a lot I mean A LOT. Especially in the major cities it is almost not possible to not find one. Walking through the city you will always encounter at least a few dozen convenience stores. Some of the major ones that you will find walking around are Family Mart, Lawson, 7/11, and New Days. The convenience stores are indeed very convenient and actually have some pretty decent food. You can even find ATMs and other ticket machines. You can buy alcohol, cigarettes and a lot of convenience stores will provide the most basic things like shampoo, makeup, sunscreen, etc.
5. Shopping Malls
Shopping malls can be found in the countryside and sometime in the city as well. Usually big shopping malls will be a bit further away from major cities but there are some that you can easily access. These will have clothing stores, restaurants and food courts inside. Some will usually have a movie theatre and arcades as well.
6. Shopping Arcades
Shopping Arcades are very common and can be found in many places all across Japan. It will usually be found in larger cities. These are basically shopping arcades that are older and a very nostalgic area. There are lots of shops on in the shopping arcade areas. Usually shops that have been there for a long time but now many of these old shops have closed down and newer shops are in.
7. Underground malls
Underground malls are very common especially under where train stations are. They will usually have many different clothing shops that are in at the moment and there will be lots of cosmetic shops, food shops, coffee shops and so on. Tokyo and Osaka have some of the largest underground malls in all of Japan.
8. Temple and Shrine shopping street
There are lots of shops and restaurants that are lined  up near temples and shrines. They are there to cater to any of the passing tourists and pilgrims. One of the most famous example of this would be at the Sensoji Temple. You will see shop after shop lined up. There are places that sell food, drinks, souvenirs, snacks and more at these shops. There are also many many restaurants in the area where you can go enjoy a meal.
9. Public Markets
If you go to public markets in Japan you will find the freshest vegetables, seafood and meat available. There are also lots of shops with food that is prepared using these fresh vegetables, seafood and meat. These public markets tend to open early and close early so if you are planning to go to one then it would be best to go early. A good and famous example of a public market would be the Tsukiji fish market in Tokyo. Also, as the Tsukiji Market is scheduled to move you should move further away which means that it will be harder to access you should definitely make sure to check it out before it becomes harder to access.
10. Flea Markets
If you love flea markets then you will love the flea markets in Japan because they do have some of the best stuff there. You will find all sorts of stuff at flea markets including art, crafts, antiques, traditional goods, clothing, and Japanese style weapons. They will also have lots of different things like plates as well and they have some of the most beautiful traditional looking Japanese plates that you can take home with you or bring home to your friends or family as a gift.
11. Outlet Malls
Outlet malls will be found usually further away from the city. Some can be accessed by train and others will be much harder so you'll likely have to take a bus or car. If you go to some of the ones that are further away they will have high brands like Prada, Toms, Gucci, Louis Vuitton and so on. They do usually have a pretty good bargain available especially if they are doing a sale on top of the discounted price. One of the most popular chain outlet malls is the Gotemba Premium Outlet. There are so many different shops that you can shop at that it would probably take more than a day to go through if you wanted to go to every single shop. The Gotemba outlet mall also has a very fabulous view of Mount Fuji on a clear day.