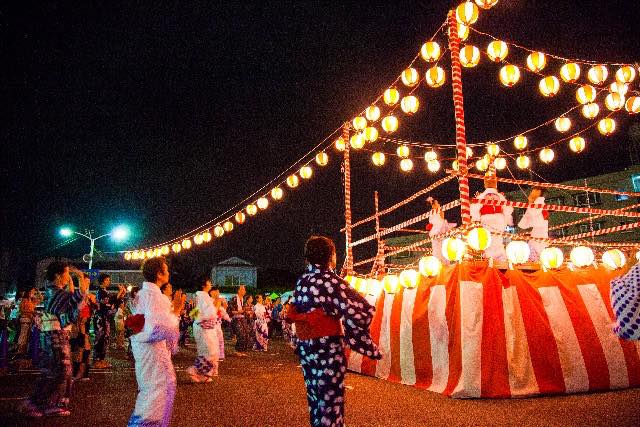 What is Obon?
If you are going to Japan during the summer season then I'm sure you've read some blogs that have mentioned to avoid going to Japan during the Obon season. But then you're probably thinking what is Obon? And why does it get so busy during this time?
(picture source: http://corocorostyle.net/season/3majorbonfes/)
Well to answer your questions, Obon is basically a festival to celebrate and remember the ancestors. This is a Buddhist event and it takes place sometime around August 13th to August 15th. And the reason why it gets so busy is because obviously people are off work and the shinkansen gets insanely crowded because everyone goes back to the countryside where they either grew up or go to visit their grandparents and parents. It is basically the time to go back and be with family. These family reunions are held as a way to welcome back the spirits of their ancestors that return to the world during this time ad fires are lit at the entrance of the house and lanterns are placed in the river to help guide the ancestors back to this world.
(picture source: http://sateasia.net/theme/?p=621)
There are a few different traditions during Obon. And one of them is the Bon Odori festival. This involves a dance called bon dancing and it is a festival/dance that is takes place to send the spirits of the ancestors back to the after world. Usually for the Obon festival there is a Yagura stage put up and then there are paper lanterns, which in Japanese is called Chochin, that are used to decorate the area. Then on the stage there are usually drums that are used to beat during the dance. The dance is very simple and pretty much anyone can follow along. It's a great way to enjoy good dancing and good food with friends and family.
(picture source: http://nanikatotameninaru.com/2640.html)
Another tradition is Obondama and this is a lot like Otoshidama where you are given money from your parents, grandparents and other relatives during the New Year. So instead of being given money during the New Year this is given during the Obon season. It is pretty much pocket money given the children and grandchildren to help them enjoy their summer vacation. The obondama was something that started in the Yamagata Prefecture during the Edo Period. But during this time instead of giving money they would be given socks and geta, which are Japanese style wooden clogs. During the Showa-Period this turned into pocket money instead of socks and geta.
(picture source: http://www.takashimaya.co.jp/shopping/gift/summergift/FA16262/)
Ochugen is basically gifts that are given to your superiors to thank them for everything they have done. This is an annual custom in the summer. It doesn't have to be anything big but usually people will send food, beverages, household items, gift coupons or alcohol. It is a way to show your appreciation for their support. It is best to send these gifts before Obon so that they can eat/drink it during the Obon break.
(picture source: https://sk-utorix2.com/903.html)
Another custom is Shochumimai which is basically a greeting card that is sent to your close friends or colleagues or relatives. Usually in this greeting card you wish them good health during the hot summer season. You can easily buy special post cards for this at the book store or at the post office.
These are just some interesting facts to know about Obon and the customs as this is something specific to Japan. And i'm sure that all the talk about Obon made you curious.