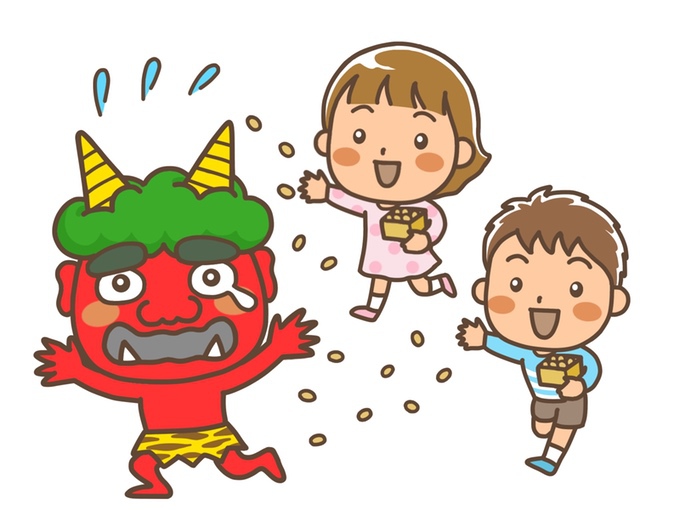 What is setsubun no hi?
Setsubun no Hi is a holiday that is celebrated annually on February 2nd, 3rd, or 4th. It is a traditional event that marks the official beginning of spring and this is according to the Japanese lunar calendar. It is believed that the best way to mark the beginning of Spring is to scare the evil around you by throwing beans.
So when exactly did this tradition begin? It is said that this event dates back centuries but the tradition of throwing beans to bring out the evil and bring in the good fortune was something that emerged in the Muromachi period. The beans are said to be a representation of vitality and are thought to purify the home by driving away any evil spirits that are in the house.
(picture source: https://free-webdesigner.com/setubun-fi)
Today, families will celebrate setsubun no hi by throwing roasted beans out the front door or a family member (usually the father or other male member of the family) will dress up as a demon and the children will throw roasted beans at the demon. While the family members throw the beans at the demon they will chant "Oni wa soto! Fuku wa uchi!" and this translate to "Demon get out! Bring the good fortune in!". There are also public Setsubun celebrations that take place at temples across Tokyo and the rest of Japan so you are welcome to join those as well.
(picture source: https://mamari.jp/3185)
Another thing that you are supposed to do when celebrating Setsubun no Hi is eating the same number of roasted beans as your age plus an additional one for good health.
(picture source: https://inaba-afiri.com/ehoumaki-matome.html)
There are also other things that you eat on setsubun no hi like eho-maki. This is a special sushi roll that you can make at home or buy at a local supermarket or convenience store. And there is a certain way that you need to eat this eho-maki. Every year there is a lucky direction and on this day you get an eho-maki and turn to the lucky direction of the year and finish eating it in silence. By doing this it is said that you are to have good luck.
There are major setsubun festivals that take place around Tokyo. So if you are interesting in seeing what these festivals are like then make sure to check them out!
(picture source: http://osusumeotoku.com/setubun-mamemaki-event-tokyo/)
Zojoij Temple holds one of the biggest Setsubun festivals in Tokyo. Every year there are celebrities, politicians and sumo wrestlers that will come to the festival at the Zojoji Temple to celebrate. Thousands of people join this event and there is a huge battle for catching beans that take place that is said to be very fierce.
(picture source: https://twitter.com/HATOBUS_JP/status/818760514314465281)
There is another big setsubun festival that takes place at Naritasan Temple. It is said that around 40 thousand people visit this festival every year. And about 860 kg of beans are thrown. Like at the Zojoji Temple, celebrities and kabuki actors join this festival.
(picture source: https://www.oideyo-tx.com/article/1453)
Asakusa Sensoji Temple also hold a setsubun festival every year but it is done a bit differently at this temple. Here they chant oni wa soto, fuku wa uchi and they also hold a lot of different events at the same time at this temple. So you can go take a look around and join whichever event looks most interesting to you. However, the most popular event that takes place at this temple is of course the bean throwing event. Sensoji also has many celebrities that join this bean throwing event every year.
If you are interested in renting a pocket wifi or prepaid SIM card during your trip to Japan then make sure to check out the Genki Mobile website: https://www.genkimobile.com/