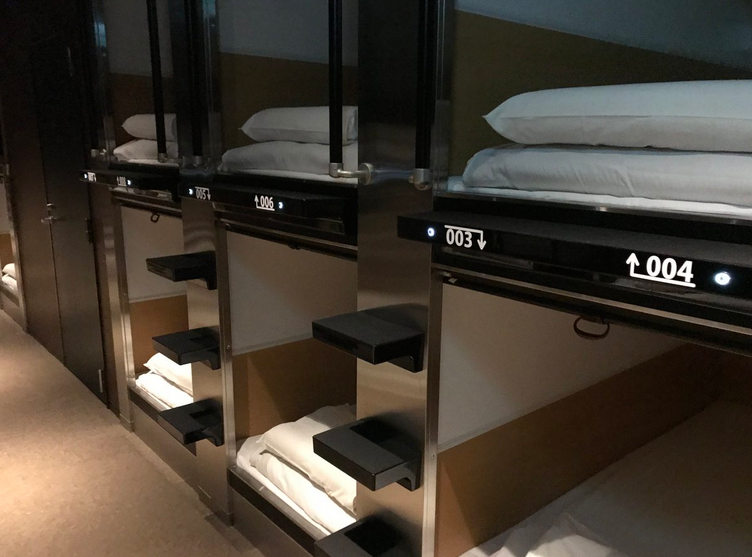 What to know when staying at a capsule hotel
What to know when staying at a capsule hotel
The very first capsule hotel opened in the Umeda district of Osaka in 1979. It was designed and built to represent the future of business lodging. Now you can find these capsule hotels all over the city welcoming tourists and business people.
(picture source: https://www.fashion-press.net/news/gallery/10802/191472)
A capsule hotel is designed in an economical and convenient way for tourists and people on business trips could stay for a cheap price in a convenient area. There are capsule rooms that are lined in a row on a large floor. There are usually two ranks one above the other and each room provides the guest with enough room to sleep. Some capsule hotels provide each guest with a small TV in their room.
(picture source: https://photoguide.walkerplus.com/guide/gu91/?lang=ja-JP)
Usually a capsule hotel is meant to just offer sleeping space and communal bathing facilities but some other capsule hotels offer meals, massages, games, and laundry machines. These may cost an additional cost but it may also be included in the cost to stay depending on the capsule hotel that you go to.
Capsule hotels are pretty cheap and they are typically around 3,000 yen to 4,000 yen. But with the growing popularity of capsule hotels with the growing amount of tourists in Japan the costs of capsule hotels has jumped. But it is still much cheaper than staying at a hotel. Plus there are actually super nice capsule hotels these days that are just as nice as staying at a hotel.
(picture source:https://photoguide.walkerplus.com/guide/gu91/?lang=ja-JP)
The first thing you will need to do when arriving at your capsule hotel is to check-in. This is just like an other hotel. Some capsule hotels will need you to take off your shoes before entering and then you will need to put your shoes in a shoe box. There will usually be slippers laid there for you to wear when you enter.
(picture source: https://photoguide.walkerplus.com/guide/gu91/?lang=ja-JP)
At the reception counter you will need to write down your name, address and contact information in the hotel register and then you will receive the key to your room. You will then pay the fee for your room in cash or with credit card if you haven't paid already.
Once given your key you can head up to the floor where your room is located. Although some places have mixed rooms that allow both male and female. Pretty much all the capsule hotels will have the rooms separated into male and female sections. Some capsule hotels will be for men only so make sure to check this before reserving a room.
There will also be a changing room on each floor so that you can change before going to bed. There are also personal lockers for all of the guests so that you can keep your stuff in the locker. If your luggage is too big for the locker then you can keep it at the reception counter.
Many of the capsule hotels have a large communal bathroom. There is no additional fee to use these facilities but there may be an extra cost for towels and soap but this depends on the capsule hotel.
Not all capsule hotels will have a restaurant/cafeteria. Although there is an increase in really nice capsule hotels now that have a cafeteria area.
When you check out this is just like any other hotel. Bring your key back down to the reception counter and then you will be given your key to unlock the shoe box to get your shoes out.
If you are interested in renting a pocket wifi device or a prepaid SIM card during your trip to Japan then make sure to check out the Genki Mobile Website : https://www.genkimobile.com/