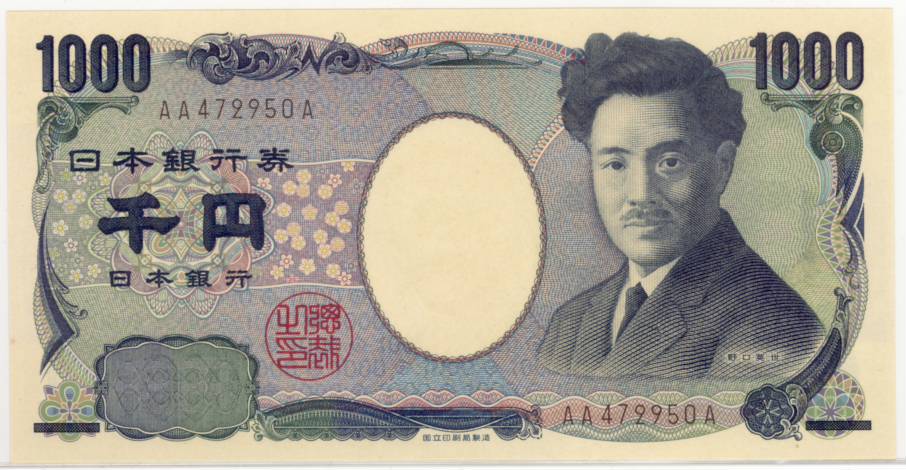 Who are on the Japanese Yen bills?
Who are on the Japanese Yen bills?
Whether you are visiting Japan or you are moving to Japan you may have come across the Japanese Yen bills and wondered who exactly the people on the 1,000 yen, 5,000 yen and 10,000 yen people are. So for those who are curious are all of you questions will be answered below!
(picture source: https://item.rakuten.co.jp/yamabun-r/ba3a0057r/)
On the 1,000 yen bill, is Hideyo Noguchi who was a man dedicated to medicine and was especially devoted to finding a cure for yellow fever. However, while on his pursuit to research the disease in Ghana he had contracted the disease which cost him his life. Although he did not succeed in finding a cure for the yellow fever he had helped make many advances to cure syphilis. He was widely known for his fearlessness but was also known to push his limits as well which had eventually led to him to being careless. His carelessness in his laboratory  he often contracted dangerous pathogens which he often exposed his colleagues to.
Noguchi spent much of his career overseas and only came back to Japan for a few months at a time until he passed away in Africa in 1928. His body now lies in the Woodlawn Cemetery in New York as that is where all of the honorary heroes of the Rockefeller Foundation are buried.
(picture source: http://golddust.jp/higuchiichiyou-1-20140618-takuma/)
On the 5,000 yen note is Ichiyo Higuchi who is also the first ever woman to be put on a Japanese bank note. She was known as being a fantastic writer who wrote many short stories about the trouble of being a young women in the Japanese Meiji era. She became known as one of the most influential female writers in the history of Japanese literary. But in 1896 her life came to an end as a result of tuberculosis. One of her most famous novella which is also known to be one of her masterpiece is the Takekurabe novel which she completed not long before her death in 1895. She was only 24 when she died of tuberculosis.
(picture source: http://www.recordchina.co.jp/b162606-s0-c60.html)
Yukichi Fukuzawa, who is the face on the 10,000 yen Japanese yen note had quite the career. Fukuzawa was a philosopher and cultural critic who has also published many literatures examining the Western ways. Not only was he a critic and a best selling author he also became the founder of Keio University which is one of the top Universities in Japan. Growing up in the Oita Prefecture as a young and poor child he had refused to follow the ways of the feudal system. He therefore decided that for as long as he lived he would keep his state of mind in a neutral state. With this neutral state of mind he was able to critique the transitions of Japan to modernism while also examining the influence that Western culture had on Japan. Fukuzawa learned to speak English and Dutch fluently and took one of the first ships traveling from Japan to America which helped open up Japan to the rest of the world.
If you are interested in renting a pocket wifi or prepaid SIM card make sure to check out the Genki Mobile website at the following link: https://genkimobile.com/