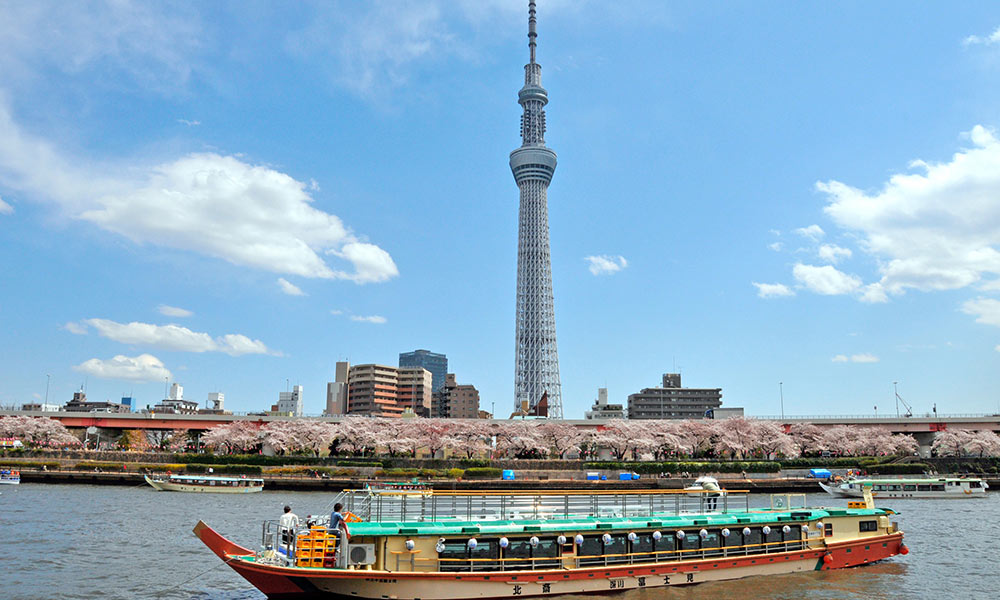 Yakatabune Cruise Tour 
If you are looking for something to do during your trip to Japan or you are in Japan for an anniversary or you simply want to do something romantic with your loved one then the Yakatabune Cruise Tour is the best option for you.
The Yakatabune boats were passed down from the Heian Era through the Edo Era and were decorated very lavishly. There are tatami mats inside and they use low Japanese tables that resemble the upper class Japanese home. So it is very much like a House boat and it was basically used as a way to entertain guests in the old day.
(picture source: http://japan-enkai.com/yakatabune/yakatabune-cruise%EF%BC%9A-route-map-1/)
Today, you can enjoy the sight of the Tokyo skyscrapers and temples while enjoying a delicious Japanese meal. It is a 2 hour dinner cruise which is the best way to enjoy dinner, get great shots and enjoy some special time with your loved one.
The tour includes a traditional Japanese dinner with sashimi, tempura, unlimited drinks including beer and wine and soft drinks, Japanese sake and whiskey. The Dinner menu often differs depending on the season but you can definitely let them know if there is anything you are allergic to or that you don't like to eat.
(picture source: https://japan-magazine.jnto.go.jp/en/1407_boat.html)
The Yakatabune is a very unique wooden Japanese style boat in which you can go on to enjoy a beautiful cruise while enjoying the sight of the city. The Yakatabune is believed to be a boat that was popular amongst the aristocrats sometime between the 8th and 9th centuries. The peak of it's popularity was during the Edo Period in the 17th and 18th centuries when merchants and high ranking samurais would pass time lavishly on these boats.
(picture source: https://www.hisgo.com/pl/Contents/OptionalTour/DetailOptionalTour.aspx?TourCd=TYO0640&lang=ja)
The modern day Yakatabune are now made of more durable materials but all of the traditional details have been kept. For example they have kept the beautiful paper lanterns that are hung from the roof and the inside of the boat is still a tatami floor with low Japanse style tables. There are now many different companies who are operating yakatabune cruise tours.
(picture source: https://www.hisgo.com/pl/Contents/OptionalTour/DetailOptionalTour.aspx?TourCd=TYO0640&lang=ja)
The yakatabune cruise usually lasts for about 2 or 3 hours and you are served with traditional Japanese cuisine. And upon requests you can also ask for a Vegetarian menu. The traditional Japanese cuisine that is served usually depends on the boat company and also the season but there is usually tempura, sashimi, soba and seasonal dishes served.
You can enjoy this cruise either during the day time or at night as well. During the day, and especially on a nice day, the river is calm and the sky is nice and blue and during the night you get to experience a whole other sight with the city of lights being reflected into the river. At night, there are just so many different colours of lights that are reflected into the water it makes you feel as though you are lost in a different world.
There are different ways to enjoy the yakatabune boat cruise during different seasons. It is especially popular during cherry blossom season and also during the summer when there are firework festivals at the Sumida river.
The boat cruise is popular enough as it is so whether you are going for the cherry blossom season/fireworks season or not make sure to book well in advance as the seats will fill up quickly.
If you are interested in renting a pocket wifi or a prepaid SIM card during your trip to Japan then make sure to check out the Genki Mobile Website: https://genkimobile.com/