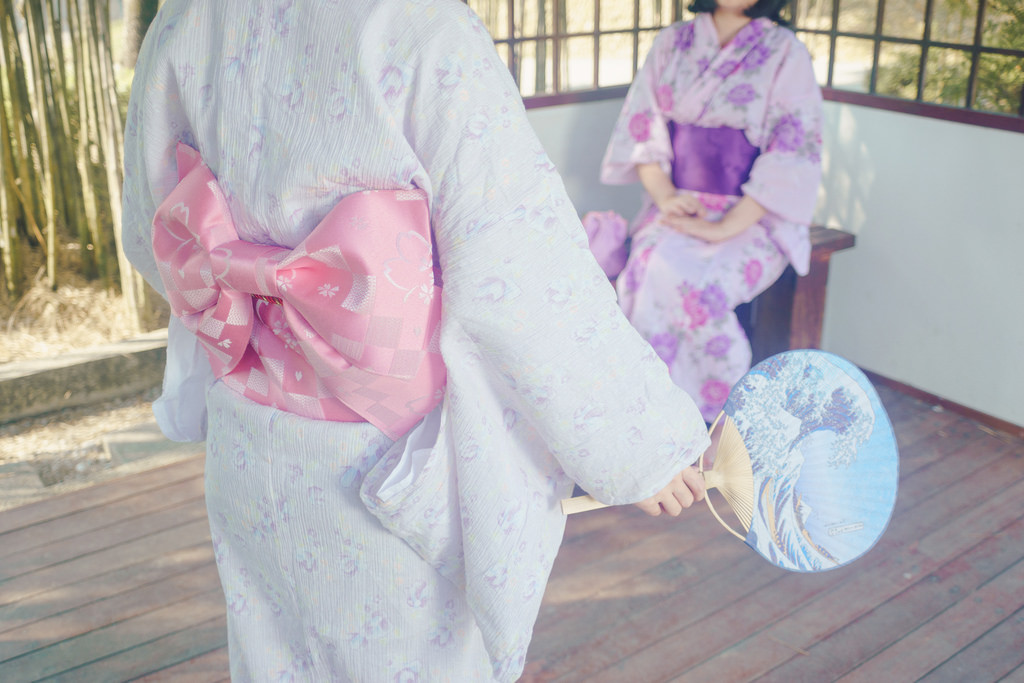 Yukata in Japan
I'm sure that many of you guys know what a kimono is. I'm sure that you've seen many pictures of a Kimono and when you think of Japan this is probably one of the things that you think of. However, most of you probably don't really know what a Yukata is or even if you've heard of it you may not know what the difference between a yukata and a kimono. Kimono and yukata are both traditional Japanese garments that are pretty much full length robes that have long sleeves and are secured with a thick belt looking fabric. There are many different and specific rules as to how these are worn, where they are worn and what style is appropriate for which event.
picture source: bdrc <a href="http://www.flickr.com/photos/30425209@N08/42286718544″>Neko no monogatari</a> via <a href="http://photopin.com">photopin</a> <a href="https://creativecommons.org/licenses/by-nc-nd/2.0/">(license)</a>
A yukata, unlike a Kimono, is more casual and is worn during the summer as it is a lighter and thinner fabric. Kimonos are much older, traditional, thicker and more expensive garments. They are usually made of silk or brocade which is why it is so expensive. The Kimono has an inner layer, outer layer and two different fabric belts that are used to secure the inner and outer layer. Although a Kimono can and is worn year round, with the extremely hot weathers during the summer it is much less common to see people wearing a kimono. Yukatas, on the other hand, are more inexpensive and worn for much more casual events. They are usually made of cotton and are meant to be worn during the summer as the fabric is too thin to be worn during winter. Yukata are often worn by people during summer festivals, fireworks and so on. There are so many affordable and colourful yukatas that you can find pretty much anywhere now. Most households will have yukatas that they own, however, it is less common for households to own kimono as they are very expensive.
picture source: cherrylet <a href="http://www.flickr.com/photos/85508296@N00/14660565453″>Higashiyama District</a> via <a href="http://photopin.com">photopin</a> <a href="https://creativecommons.org/licenses/by-nc-sa/2.0/">(license)</a>
Some of the things that have become very popular amongst tourists are the rental kimono and yukata that are easy and affordable. What these shops will do is let you pick out the kimono or yukata design that you want to wear and then they will get it all ready and help you get it on. They will then do your hair and makeup depending on which pack you decide to go with as they are optional. You can then pick out decorations for your hair and a small handbag to go with your kimono or yukata. You can then go out for the day to go take pictures and do some sightseeing. Some of the most popular areas that this can be done is Asakusa, Kamakura and Kyoto. You will see lots and lots of tourists and Japanese people in their beautiful kimono or yukata taking pictures.
Here are some recommended rental shops that you can go check out:
If you are interested in renting a pocket wifi device or a prepaid SIM card then make sure to check out the following link for more information: https://www.genkimobile.com/