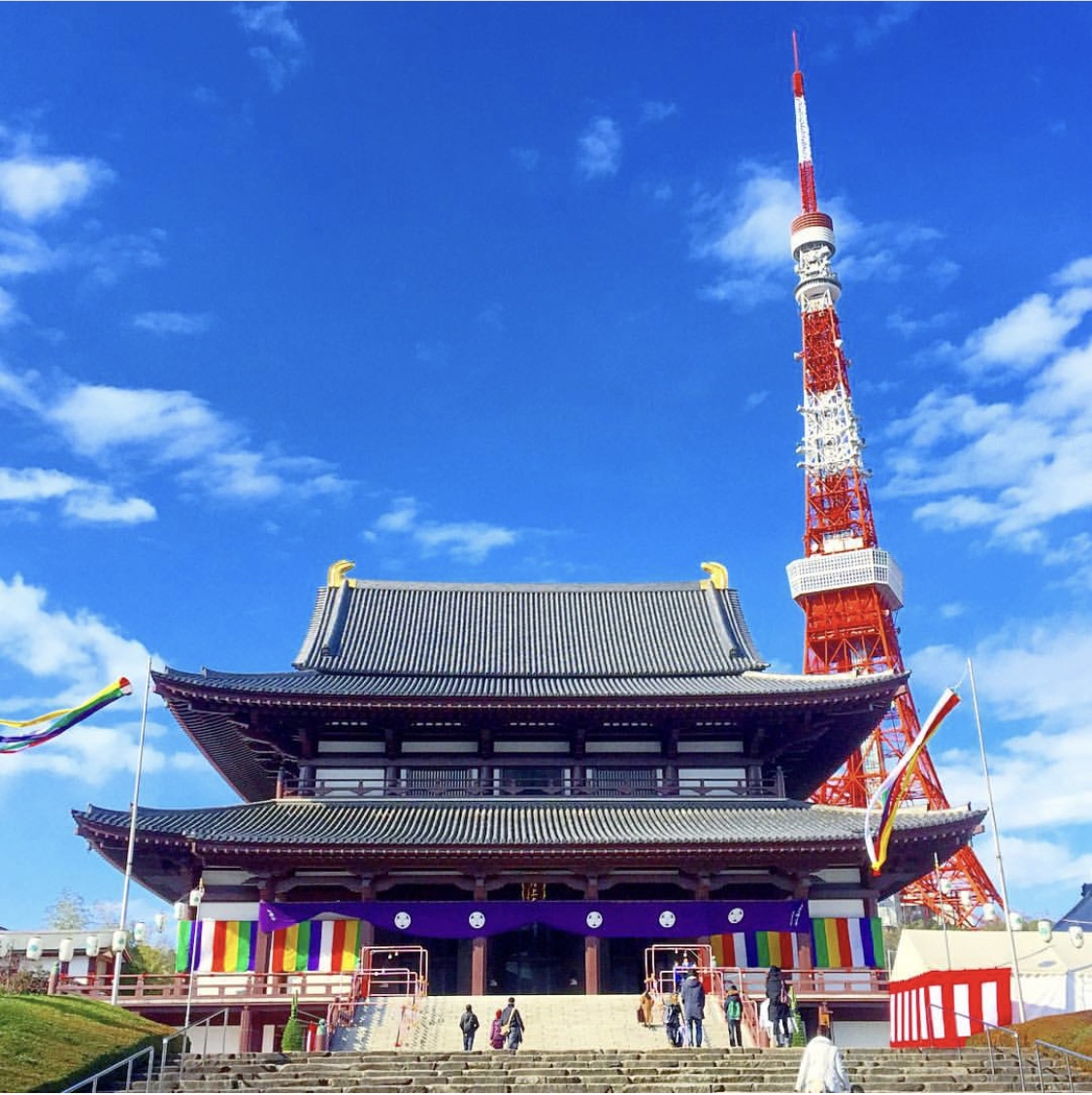 Instagram Worthy Photo Spots in Tokyo: Zojoji Temple
So here's some information about the Zojoji Temple which has without a doubt become one of the most popular tourist destinations in Tokyo.

History:
Zojoji temple is one of the most popular photo spots in Tokyo as it captures both the temple and Tokyo tower in the back. At one point, you've probably seen a picture of this temple on social media as there is really no other view like this. It's a unique and beautiful view that is a must visit when you are in Tokyo.
On the grounds of the temple you will also find the Tokugawa family mausoleum and a small museum. The Tokugawa clan had a close relationship with zojo-ji and therefore six of the Tokugawa shoguns have been buried in the mausoleum in the temple grounds. The Zojoji's main gate is also famous as it is the oldest wooden building in Tokyo. However, the temple itself and the other buildings on the grounds were all destroyed.
In a part of the garden in the cemetery, you will find rows of small statues. These all represent unborn children, either from miscarriages, abortions, or stillborn children. Parents of unborn children can choose a statue in which they can dress or leave small toys with. And usually, the parents are meant to leave small gifts for the Jizo. The Jizo is the protector of unborn children and it is the jizo that makes sure that the child is guided to the afterlife.
Access:
You can easily walk to this temple from Shibakoen station or Onarimon Station. If you are going from Shibakoen station it is about a 7 minute walk. The closest exit is A4 and once you exit turn left. Then you can keep walking straight until you've reached the Sangedatsumon Gate.
From Onarimon station, you can exit from the A1 exit. Once you get out, turn right and keep walking straight until you see the main entrance gate known as Sangedatsumon Gate.
If you are using the JR line then you can exit from the Hamamatsucho Station North Exit then turn left. You should be able to see the Tokyo tower. Keep walking straight until you see the Zojoji gate. Go through this gate and keep walking straight until you see the main entrance gate.