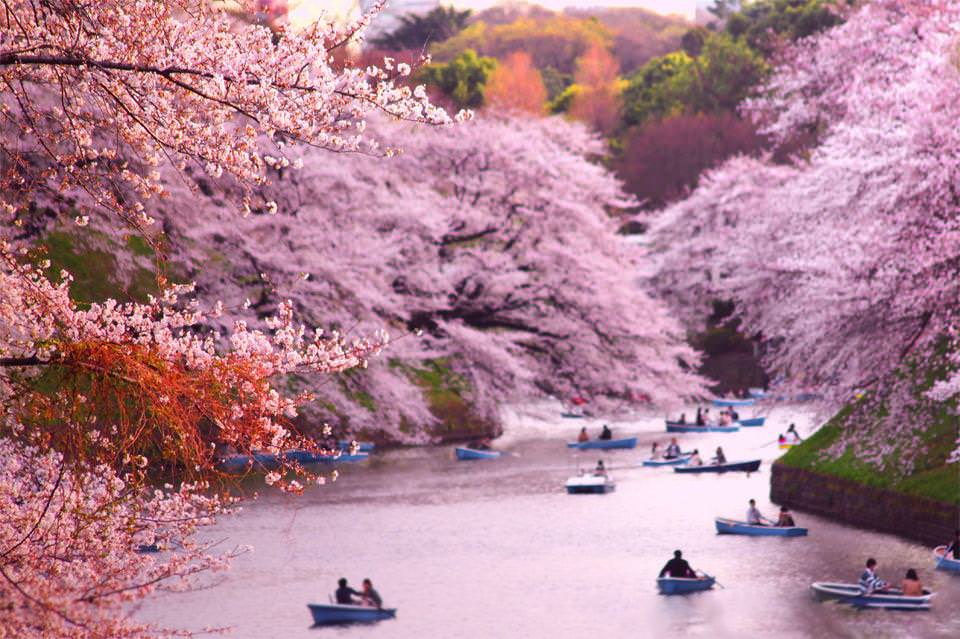 The Best Places to See Cherry Blossoms in Tokyo
The Best Places to See Cherry Blossoms in Tokyo
During the Spring time in Japan, probably the most popular event for tourists and Japanese people is Hanami (cherry blossom watching). Many tourists from all over the world come to Japan to see the beautiful cherry blossoms. And if you're reading this right now you're probably here to research where the top spots in Tokyo are to look at the cherry blossoms. So here is a list of some of the most popular places to visit for Hanami.
1. Shinjuku Gyoen
(picture source: https://kokorography.com/2016/03/late-blooming-cherry-blossoms-in-tokyo/)
Shinjuju Gyoen is super beautiful all year round but it is especially beautiful during the cherry blossom season. The grounds of this park is quite enormous and so there are a bunch of different locations where you can see the cherry blossom trees within this park. There is one area right as you walk in where there is just an open field surrounded by cherry blossom trees. This is where you'll see many people having a picnic. But since the other parts of the grounds are beautiful as well I would highly recommend taking a stroll around the park. This park is fairly easy to get to from Shinjuku JR station. If you are heading from Shinjuku station then make sure to go out through the New South Exit. From there it is about a 10 minute walk to the Shinjuku gyoen park. You could also access the Shinjuku Gyoen park from the Shinjukugyoenmae station and it is only about a five minute walk. The park is only open from 9am to 4:30pm and the last entry is at 4pm. There is also an admission fee of about 200 yen.
2. Yoyogi Park
(picture source: http://www.comeonoutjapan.com/english-camp/2017/4/29/hanami-the-ultimate-springtime-experience)
Although Shinjuku Gyoen Park is beautiful, if I were to choose whether Shinjuku Gyoen Park is my favorite or Yoyogi Park then I would have to pick Yoyogi Park. They are both beautiful but it is just a personal preference. Also, there is no entrance fee for yoyogi and yoyogi park often sells street food which makes the whole thing very festive. Every place is crowded during the Hanami season but Yoyogi park is insanely packed with people and so the bathroom lines are also insanely long. But all in all there's a lot of different groups of people who are enjoying their time with their friends under the cherry blossom trees and it's just a very beautiful scenery. Also, there are no opening hours or closing hours so you are welcome to stay there for as long as you like. And because it is a publicly open park you are also allowed to bring drinks to drink while enjoying your picnic with your friends or family. Whereas for Shinjuku park it does say on the website that alcohol is not allowed on the premise. Although, I do remember seeing people drinking at the park but because it does state it on the official website it is just a kind warning to those who plan on going to Shinjuku Gyoen.
3. Meguro River
(picture source: http://techjapan.tumblr.com/post/114133320946/top-10-awesome-cherry-blossom-viewing-spots-around)
My favorite place out of all the places that are being mentioned in this blog post is the Meguro River. During the cherry blossom season, all of the cherry blossoms lined up along the Meguro River blossoms. It is especially beautiful at night as the cherry blossoms reflect onto the meguro river water. There are also lots of food stalls that are lined up so you can walk along the river while eating and enjoying the beautiful cherry blossom trees. Again, just like all the other places this area becomes extremely packed with people. So if you want to avoid the crowd you could also go during the day on the weekday. Most people go to the Meguro River at night so during the day it is not as crowded.
4. Chidorigafuchi
(picture source: http://www.xtreme-photos.com/rowing-boats-during-cherry-blossom-at-chidorigafuchi-japan.html)
Another very popular place to view the cherry blossoms is at the Chidorigafuchi. To the northwest of the Imperial Palace there js a moat called the Chidorigafuchi. This moat is surrounded by over 260 cherry blossom trees of all different types. There is also a boat pier where you can take a boat out to row around in. If you would like to visit the Chidorigafuchi, it is about a 5 minute walk from Kudanshita station. Also, the cost for the boat is 500 yen for 30 minutes and 1,000 yen for an hour. The hours in which you can take a boat out are from 11am to 5pm. During the Hanami season there will be a huge line for the boat so expect to wait a while.
5. Inokashira Park
(picture source: https://boutiquejapan.com/weekly-video-cherry-blossoms/)
If you're looking for another popular place where you can go row a boat and look at the beautiful cherry blossom trees then you can go to Inokashira Park. If you are coming to Inokashira park, there are a few other attractions that you can stop at before going to the boat pier. The park has a small shrine, petting zoo and a small aquarium. There are also often street artists, musicians, vendors and performers that are gathered at the park. So there are many other things beside looking at the cherry blossoms from the boat that you could do. It is also walking distance to the famous Ghibili Museum so you can always go to the Ghibili Museum before or after. But the tickets for the Ghibili Museum need to be booked way in advance so make sure to do that in advance if you plan on going.
If you are looking to rent a pocket Wi-Fi device or a best SIM card in Japan take a look at the following website: https://www.genkimobile.com/