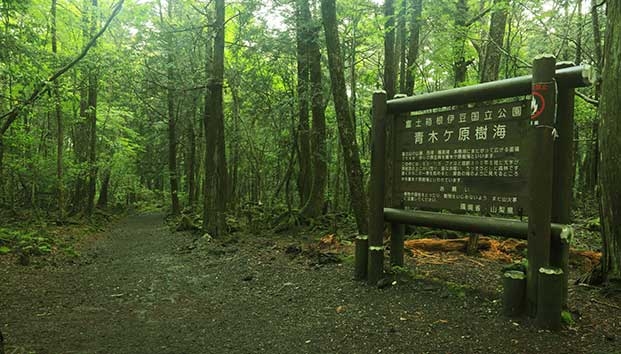 About the Suicide Forest in Japan
About the Suicide Forest in Japan
The Aokigahara Forest in Japan, which has become most famously known as Suicide Forest, is the second most popular suicide location in the world. The first being the Golden Gate Bridge. Since about the 1950s, many people have wandered into the forest and have never come out. It is said that at least 500 Japanese businessmen have gone in and never come out. In 2002, it was recorded that there were 78 suicides during the year and then in 2003 that increased to a number of 105 bodies. Although the suicide forest was mostly known only by Japanese people with the event of Logan Paul filming a dead body in the Suicide Forest and posting it on Youtube it is now very much known by the entire world.
(picture source: https://www.globalmedia.mx/articles/As%C3%AD-es-Aokigahara-el-famoso-bosque-de-los-suicidios-)
There are some spiritualists who believe that since so many suicides are committed in the forest there is so much paranormal activity going on that prevent those who enter from escaping the depths of the forest. On top of this, because there is so much magnetic iron deposited from the volcanic soil compasses are rendered as being useless. Because the forest is so vast, once you enter you are highly unlikely to ever encounter other people. Therefore, there are many signs put up all over the forest by the police saying "you life is precious and it is a gift from your parents" or "please consult the police before taking your life."
However, unfortunately, even with all these signs put up those who are determined to take their life will do so. And so each year dozens of bodies are found by volunteers who are cleaning the woods. But there are also many that are lost in the very deep forest. Because there are so many suicides committed in the forest, authorities have discontinued to publish the amount of people that have taken their life as to not attract even more attention that it already has.
Many people often blame the spike in suicides to the Japanese style work life. Businessmen in Japan often work crazy hours leaving them no social life and they are often under a lot of stress and pressure from their superiors. Japan is known for having many suicides due to an unbalanced work and private life.
According to some reports, the forest workers who find a body have to carry the bodies from the forest all the way to the nearest police station where there is a room specifically used to store the suicide corpses. Some of the corpses that are found are so badly decomposed or have been torn by animals that it is gut wrenching for these forest workers.
If you are interested in renting a pocket wifi or prepaid SIM card during your trip to Japan then make sure to check out the Genki Mobile website: https://genkimobile.com/