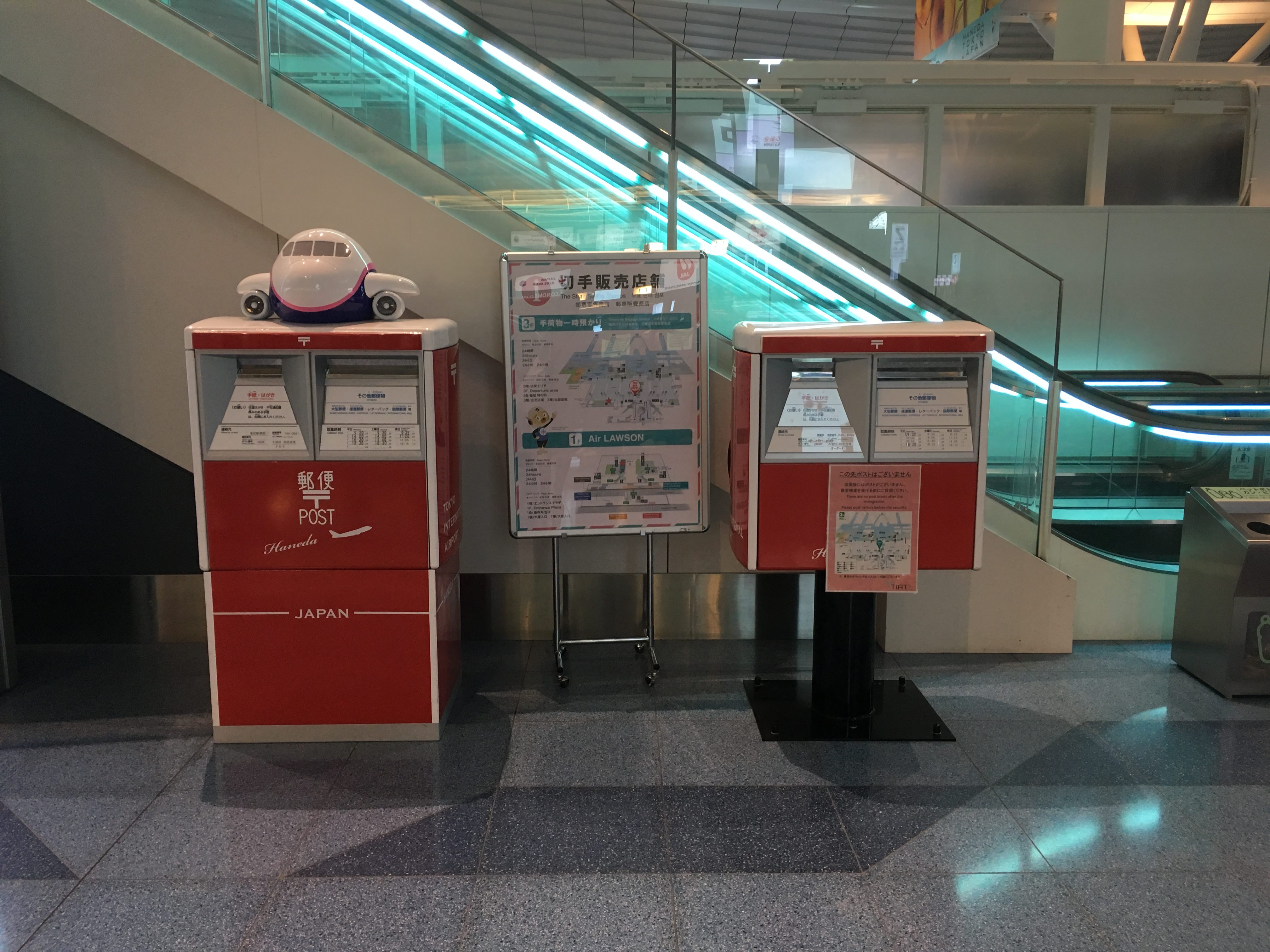 Haneda Airport Terminal 3 Post Box Location
If you have a package, letter or postcard to send out at the last minute but you don't have time to look for a post box or post office at Haneda Airport International Terminal then this blog post will be your saviour. It's fairly easy to find and it is located very close to the departure gate so it's great for anyone who has anything that they need to drop off at the very last minute. Especially if it's a rental SIM card or pocket Wi-Fi device you definitely want to be able to use all the way up until you get to the airport.
As you arrive by escalator in the departure lobby. You will see an information counter. After arriving at the departure lobby head towards the information desk. From there if you face towards the check-in counters you will see the red post box between the E and F check-in counter.
Both of the post boxes are the same. There are two different slots on both of the post boxes. The Red slot is for ordinary domestic mail such as letters and post cards. The Blue slot is for International mail or special deliveries such as packages using the Letter Pack Light or Letter Pack Plus.
When getting a stamp for your letter make sure to go to either The temporary baggage storage or the Air Lawson. The Temporary baggage storage is located at Haneda International Airport on the 3rd floor near the K and J check-in counter. (Located where the red star is in the picture). Air Lawson Haneda is located on the first floor of Haneda International Airport International Terminal. (Where the red star is located on the picture).
Both Air Lawson and the temporary baggage storage are open for 24 hours so you can easily go buy a stamp and send off your letter or postcard.
The stamp prices are constantly changing so make sure to go to the official Japan Post page to check the prices. The link to the Japan Post page 
ALSO, unfortunately there is no post office at Haneda International so you will need to go to the Haneda Domestic Terminal if you need to pick something up or if you have a big package that will not fit in the post box at Haneda International. And please note that the Haneda Domestic Terminal is not walking distance from the Haneda International Terminal so you will need to take the train but it is only one stop away.
So there you have it. Hopefully this blog post was helpful for you and if you travel to Japan a lot or if you are departing from a different airport make sure to check my upcoming blogs with information on where the post box is located at other airports.
If you are looking to rent a best pocket Wi-Fi device (1GB/day or 7GB/day) or a best prepaid SIM card (1GB/day) in Japan, take a look at our website for more information:
Genki-Kun
Share this post