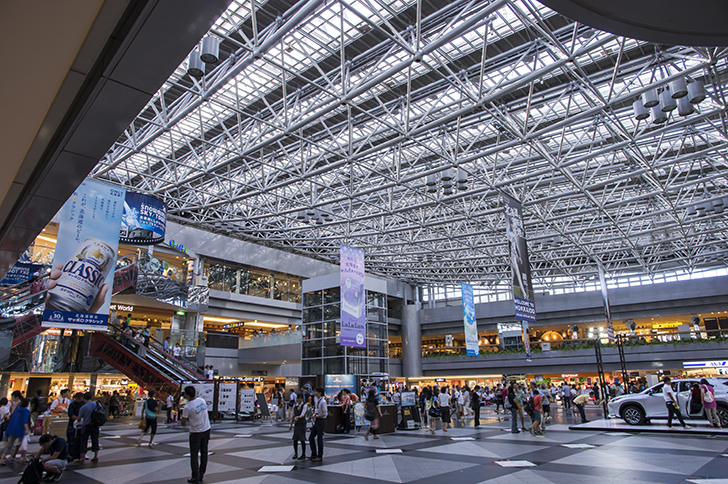 Things to do at New Chitose Airport
Things to do at New Chitose Airport
Hokkaido has many visitors during the year and in the last few years it has continued to see a fast growth in the amount of tourists. Especially during the winter season, Hokkaido has become known as THE place to be if you love to ski and snowboard. All International flights arrive and depart at New Chitose Airport so for those of you who have to either kill time before your flight departs then here's a guide on some things you can do.
A lot of airports now have a shopping area, food courts, restaurants, cafe, spas etc but New Chitose Airport is a bit different from most airports because in 2011 it was renewed to be the first entertainment airport.
There are a lot of shops in the airport including stores that are inexpensive like uniqlo and daiso and then there are also high end brands as well. There are also duty free stores and a lot of souvenir shops where you can get Hokkaido products so if you didn't have time to buy any souvenirs then this is a great place to get your souvenir last minute.
New Chitose also has a lot of fast food style Hokkaido food such as genghis khan, hokkaido ramen, sushi and sweets. They also have the fast food rice bowl chain restaurant Yoshinoya and the chain fast food burger place called Mos burger. So if you want to start or end your trip eating Hokkaido food then this is a great place to do so.
This airport also has a few theme parks including Royce Chocolate World where there is a chocolate exhibition and you can even see the process of them making the chocolate through a glass window.
There is also a Doraemon theme park called Doraemon Waku Waku Sky Park where you can take your kids to play, or you can relax at the cafeteria and shop for Doraemon goods. Doraemon is a very popular cartoon character that is recognized by people of all ages in Japan.
If you are a huge fan of Hello Kitty then you will love the Hello Kitty theme park as there are a whole bunch of Hello Kitty goods and a cafeteria space where you can enjoy food and drinks.
Also, if you have any interest in airplanes and airports then you can visit the airport history museum right inside the New Chitose airport where you can learn about the history of New Chitose airport, the uniform history and the different models of airplanes throughout the years. There is even a flight simulator to let you experience what it is like to be a pilot. Children can even experience wearing the pilot uniform and cabin attendant uniform.
If you have a long time to wait before your flight departs there are 3 different movie theaters that you can kill time at. The theaters are open from 9am to mid-night. So you can relax and watch a movie with you partner, friends and family before boarding your flight.
And if you are just exhausted and sore from all of the skiing and snowboarding that you did then you can go relax and get a massage at the spa named Shin-Chitose kuko onsen. What better way to end your trip then to get a nice massage at a spa before boarding your flight?
With all these activities and places to eat it will definitely make the time go by faster if you have a long time to wait before boarding your flight.
For more blogs