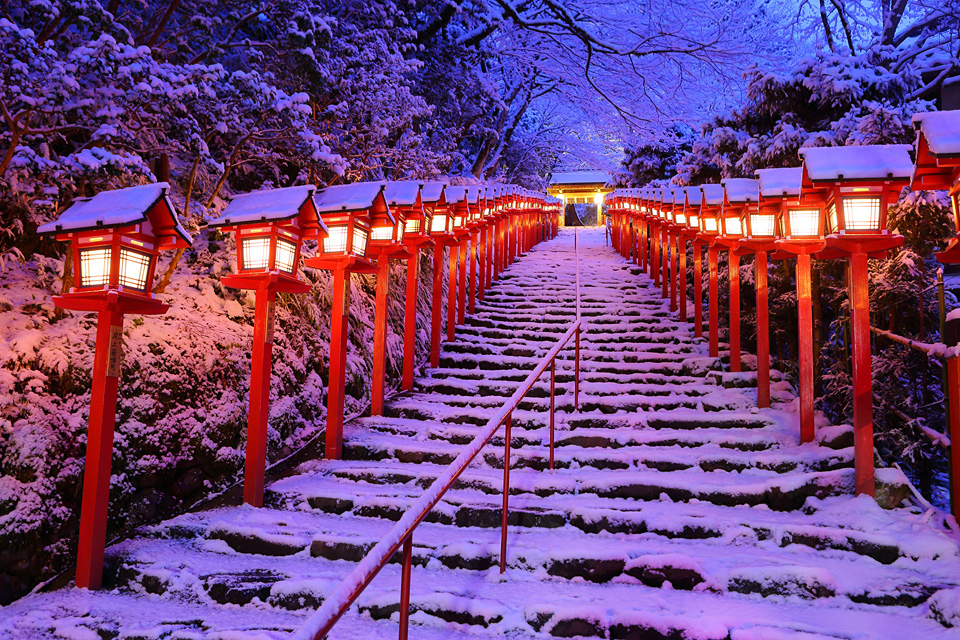 All about Kifune Shrine
Kifune Shrine is yet another very popular shrine in Kyoto. And yes, there are a lot of shrines and temples in Kyoto if you haven't figured that out yet. And because there are so many shrines and temples it may be hard to pick which ones to go to. And if you only have a few days in Kyoto you may only be able to get around to some of the main and popular temples and shrines. But if you have the time I would recommend going to the Kifune Shrine. The Kifine Shrine is a popular and famous shrine but it is a bit further away so a lot of people do tend to skip this shrine.
(picture source: https://www.mook.com.tw/article.php?op=articleinfo&articleid=10975)
But if you decide that you'd like to go to this shrine then here are some things you should know before going!
The Kifune Shrine is most famously known for enshrining the Takaokami no Kami god which is considered the god of rain and water. This shrine is located deep in the mountain area so the sacred water in this area comes from the Mount Kifune. The interesting thing about this shrine is that there is actually no written record of the shrine so the exact beginning of the shrine are not known. But by looking at the biography of the shrine it is believed that the shrine was constructed sometime before 1,300.
Although the Kifine Shrine is known for the god of rain and water and therefore to appreciate the sacred water it is also known to be a place of matchmaking.
There is another thing that is very unique about this shrine and that is the fortune telling paper. Most Shinto Shrines offer a fortune telling paper called Omikuji in Japanese but the ones offered at the Kifune Shrine have a bit of a twist to it. When you receive the paper there is no writing on it but as soon as you dip it into the sacred water the message on the omikuji appears. This is unique and can only be found at this shrine. This is also another reason why a lot of people are attracted to this shrine.
(picture source: https://travel.rankingshare.jp/rank/hcsdgeulqk)
Each shrine has it's own unique charm. The one that you can get at the Kifune Shrine is known as the Mizu Mamori. There are three different colours that you can choose from which are white, pink and blue The message included with this charm is something along the lines of Water being an important source as it is the source of life. And it is the god of giving vitality. And it is said that if you get enough vitality then perhaps tour fortune will improve.
Yui no Yashiro is another shrine that is located right near the Kifune Shrine. The Shrine is known for enshrining the god of matchmaking. And by the Shrine you can buy a musubi-fumi. A musubi fumi are small pieces of special paper used for writing your wish or desire down. Once you have written it down you tie them to a tree along with all the other musubi-fumi that have been tied to the tree. It is said that it is linked to the gods and that your message will be reached. A lot of other shrines also have this where you write down your wish or desire and then leave it hanging on a board or tie to a tree. But this shrine is specifically for granting you relationship desires.
(picture source: https://travel.rankingshare.jp/rank/hcsdgeulqk)
At the Yui no Yashiro shrine, you can also get a good luck charm called a musubi mamori. It is in the shape of an omikuji and you can choose either a blue or pink one. These charms are meant to give you good luck or success in a relationship. If you need some luck in the love department then I would definitely recommend getting a charm here.
Another popular place to visit near the Kifune shrine is the Kawadoko restaurant. This is a restaurant where you can enjoy having lunch right on the river. They have built an area with tatami mats right on top of the river where you can sit down on the tatami mat and enjoy a Japanese course meal. With the sound of the river you can have a peaceful and refreshing lunch. This restaurant has become increasingly popular over the past few years so make sure to make a reservation in advance.