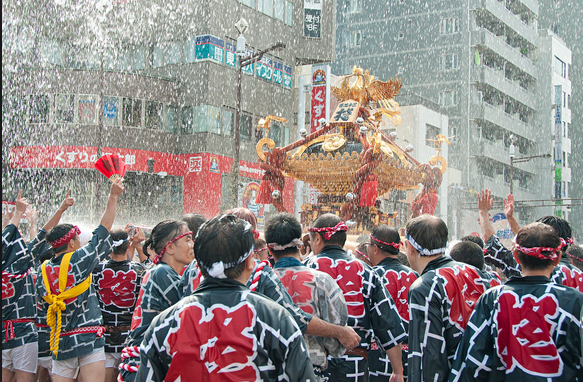 Getting Away From the Crowds in Tokyo (Part 2)
Getting Away From the Crowds in Tokyo (Part 2)
In Getting Away From the Crowds in Tokyo Part 1, I mentioned some great places you can visit if you want to get away from the crowds in Tokyo. Places like Shinjuku, Shibuya, Harajuku, Meiji-jingu, Sensoji and Asakusa are some of the most crowded places as they are the most visited by tourists. Of course the tourist spots are amazing and are a must see but the following places are just places you can go if you ever get tired of the crowds. The places that I listed in Part 1 and the places I will list in this blog are some hidden gems in Tokyo so they are very worth visiting as well!
In the eastern side of Tokyo there is a district known as Monzen Nakacho which is a lesser known area. But it is home to a shrine called the Tomioka Hachimangu Shrine and is also known as the Fukugawa Hachiman. The shrine is famous for a few different reasons which are because it hosts a famous festival called the Fukugawa Hachiman Matsuri.
(https://www.flickr.com/photos/ajpscs/14765207277)
The Fukugawa Hachiman Matsuri is a big festival that is only held once every 3 years. If you have been to Nikko, which is the UNESCO World Heritage Town, a small mountainous city north of Tokyo, you will recognize the mesmerizing landscape near the Toshogu Shrine.
The Shrine is only a 30 minute ride away from Shinjuku whereas Nikko is over a 2 hour ride away from Tokyo. The Tomioka Hachimangu Shrine and the area around it is absolutely beautiful . It has an amazing torii gate and a beautiful red bridge.
There is also a temple called Fukagawa Fudoson that is near the Monsen Nakacho Station. It is well known for being a traffic temple as you can pray for road safety here. It was first built here in 1703 and has a beautiful wooden structure.
An up and coming neighbourhoor in eastern Tokyo is Kinshicho Kameido Fukutoshin and the kameido part is becoming increasingly popular. It was originally a very quiet area and is on the edge of the Edo Downtown. But with a lot of single people and young families moving out of central Tokyo this area is now filled with cute shops and trendy eateries.
(http://jpninfo.com/6941)
The Kameido section is most well known for the historic Kameido Tenjin. It has an amazing iconic arched bridge which is absolutely breathtaking. It has become a popular date spot for couples to enjoy a romantic walk. There are also lots of flowers that are blooming at the shrine grounds.
In February there are plum flowers and then from mid April to May there are Wisteria flowers and in November you can enjoy the chrysanthemum flowers. There is a Funabashiya at the right foot of the arched bridge. The Funabashiya is a traditional sweet shop that was first established in 1805.
After enjoying a walk around the shrine you can go to a retro cafe in the area and enjoy traditional Japanese sweets and a cup of tea. There are also lots of souvenirs that you can buy in the area that you can take home with you.