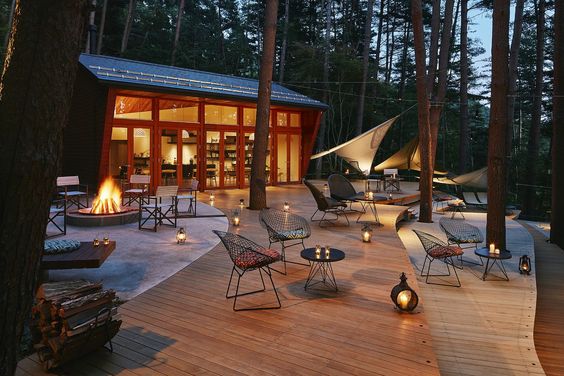 Glamping in Japan (part 1) 
Glamping in Japan (part 1) 
If you haven't heard of it yet well you should know that glamping is the new must try thing to do in Japan. There's a whole new style of camping and it is so new that it almost doesn't seem like camping at all. Maybe you've gone camping before or maybe it's not your thing at all. But glamping is something that i'm sure almost everyone is likely to enjoy. Unlike regular camping you don't have to get your hands dirty so you can pretty much enjoy all the great parts of camping without the bad parts of it. Of course it's not bad for some people and some people may even enjoy getting their hands dirty. But glamping is definitely worth trying so if you're looking for a place in Japan here are a few great places to look into.
(source; https://www.pinterest.ca/pin/548313323364635433/)
One of the first glamping resorts made in Japan is the Hoshinoya Fuji. You can easily take a bus ride from Shibuya Mark City to the Kawaguchiko Station which takes around two hours. Here there are no tents that you will be sleeping in so you'll be sleeping in a very comfortable and beautiful cabin.
This glamping resort is on a slope that overlooks the Lake Kawaguchi. The Hoshinoya Fuji has 40 cabins in total that have a floor to ceiling windows that overlook the very picturesque view. In the winter time you can admire the view from the kotatsu table which is a table with built in heaters and a blanket.
A short walk away from your cabin you'll find a terrace area which has multiple wooden decks and there are tons of comfy chairs and an open fire. There are also hammocks in the area where you can relax. Hidden amongst the trees you'll find a table and chairs with a sheepskin rug to keep you warm and comfy.
There are a bunch of activities that you can enjoy doing at the Hoshinoya Fuji but they do need to be reserved and will cost an additional fee. Some of the things that you can enjoy are canoeing in the morning which is a total of 90 minutes for 3,500 yen per person. And for 6,500 yen per person you can go for a tour around the Mount Fuji Lava Forest which will take around 2.5 hours.
There are a bunch of free things to do as well such as wood chopping. And if you've never tried it before it is actually a lot harder than it looks. You can toast marshmallows and enjoy hot chocolate during the afternoon Outdoor Sweets time. And for dinner you are served a picnic box which includes six different salads, cabbage soup, beef that you grill yourself and a cake for dessert.
(source: https://www.securite.jp/fund/detail/663)
In the Shizuoka prefecture a new glamping camp site opened up. It is part of a company called the Village Inc group which owns several camping sites across Japan. The area is surrounded but a luscious green mountain with lots of trees, farms and temples in the area. There are large cotton tents that you can camp in and they are placed on top of a wooden deck. There is a kitchen area for each area that comes with cooking utensils and lots of seating. The only thing you'll need to bring yourself it good and a sleeping bag.