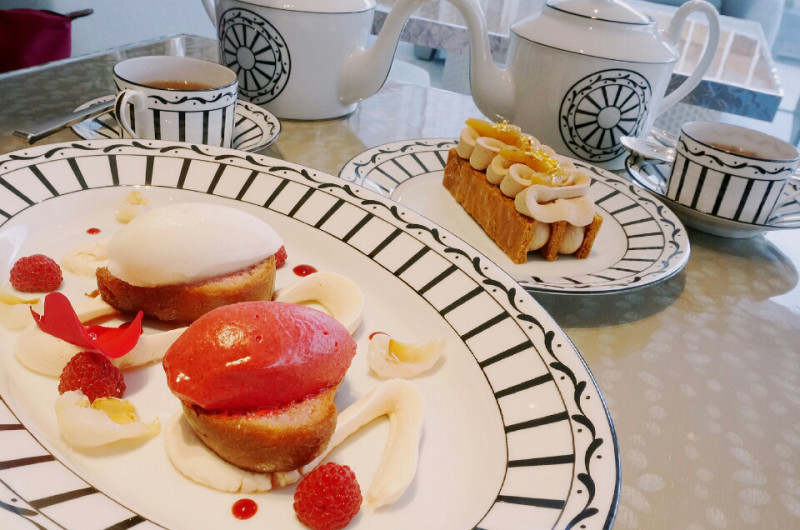 Instagram Worthy Restaurants/Cafe in Ginza
Instagram Worthy Restaurants/Cafe in Ginza
If you are looking for some places where you can take great pictures and enjoy a snack or a meal in Ginza then here are some places that you can check out. A lot of these places mentioned are located in other parts of Tokyo as well so make sure to check out other places as well!
Salon Ginza Sabou
(source: http://blog.livedoor.jp/cho_kandakko/archives/51553441.html)
(source: http://gensen-s.com/shop/sabou/)
Salon Ginza Sabou is located at the TOkyu Plaza Ginza B2 and is just a short walk away from the Ginza Station and Yurakucho Station. At Salon Ginza Sabou you can enjoy Japanese sweets and Japanese cuisine. One of the must try items on the menu is the tea parfait. If you look at the picture of the tea parfait you can probably tell that it looks like a Japanese garden. Other than the tea parfait there is a Japanese sweets made with chocolate and red bean sake called Shokokuki. This combination has never been done before so for them to be combined together it will definitely be like something you have never tasted before. This cafe/restaurant also has some Japanese cuisine and the one thing we highly recommend trying is the Ochazuke. It is not only pretty looking and perfect for an instagram post it is also very delicious. These are just a few of the things on the menu but everything on the menu is not only delicious but also very photogenic.
&COFFEE MAISON KAYSER
(source: https://bimi.jorudan.co.jp/article/topics/ibukuro/bk16476.html)
(source: https://ameblo.jp/vox44/entry-12309553804.html)
&COFFEE MAISON KAYSER can be reached from Ginza 1-chome station and is only about a 5 minute walk away. This place does have a cafe but it is most well known as a bakery. The reason why their bakery is so popular is because they use the traditional French techniques to bake their breads. This cafe is based off of the bakery Maison Kaiser. The croissants are the most popular pastry. Their sweet croissant goes very well wth their bittersweet coffee. You will find that the cafe also has croissant sandwiches which are just as popular. Because this cafe is very spacious you can enjoy tea time slowly.
Cafe & Books Bibliotheque
(source: http://www.myesthe.com/article/322434448.html)
(source: https://youmustbehungry.wordpress.com/2014/07/29/fukuoka-cafe-books-bibliotheque/)
This cafe is located on the 3rd floor of Lumine 1 of Lumine Yurakucho which is only about a one minute walk away from the Yurakucho station. There are lots of books and miscellaneous goods in the shop but it is also a very popular cafe. It is a perfect cafe for those who want to relax while reading books. Their most popular dish is their fluffy pancakes. There are lots of different flavoured pancakes including apple and pumpkin. The way these pancakes are presented you'll definitely want to take pictures of it and on top of that they are extremely tasty!
Cafe Dior by Pierre Herme
(source: https://ameblo.jp/remini-blog/entry-12242288685.html)
(source: https://ginza6.tokyo/shops/32235)
Cafe Dior by Pierre Herme is a five minute walk away from both Ginza station and Higashi Ginza station. Because it is the famous Dior that has opened up a cafe in Japan it is fancy but it is also very expensive. But if you are a woman it is one of those cafes that you will want to visit at least once. Many Japanese women were dying for a Dior cafe to open in Japan and their wishes were finally granted. The Dior cafe is located on the floor of the Ginza Six where you can find a bunch of very fancy brands for men and women. The second you walk into the Dior cafe you'll feel the luxuriousness. It is not only the tasty sweets that people come for. People are in love with the appearance of the dishes to the details of the sweets served. It is very photogenic with the fashionable cups and plates that they use.
Laduree de Salon
(source: http://www.dreamsofvelvet.com/macarons-afternoon-tea-at-laduree-yorkdale-toronto/)
(source: https://savvytokyo.com/laduree-salon-de-te-nihonbashi/)
Laduree de Salon is located on the 3rd floor of the Mitsukoshi Ginza which is about a three minute walk away from the Tokyo Metro Ginza Station. I'm sure many of you know that Laduree is famous for macaroons because not only is it delicious but the box that it comes in is super cute. They also have a bunch of cakes as well and if you want to get something delicious for a friend it is a great gift. They also have high tea at their cafe so it's a great place to get dressed up and have high tea with your girlfriends.