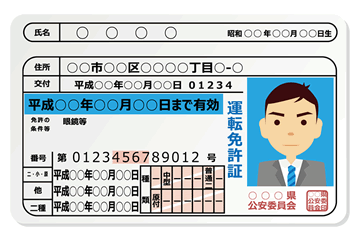 Process of getting your Driver's license in Japan
Process of getting your Driver's license in Japan
If you have read my first blog on Converting your foreign license to a Japanese Driver's license then I'm sure you know which group you belong to. Like I mentioned in my first blog, you are either in group 1 where you can convert your foreign license directly to a Japanese license or you are in group 2 where you are not able to convert your foreign license directly. So now here are the steps in converting your driver's license.
The first step is to get your Foreign Driver's license officially translated. This is something that needs to be done for both groups. The Foreign driver's license will need to be translated by an approved source. The most common way to do this is through the JAF which stands for Japan Auto Federation.
The next step if to get all of the required documents that are needed after your license has been officially translated. You will then need to go to the Licensing Centre and present all of the required documents. Depending on which prefecture you are in the documents required may differ but generally the ones that are required are the following:
Your foreign driver's license must be valid. If you have any of your previous driver's license make sure to bring them. The license must show the date that it was issued or if it was recently renewed you must submit the additional documents.
2. You must have the translated foreign license that was translated by the Japan Automobile Federation or any other approved translation source.
3. You must bring your Residence card/certification with you.
4. Bring your valid passport and any expired passports that you may have. You will need the passport as proof that you were still in the country for at least three months after the license was issued.
5. Bring a photo 3x24cm and the picture must be a picture that was taken in the last 6 months.
6. If you have a previous Japanese license then bring that as well.
The third step is to go to the License Centre to apply for a Driver's License. The process to do this will differ but usually what happens is that all your documents will be inspected and then they will make sure that you have everything and will check that everything is up to date and also complete. There may be a few other steps in this process but that will depend on the License Centre so make sure to contact them.
Step 4 is a standard eye test. Usually this is just like any other eye test that you've done and you just have to say which way the arrow is pointing. If you pass your eye test and you are in group 1 then you will usually get your license on that day and you will be done. If you pass your eye test and you are in group 2 then you will need to take a written test.
As I mentioned above, if you are in the second group and you've passed your eye exam then you will need to do a written test next. When you are just converting your license the written test is much easier than the written test that is given to a first timer. You can also do the test in English but the instructions given prior to the test will usually be in Japanese. But all that you really need to understand is that in Japan an X means false and a O means true. Once you are finished with the written exam you may leave the room. In order to study for the written exam you can read the Rules of the Road provided in English by the Japan Auto Federation.
Once you have passed the written exam you will have to do a road test. Now this is going to be the most difficult part of the whole process because the person conducting the test can only speak Japanese. But if you do not speak Japanese you are allowed to bring someone who speaks Japanese.
Depending on the driving centre you go to you may also need to pay an additional fee for the car rental. And you should also know that you may have to wait for a very long time before it your turn to take the test. Then you will get in the car and then follow the instructions of the examiner.
If any major mistakes are made you will fail on the spot. Then once you are done you will need to go back inside and wait for the results whether you have passed or not. If you do not pass then you will be given another paper with the next scheduled test so that you can try again. If you pass then you will get your license on the day.