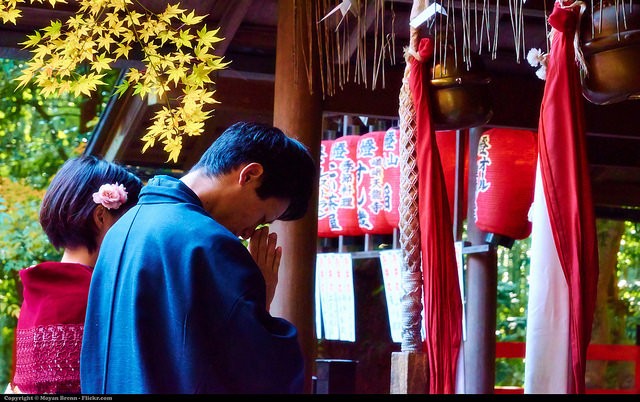 Manners at a Shinto Shrine (Part 2)
Manners at a Shinto Shrine (Part 2)
In my Manners at a Shinto Shrine part 1, I mentioned a few different things you should know when visiting a shinto shrine. It is important to bow before you enter the Torii gate located at the entrance of the Shinto shrine. The other thing I mentioned is a guide on how to purify yourself. Some of the very popular shrines may have simple instructions but many still do not so it is important to know how to purify yourself before visiting a shrine. And like I mentioned in part 1 of this blog the purification process is the same at both shrines and temples.
(source: https://livingnomads.com/2016/08/what-is-proper-etiquette-when-you-visit-a-shrine-or-temple/)
The next important thing to know is how to pray when visiting a shrine. You will pay your respects to the kami-sama at the haiden. Inside of the hall there are more ceremonies that take place that are conducted by Shinto priests but there is an area outside where anyone can come and pray. So anyone can come and go as they please. In front of the haiden is an offertory box which is called a saisen bako. Usually you will stand in front of the saisen bako and throw in a coin before praying. Avoid standing dead centre in front of the saisen bako. The area in which the saisen bako is located is called the sei-chuu which means that passageway in which gods can walk through.
When you make an offering you toss or drop in a coin. Make sure to avoid throwing your offering into the saisen bako. This may be hard during the holiday season when there are lots of people visiting the shrine but try to avoid doing this. The amount you throw in does not really matter because it is more about the sincerity of your prayers. But there are certain yen amounts that are believed to bring bad or good luck. Japanese people believe that it is best to toss in a five yen coin as it sounds like go-en in Japanese which means good luck. The ten yen coin is considered to be unlucky because it sounds like tou-en which means that your luck will be far away.
(source: https://thetruejapan.com/how-to-order-food-in-japanese/)
Many shrines also have a bell in front of the haiden, if there is one you will need to take the rope with two hands and give it a shake. This is used to wake the kami-sama or god. This step is done after you toss in the coin. Before, it was believed that ringing the bell would ward off bad spirits. So by ringing the bell you are purifying the area for the god's arrival.
Some shrines do not have a bell or the bell may be tied away. So in this case just step towards the saisen box, toss in the coin and make your prayer.
Now onto how you actually pray. There is a proper order to how a prayer must be made and that is two bows, two claps and one bow.
(source: https://thetruejapan.com/how-to-order-food-in-japanese/)
You will need to make two deep bows and each time you'll need to bend down at a 90 degree angle and keep your back straight when doing so.
(source: https://thetruejapan.com/how-to-order-food-in-japanese/)
Next, you'll clap twice to express your appreciation for the kami-sama. When you clap raise your hands up to your chest.
(source: https://thetruejapan.com/how-to-order-food-in-japanese/)
When your hands meet your right hand should be positioned slightly higher than your left hand. It is said that the right hands represents the person praying and the left hand represents the kami sama.
Clapping is another way to ward off bad spirits just like when you ring the bell. Once you've clapped twice close your eyes and make a silent prayer to the kami-sama. The proper way to do this silent prayer is to say your full name, your full address and then you give thanks before proceeding with any special requests.
It may be silly but the reason why you say your address is because sometimes the kami leaves the shrine on a mikoshi and is carried by worshippers throughout the neighborhood. And when it is brought throughout the neighborhood it is said that the kami sama recalls the address of those who made prayers.
(source: https://thetruejapan.com/how-to-order-food-in-japanese/)
Once you have silently made your prayer make a final bow to excuse yourself. This too should be at a 90 degree bow.