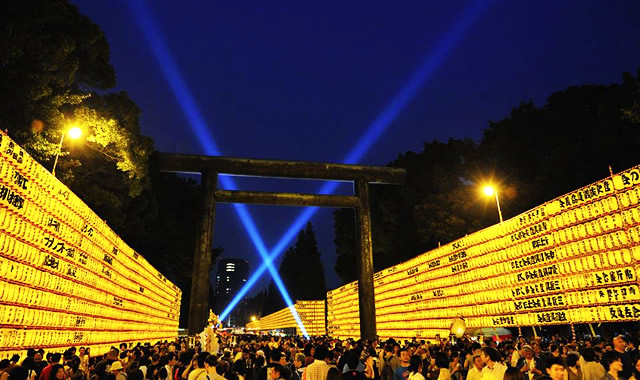 Mitama Matsuri
Every year there are tons of festivals that are held in Tokyo during the summer time. Although there are lots of great festivals and firework festivals one of my favourite festivals to go to is the Mitama Matsuri that is held at the famous Yasukuni Shrine.
(source: https://event-checker.blog.so-net.ne.jp/mitama-matsuri)
The Mitama Matsuri has over 30,000 lamps that are put u so at night it is a breathtaking view. All of the lamps that are put up here have a name written on it and these are the names of all of the people that applied to dedicate a lamp to the festival. The cost of the lamp differs depending on the size. a small lamp costs 3,000 yen per lamp and the larger ones cost about 12,000 yen per lamp.
(source: http://www.afpbb.com/articles/-/3054429?pid=16167757)
There are different events that you can watch like the Mikoshi furi and Aomori nebuta which is a traditional art. The other thing that you can watch is the bon-odori where people dance along to traditional Japanese summer music. Obon break is actually held in August but before it actually used to be help in July and so the Mitama Matsuri still holds bon-odori even though obon doesn't take place in July anymore.
For those of you who don't know what obon is it is a time when people welcome back the spirits of their ancestors. As Obon break is long many people go back to their home town to spend time with family and welcome their ancestors home.
(source: http://freestances.com/1061.html)
Before, the Mitama matsuri used to have many different food stalls. And now they still do but not as many food stalls as they used to have. Most of the foods that you will find are shaved ice, yakisoba, takoyaki, okonomiyaki, cold cucumber, meat skewers and more!
Out of all of the festivals that I have been to in Japan the Mitama Maturi was without a doubt the most beautiful one. With all the lanterns lit up their is just something so beautiful about it. And there is no way you can't get a good picture.
There are some performances that take place at the Mitama Matsuri as well so jut go grab some food and drinks and enjoy the performance.
The Yasukuni Shrine is a very famous shrine that you should still visit even if you aren't able to make it for the Mitami festival. The reason why this shrine is famous is because it was founded by the Emperor Meiji in 1869.