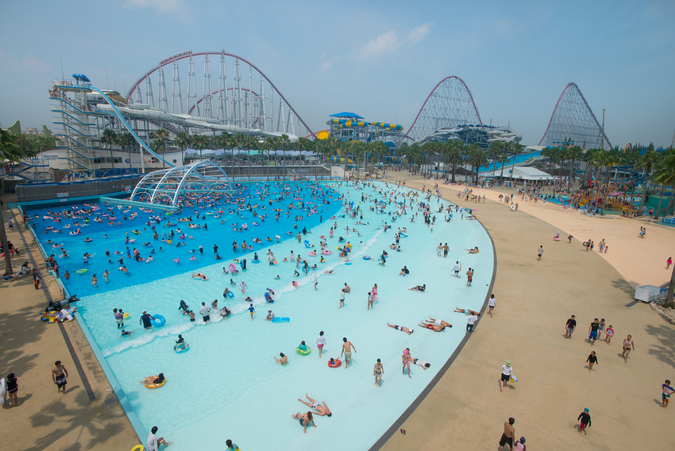 Most popular water parks in Japan
Most popular water parks in Japan
If you are traveling to Japan during the summer time then i'm sure you know that it is going to be extremely hot during the summer. It gets extremely humid in Japan and staying outside in the sun all day can get really exhausting. So if you want to find a way to cool down then you should visit one of these famous water parks in Japan.
Whether you are traveling with friends or with little ones either way you will definitely enjoy these water parks so it is worth checking it out.
Make sure that you check the official websites of each water park to check the rules of each place or the hours of operation and which holidays they will be closed. Also, some pools and water parks in Japan allow people with tattoos but a lot band people with tattoos so make sure to check their official website before going.
(source: http://jpninfo.com/7661)
One of the most popular amusement parks in Japan is Yomiuri Land. They offer a number of great swimming pools and they also have different water slides. You can easily access this water park by using the Keio Kine or the Odakyu Line. Yomiuri land is extremely popular during the summer so it does get pretty crowded. It will especially be crowded if it is during the holidays so if you want to avoid the crowd then make sure to avoid going on a holiday.
(source: https://businesseventstokyo.org/venues/unique-venues/tokyo-summerland/)
Another water park that I would recommend going to is the Tokyo Summerland. One of the main areas of this waterpark is said to be one of the most exciting water parks in the Tokyo area. That part of the waterpark is the Adventure Lagoon which is in the outdoor area of the Tokyo Summerland. Because the Adventure Lagoon is in the outdoor area it is only open during the summer time. However, the Adventure Dome, which is the indoor pool area, is open all throughout the year. Tokyo Summerland can be accessed from Hachioji station or Akikawa station so they can easily be reached by train from Tokyo.
(source: https://iko-yo.net/facilities/946)
Third on the list is the Nagashima Spaland Jumbo Pool. This is a popular amusement park that has a number of rides and the Jumbo pool has lots of different water slides and pools that you can enjoy. This pool is located in the Kuwana city of the Mie prefecture. If you are going from either Kuwana station or Nagoya station you can easily take a bus to the Nagashima onsen in order to reach it.
(source: http://www.tobuzoo.com/pool/poolatraction.html)
Tobu Zoo Super Pool is located in Saitama and it has a bunch of different pools including a large kids pool, a wave pool and a few other pools. Here you can enjoy a day at the zoo and the pool. Although the pool is only open during the summer time the zoo is open all year round.
(Source; http://www.toshimaen.co.jp/pool/guide.html)
Another very popular amusement park in Tokyo is the Toshimaen Amusement Park. They have many different pools and cool slides that you can go on. They also have a night pool which is for adults only so if you want to go for a swim at night you can definitely do so at the Toshimaen Amusement Park.
(source: https://rusutsu.jp/gallery/archives/portfolio/%E3%82%B9%E3%83%BC%E3%83%91%E3%83%BC%E3%82%B8%E3%83%A3%E3%83%B3%E3%83%9C%E3%83%97%E3%83%BC%E3%83%AB-5)
There is a Super Jumbo Pool located at the Rusutsu Resort that has many different types of pools including an aqua coaster, a slider pool, a fountain pool and an olympic sized competition pool. From Sapporo city it is a two hour bus ride to Rusutsu mura so it is a bit far away but if you happen to find yourself in the area it is worth going to!
(source: http://audition.hapima.chu.jp/?eid=43)
In Fukuoka there is a a great seaside park that has a Sunshine Pool. There are 6 different types of pools and this includes a pool specifically for infants and toddlers. In the Uminonakamichi Seaside Park you will find accommodations. sports facilities and a lot of flower gardens too. So it's a great place to spend the day with friends or family.