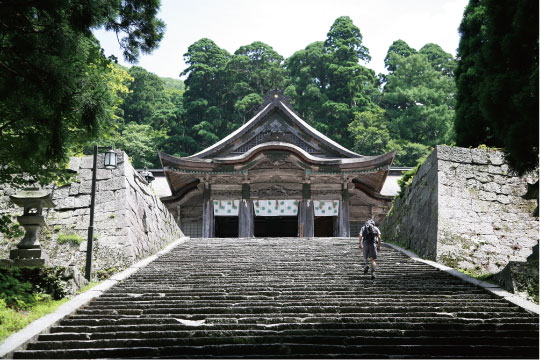 Mount Daisen Festival 
During the summer time at Mount Daisen there is a Torch Parade that takes place every year. This is a very influential festival that will change the way you look at things in life. This parade is held every year in June and there are about 2000 people that participate in the festival. They all hold torches that are lit up and walk down the shrine mountain path.
(source: http://tottrip.jp/1/11/17/1.html?lang=en)
Ogamiyama Shrine's Okunomiya is where the procession begins. The Ogamiyama Shrine and Daisen Temple are both extremely important in the spiritual practice of mountain worship which has been going on for a very long time on Mount Daisen. On the mountainside is where you will find Okunomiya and is about 800 meters away from the Daisen Temple. There are shops along the way that you can find and lots of visitors along this area.
The procession is led by the Shinto priest who presides over the ceremony. Behind the shinto priest there are a bunch of people dressed up as tengu which are creatures that are believed to have a deep connection with the Mount Daisen. The yamabushi are the ones that lead the participants through the dark mountainside.
(source: http://elephantaday.blogspot.com/2012/03/elephant-no-156-seashells.html)
The conch seashell known as horagai in Japanese is blown to ward off any of the animals living in the mountain and also as a way to guard the procession. You will pass the sculptured gate and the torii as the procession heads down the mountain.
(source: https://www.gettyimages.com/event/mount-daisen-to-open-for-climbing-season-645212601#/people-holding-torches-walk-as-mount-daisen-is-to-open-for-the-on-picture-id538393904)
This parade is dedicated to the Mount Daisen as it is believed to be a sacred mountain and it is also dedicated to the Shinto deities of the shrine. The ritual at the Okunomiya is a shinto ritual that takes place and this is done to pray for that the mountain will be safe. After this ritual ends the people participating will descend the mountain with the torches.
This is a traditional parade and it will allow you to fully experience the ancient religion in Japan. You can participate in this parade and visit the temples and shrines that are located in the forest of Mount Daisen. And the participants can see the shinto priest and yamabushi with their own eyes. It is a great eye opening experience for everyone so I would recommend taking part in this festival if you get the chance to.