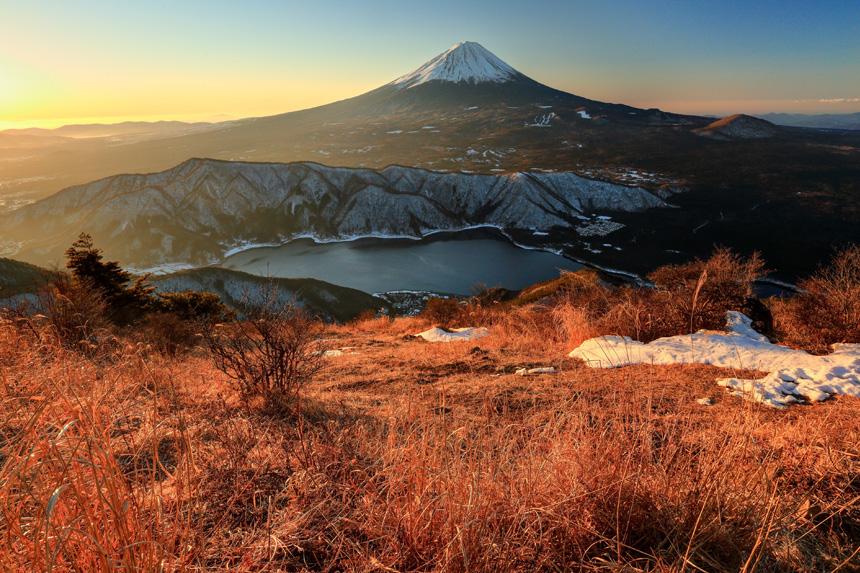 Mount Fuji
Mount Fuji is Japan's highest mountain with 3776 meters. This may be a mountain but in Japan it has always been worshipped as being sacred. Mount Fuji is an active volcano and has actually erupted in 1707, although it has not erupted since then. The mountain is located between Yamanashi prefecture and Shizuoka prefecture which is a bit far from Tokyo and Yokohama but you can see it beautifully from tall building in Yokohama and Tokyo. On a day that is super clear you can easily see it from tall buildings including the skytree, tokyo tower and you can also see it on the shinkansen going from Tokyo to Osaka. One of the most popular view of Mount Fuji is from the Fuji five lakes area. Many people enjoy the view of Mount Fuji but if you have the chance you should definitely try going up Mount Fuji to see the view from Mount Fuji. There are a few different routes that you can take to go up Mount Fuji so if you want more information on which route to take and what would be best for you go check out my Climbing Mount Fuji blog. It is indeed a tough climb up the mountain and you have to make sure that you are prepaid for any condition when you go up. As you climb up it tends to drizzle and then when you are at the very top you will experience extreme wind. With the drizzle of rain making your clothes wet you will be extremely cold at the top if you do not have the right gear on. However, the view climbing up and from the top is indeed worth it. Unfortunately, the weather tends to change drastically so on an unclear day you will not be able to see anything from the very top. Which is sadly what happen when I went up. But the view while climbing to the top was unbelievable. You are literally above the clouds and the clouds just look like a sea of clouds.
Some other beautiful places to visit around Mount Fuji are the following:
Hakone:
(https://explore-hakone.com/general/history-of-hakone-shrine/?lang=ja)
Hakone is a popular day trip away from Tokyo and is part of the Fuji Hakone Izu National Park. It is most famous for the beautiful view of Mount Fuji and for all the hot springs/onsen. Hakone is visited by many foreign and japanese tourists every year.
Fuji Five Lakes:
(https://www.ana-cooljapan.com/destinations/yamanashi/fujifivelakesmtfuji)
(http://siamorchardgroup.com/country-detail.php?WP=oGO3Axj5oH9axUF5nrO4Ljo7o3Qo7o3Q)
(https://www.ana-cooljapan.com/destinations/yamanashi/fujifivelakesmtfuji)
The great 5 lakes of Fuji are extremely popular as you can see an incredible view of Mount Fuji. The five famous lakes for those of you who are unaware are the Kawaguchiko, Saiko, Yamanakako, Shojiko and the Motosuko. The view of mount Fuji with the Chureito Pagoda is probably the most iconic view.
Fujinomiya:
(https://kakakumag.com/food/?id=4237)
Fujinomiya is a city at the base of Mount Fuji which is located in Shizuoka prefecture. Fujinomiya has one of the most prominent and important shrine in the region which is the Fujinomiya Sengen Shrine. This was traditionally used as a starting point to climb Mount Fuji and is still used by many visitors as a starting point. The Shiraito Falls is also a popular attraction in Fujinomiya.
If you are looking to rent a pocket wifi device or prepaid SIM card make sure to check out the following link for more information: https://www.genkimobile.com/