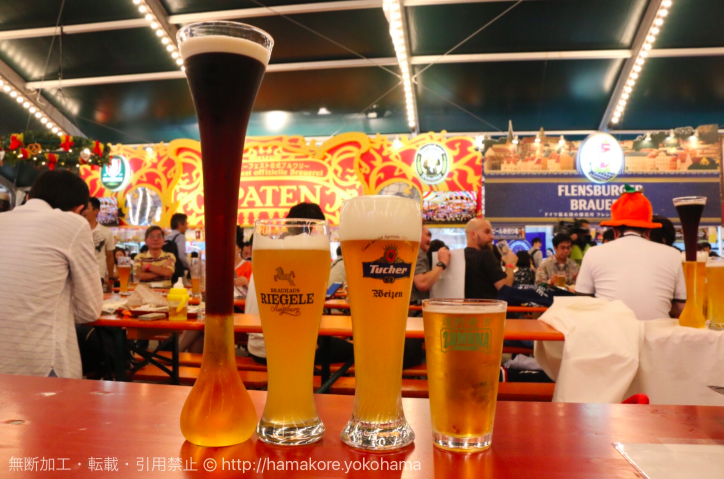 Oktoberfest in Yokohama
If you love beer then the Oktoberfest in Yokohama is an event you do not want to miss. This is a German festival but if you are not planning on going to Germany anytime soon then you can still enjoy the festival at the Red Brick Warehouse. This is a festival that takes place in October and is one of the most popular beer festivals in Japan.
(source: https://mycraftbeers.com/event/oktoberfest2017-yokohama-akarenga)
Oktoberfest is growing internationally but is also an extremely popular event in Japan and is actually held in other cities across Japan including Odaiba, Hibiya, Sendai and Osaka. However, out of all of the Oktoberfest that are held in Japan the one held annually in Yokohama is the most exciting.
Although it is called Oktoberfest many of these events take place throughout the year instead of being held in October. But the one held in Yokohama is actually held in October and goes on for a period of two weeks. The Red Brick Warehouse where the event takes place it is one of the most popular buildings and is located right near the Yokohama port. The area is great and often holds a bunch of different events including Christmas events and summer events as well.
(source: https://hamakore.yokohama/octoberfest-2016-reserve/)
There are many different types of beer that is sold at the Oktoberfest so for anyone who loves beer it is a must to go to this festival. There are beers that are produced right in Yokohama but there is beer that is sold there from all over the world including beer from Germany. This is a big beer festival so the companies involved in this festival bring their best beer so you are sure to find a beer that you love.
(source: https://hamakore.yokohama/octoberfest2016-yokohama-akarenga-recommend-beer/)
There is an entrance fee to enter the Oktoberfest but it is only 300 yen. Once you enter the area you will be given a wristband which allows you to go in and out of the event for the whole day. You will also be able to receive special discounts for some of the stores in the Red Brick Warehouse with the wristband.
Once you have entered you will pay for whatever food and drinks you want. When you buy your beer you will pay a deposit for your beer stein. The deposit will be different depending on the size of the beer stein and once you are finished using it you will be able to return it and get your deposit back.
If you are not much of a drinker then you can find other non-alcoholic drinks and there are lots of food options as well. And there is a lot of fun music and dancing to enjoy outside. So even if you do not drink there are plenty of ways to enjoy the festival.
On the weekdays the Oktoberfest is held from 12pm to 9:30 pm and on the weekends it is open from 11 am to 9:30 pm. There is a tent area with lots of seats and there is a lot of seats that you can find outside along with a  grass area and other wooden benches. The seats are not reserved so you'll have to wait for the seats to open if it is crowded.