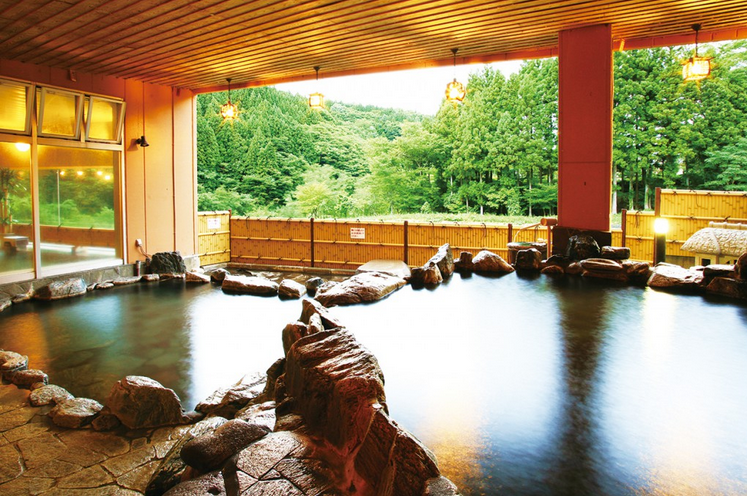 Onsen in Fukushima
If you are Fukushima you will definitely want to go to an onsen while you are there because there a bunch of different natural onsens that you can easily access from the city. All of the onsens here have a unique history, it's own quality and atmosphere as well. So after a long day of traveling and sightseeing it is a great way to relax. Although there are tons of great places to go to I will introduce the three most popular onsens to go to in Fukushima.
From Fukushima Station, there is a popular onsen town called Iizaka Onsen. You can easily access the onsen using the Iizaka Line or it is a 20 minute ride away from Fukushima city. It is a very traditional onsen town that has a variety of Japanese style inns, restaurants and other nostalgic shops. Sabakoyu is one of the oldest community bathhouse in Japan and it is located right in Iizaka. Sabakoyu has not changed a bit so it still has a very old look to it and is one of the town's proud symbol as it is a historic hot spring town.
(source: http://www.tif.ne.jp/houjin/photo/disp.html?id=3195&keyword=%E6%97%A7%E5%A0%80%E5%88%87%E9%82%B8)
If you go to Kyu Horikiri-tei you will find that there are a bunch of public footbaths, traditional ryokans, and public baths. Apart from that there are other things to see like the Totsuna Bridge which is famous for being the oldest steel arch bridge in Japan. This place also has a lot of really delicious foods to eat as well like ika-ninjin, gyoza, radium tamago and of course ramen.
(source: http://www.arukunet.jp/leisure/56875/)
Tsuchyu Onsen is an onsen town located between the mountains. There is a river that flows through the heart of the town and around the banks there are tons of onsens lined up one after the other. Kokeshi Dolls are also extremely famous in this area. The area is filled with a beautiful nature scenery so it is a great place to walk around and get picturesque pictures and relax while placing your feet in a foot spa or you during the summer season you could hike the mountains to experience the amazing Onuma, Menuma and Nidanuma ponds.
Takayu Onsen sits high up on a mountain plateau. It is an all natural hot spring town that features warm and soothing waters that are also famous for having healing effects. Many people who visit come to relax but also because they believe in the healing properties of the natural hot spring. There are actually a few Japanese style inns along the landscape of the town as they have a partnership with Attakayu. At Takayu Onsen there are a total of 14 ryokans and they are all unique in their own way with a ralaxing and unique atmosphere.