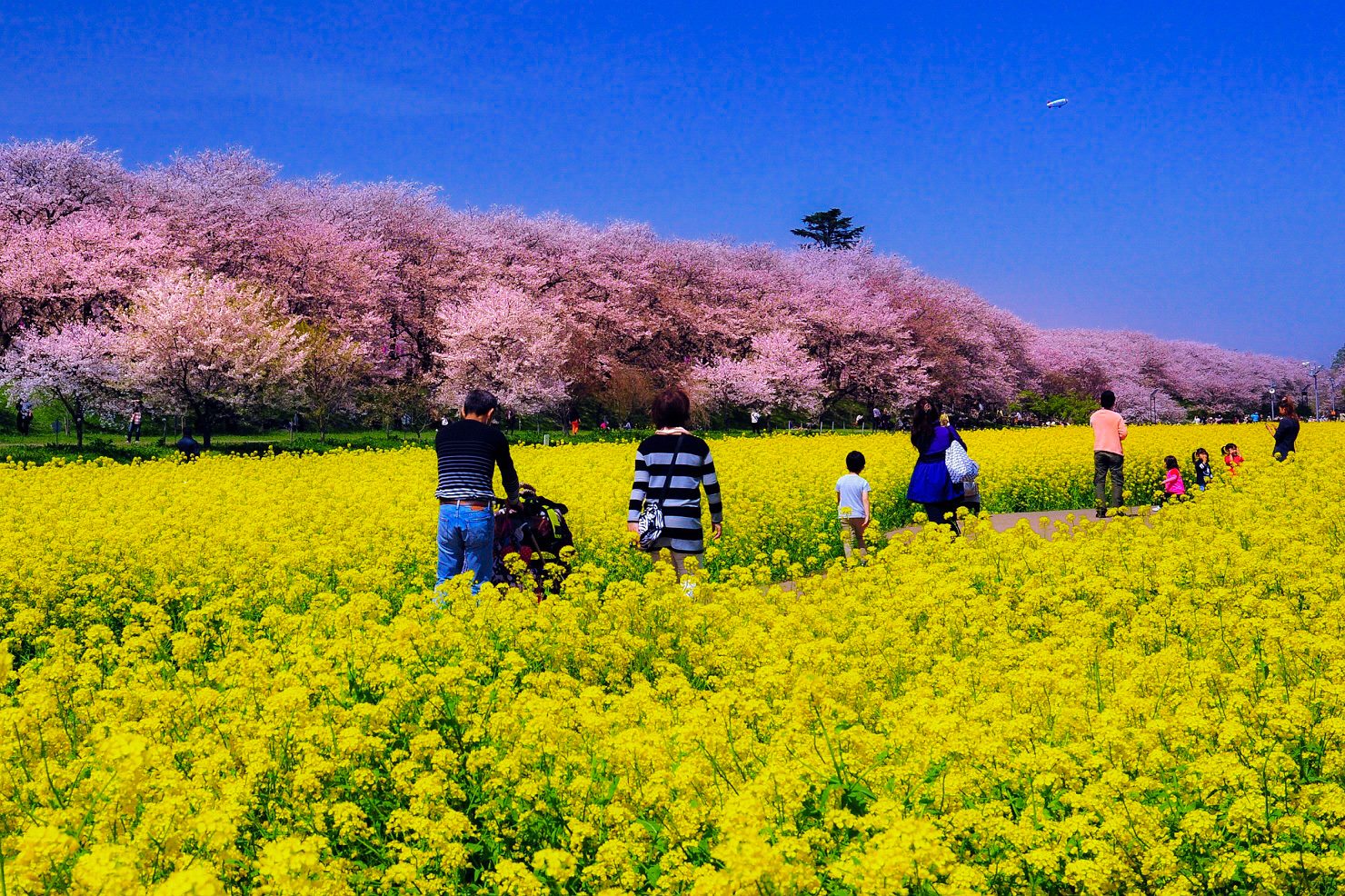 Spring in Japan (part 2) 
If you are looking for some great spots where you can get great shots of nature, flowers and sakura cherry blossoms then I've put together a great list of places for you to visit during the Spring time in Japan. I've also listed a bunch of other great places you can visit in the first part of this blog so make sure to check out Spring in Japan part 1.
(source: https://trip.pref.kanagawa.jp/destination/azumayama-park/347)
First on the list is a park called Azumayama Park in Kanagawa prefecture. This is a very famous spot for people to visit and a lot of photographers like to go to take pictures here during the spring time.  From this park you can enjoy a 360 degree panoramic view of the nature. There are over 60,000 canola flowers and other beautiful flowers that are all over the park. The great thing about this park is that you can see Mount Fuji as well.
(source: https://www.ilya.co.jp/en/project/kominato-railway/)
There is a sense of nostalgia that you get from trolley trains and one of the most famous ones in Japan is the Kominato Railway which runs through the prefecture of Chiba. From Goi Station you can get on the trolley train and it travels 39 km to Kazasanakano Station. You can sit back and relax while enjoying the scenery of beautiful nature and flowers.
In Mount Kano which is also located in Chiba there is a Mother farm that is a great trip to make with your family especially families with young children. People who visit the Mother Farm can interact with sheep, horses, rabbits, ducks and a bunch of other animals at the farm. There are also lots of fruits ad vegetables that are grown at this farm which you can pick. There is also an amusement area where you can go go carting, go on a ferris wheel and even go on the roller coaster. The large garden also is filled with a bunch of different types of flowers from all over the world.
(source: https://www.japanhoppers.com/en/kanto/chibaeastcoast/kanko/2534/)
From Ohara Station to Kazusanakano Station runs the Isumi Railway which is located in the Chiba Prefecture. There are 14 stops from Ohara Station to Kazusanako station. And along the way you can enjoy the fantastic rural landscape where you can enjoy some of Japan's serene nature. The Moomin train is one of the most famous attractions of the Isumi Railway.
(source: https://amanaimages.com/info/infoRM.aspx?SearchKey=01466012921)
Another great place to visit in the Chiba prefecture is the Shiramazu Hanabatake which is best known for their beautiful pink and purple flowers in their garden. The best time to visit the Shiramazu Hanabatake is from the month of February to March. It is located right by the sea so you can get a view of the sea and the beautiful flowers.
(source: http://www.adventurejapan.jp/vi/archives/5850)
Along the seaside in the Chiba Prefecture there is a road called the Boso Flower Line. This roads lies between Tateyama City and Minamiboso City. The road gets its name from the many flower gardens that can be found along the road. It's one of the best places to go for a drive during the Spring time. You can also find great restaurants along this road that have some of the best seafood.
(source: https://www.pref.saitama.lg.jp/chokotabi-saitama/eng/whats/87.html)
In Saitama one of the most famous spring spots is the Gongendo Tsutsumi which offers a scenery of a beautiful blue sky with pink sakura flowers and yellow canola flowers. Along the long road there are over 1,000 cherry blossom trees that are planted so it looks like a cherry blossom tunnel. Since there is very little human activity in this area it's a great place to enjoy cherry blossoms in a quiet and relaxing way.