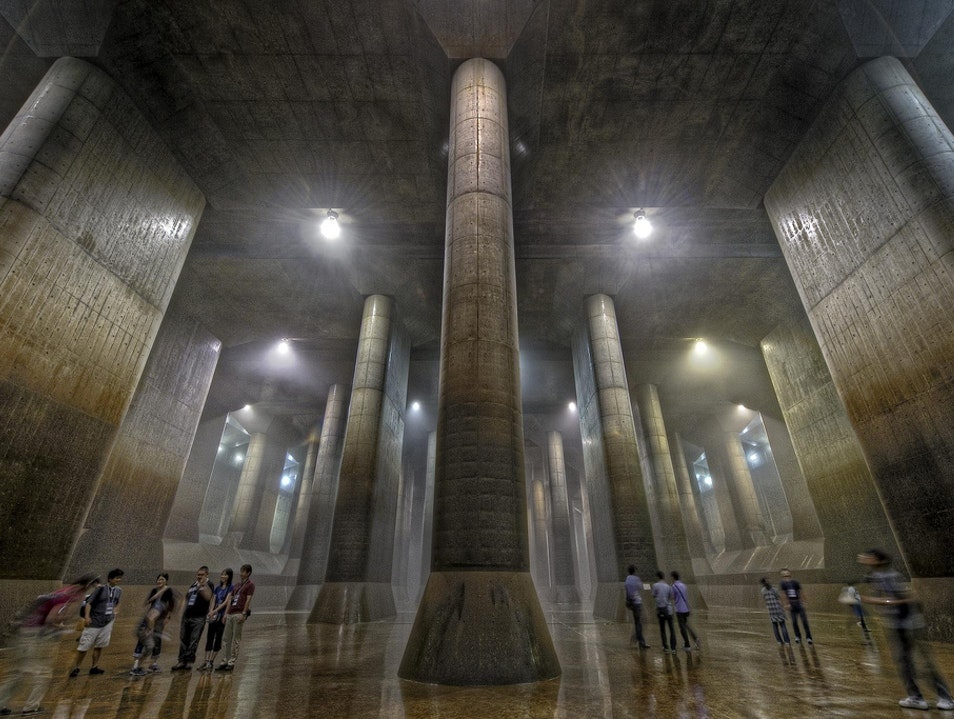 The Underground Discharge Channel
The Underground Discharge Channel Japan

In the Kasukabe area of Saitama there is an underground water infrastructure called the Metropolita Area Outer Underground Discharge Channel. It is the largest underground flood water diversion facility in the world. It is built in order to mitigate any overflowing of the major waterways and rivers of the city during heavy rain during the tsuyu season and also during typhoon season. It is actually located right between Showa in Tokyo and Kasukabe in Saitama. It is right on the outskirts of the city of Tokyo in the Greater Tokyo Area.
(source: https://www.afar.com/places/metropolitan-area-outer-underground-discharge-channel-kasukabe)
The project to build this Underground Discharge Channel began in 1992 and it was finally completed in 2006. There are five concrete containment silos in total and it is 65 meters high and 32 meters in diameters. It is also connected by a tunnel that is 6.4 km and 50 meters beneath the surface. There is also a huge water tank that is 25.4 meters and is 177 meters in length and the width is 78 meters with 59 large pillars that are connected to 78 large pumps that can pump up to 200 tons of water into the Edo River per second.
This project of the amazing Underground Discharge Channel is reported to have cost about 2 billion dollars to construct. Although it is an extremely huge amount of money this Underground Discharge Channel may end up saving many lives one day and also prevent a lot of damage from happening.
(source: https://www.gettyimages.co.jp/%E3%82%A4%E3%83%99%E3%83%B3%E3%83%88/tour-of-metropolitan-area-outer-underground-discharge-channel-156976817#shaft-which-channels-flood-water-stands-in-the-metropolitan-area-picture-id156814667)
The Ryukyukan which is the Underground Exporation Museu of the Underground Discharge Channel is actually a tourist attraction. It is also free to come to this tourist attraction but the tours are only conducted in Japanese so you should have a Japanese person with you to act as a translator for the group for any non-Japanese speaking people.
The main water tank of the Underground Discharge Channel resembles a temple and therefore sometime it is called the Underground Temple. And because the water tank resembles a temple it has been used in many scenes for movies and tv programs to create a mystic scene. A television commercial for Land Rover was also made at this location and a bunch of other photoshoots have taken place here.
There was even a version of the Metropolitan Area Outer Underground Discharge Channel that was featured in the MIrror's Edge which is a video game. A short documentary called Tokyo Floor Prevention was filmed here for Australia's ABC TV channel.
The Hunger Games; Mocking jay Part 2 also featured this facility as a part of one of the scenes to the Capitol. Attack on Titan No Regrets, which is a manga based off of the anime Shingeki No Kyojin also used this facility as inspiration.