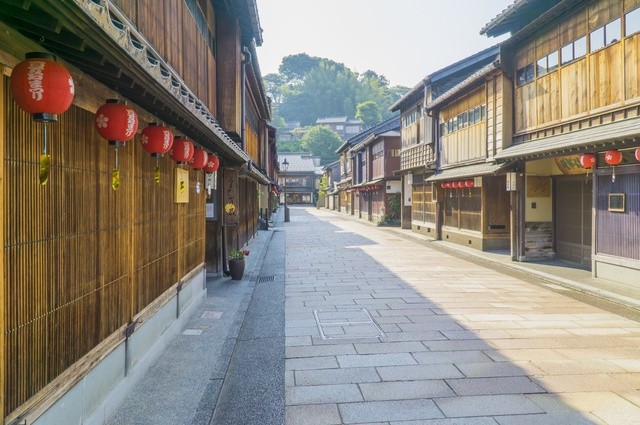 Things to do in Kanazawa
If you want to get a taste of what the Edo period was like then you will definitely want to go to Kanazawa. Of course there are places like Edo Wonderland where it is an attraction park that is recreated to look like the Edo period it just isn't the real thing. Where as in Kanazawa a  lot of the Edo-era districts are still well preserved. It is even known to be the little Kyoto of Japan.
Just as a side note, the easiest way to get from Tokyo to Kanazawa is by Shinkansen. So if you have a JR Rail Pass then make the most out of it and take a day or two to explore Kanazawa.
The main way to get around in Kanazawa would be by bus. So you can hop on and off of the bus if you have a Kanazawa Loop Bus pass which is 500 yen. Which is very affordable! They also run every 15 minutes so you don't have to worry about having to waste your time waiting for the bus.
So now let's get into some of the most popular places to see and do things in Kanazawa.
(picture source: https://allabout-japan.com/en/article/4911/)
First, I'm going to start with the Higashi Chaya District which was my absolute favourite. This is the area where the geisha houses are located and they are very well preserved. Although the houses itself are well preserved, most of them have been converted into restaurants, teahouses and shops. However, there is actually one geisha house that still remains and it is known as the Shima Geisha House. It dates all the way back to the Edo Period and gives you an insight into what a Geisha House was like back then.
(picture source: https://www.fashion-press.net/news/32265)
Another thing that you will see a lot of in Kanazawa is gold. From gold jewelry to food with gold chips in it. One thing that you may want to try is the ice cream wrapped in gold. The gold doesn't taste like anything so it's just a regular ice cream but it's just a cool experience to actually eat gold. That's definitely not something you get to do often.
(picture source: http://日本の城.xyz/668/)
Another amazing place to visit is the Kanazawa Castle. This is the original castle of Lord Maeda Toshiie which the original castle had been burnt to the ground so it was rebuilt afterwards. Although it was rebuilt, it was rebuilt exactly the way it was and it is an absolutely gorgeous castle. And if you are lucky you may even see people getting their pre-wedding pictures being taken here so you will see them in traditional Japanese clothing.
(picture source: https://www.kyodo.co.jp/life/2017-12-26_1711569/)
Although there are a lot of must visit locations in Kanazawa the Kenroku-en Garden is an absolute must! It is a traditional Japanese garden and has even been ranked as one of the top 3 gardens in all of Japan. It is an absolutely huge garden and you can just enjoy the peaceful garden. There are lots of ponds, waterfall, beautiful Matsu trees and a beautiful tea house as well.
(picture source: http://riccun.blogspot.com/2015/09/blog-post_57.html)
Myo-Ryuji Temple is a Ninja temple in Japan that is located in the Tera-Machi Temple district. The temple is still in its original shape and there are a lot of tricks to escape for emergency attacks. To get in you will need to show your passport and for children under the preschool age will not be allowed to enter.
The Nagamachi District, which is also known as the Samurai district has a bunch of Samurai houses that have been preserved.There is one Samurai house that you can now enter which originally belonged to the Nomura Family. You can even enjoy a tea ceremony at this house.
(picture source: https://icotto.jp/presses/1141)
The last most recommended place to visit is the Omicho Market. This is much like the Tsukiji market in Tokyo. There is a lot of seafood and vegetables that are sold here. The restaurants in this area are known for using the freshest fish for their seafood donburi and sushi. It is absolutely delicious so it is definitely worth visiting if you are a sushi lover!
If you are interested in renting a pocket wifi or a prepaid SIM card during your trip to Japan then make sure to check out the Genki Mobile Website: https://genkimobile.com/