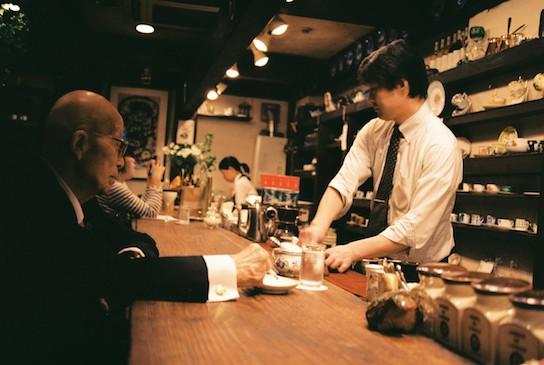 Tokyo Top Retro Cafes

One of my favourite places to go in Japan is a Kissaten. If you don't know what a kissaten is it is an old style Japanese coffee shop where they sell coffee, cakes, tea and sometimes toast. These Kissaten have a vintage feel to them with their 60's decor. If you never experienced the 80's bubble era then the Kissaten's in Japan are the next best thing and if you have experienced it then it is a trip down memory lane.
Tokyo has some of the most famous kissaten's and if you want to enjoy something that is retro and different from all the hipster coffee shops that are trending today then you should definitely check these kissaten's out.
(picture source: http://frshgrnd.com/2010/10/cafe-de-lambre/)
(picture source: http://frshgrnd.com/2010/10/cafe-de-lambre/)
(picture source: https://www.flickr.com/photos/jmoranmoya/9005304423)
First on the list is Cafe de L'Ambre which first opened in 1948. Amazingly it is still run by the same man who has been running it since the day it first opened. The interior looks absolutely amazing. It looks as if it was last remodelled sometime in the 80's. They have a bunch of different coffee types that you can try and the great thing is that they have an English menu as well.
(picture source: http://www.cafehop.my/blog/coffee-as-a-career-in-malaysia-part-1-of-2/#.WwaLcy-B0fM)
(picture source: http://afashionistasguide.com/tea-cake-satei-hato/)
Next most recommended kissaten in Tokyo is Satei Hato. This kissaten has a gorgeous long hardwood counter and the tableware displayed behind it is amazing as well. They have the highest quality hand-drip coffee and there are 8 different types of charcoal roasted beans that you can choose from. Although the coffee is pretty expensive here it is also the most divine coffee you will ever taste.
(picture source: https://search.yahoo.co.jp/image/search?ei=UTF-8&fr=lmd_poi&p=トロワ%20シャンブル#mode%3Ddetail%26index%3D5%26st%3D143)
(picture source: https://www.timeout.jp/tokyo/ja/レストラン/カフェ-トロワ-シャンブル)
The third kissaten on this list is Cafe Trois Chambres which first opened in 1980. They have shelves filled with antique cups and they have some of the most delicious cheesecakes here.
(picture source: https://co-trip.jp/article/8285/)
(picture source: https://co-trip.jp/article/8285/)
Another famous kissaten in Tokyo is Sumida Coffee. They serve their coffee in Edo Kiriko cups which are a Tokyo born form of glass manufacturing and decoration. Although they are usually only used to serve cold drinks the Edo kiriko cups here were made specifically to serve hot coffee as well. The owner will give you a cup design based on his first impression of you. You can choose to buy the cops from here as a souvenir if you really like it.
(picture source: https://tabelog.com/en/tokyo/A1311/A131104/13019585/)
(picture source: https://deskgram.org/p/1780199733886003521_2046127352)
Kayaba Coffee looks like a charming old coffee shop that has been there for over 70 years. There is delicious coffee and they also have a retro menu as well. You can get an egg sandwich or they also serve a weekly lunch. The interior is also pretty impressive as well. So if you are near Yanaka's kototoi dori it is definitely worth checking it out!
Muku is usually packed with it's regular customers who are chatting or reading the newspaper while sipping on their coffee and eating cheesecake. Their coffee is delicious but they also serve some of the best homemade cheesecake. So if you want to try both you should get the cake set which is only 650 yen. They usuaslly have a few different types of cheesecake that you can choose from too!