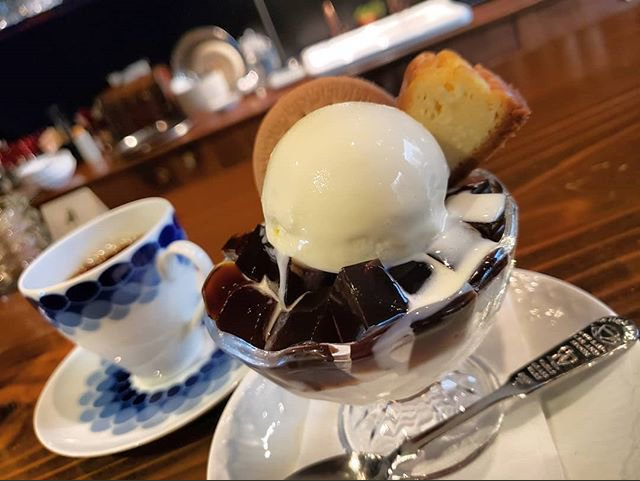 Top retro cafes in Kyoto
When traveling throughout Kyoto you may be visiting a lot of shrines, temples and other very traditional Japanese places. But if you love coffee and are looking for something a bit different from a modern coffee shop that you can pretty much go to anywhere else then I would recommend going to a kissaten. And Kyoto has some very cool kissatens so let me recommend some of the most popular ones to you.
(source: http://besanee.jp/gourmet/9109/)
(source: http://cafe-monogatari.blogspot.com/2012/11/blog-post.html)
Smart Coffee is a kissaten that first opened on 1932. When it first opened it served a lot of Western cuisine but after the second World War ended it turned from a restaurant to a coffee shop. They use a specific way to roast their coffee beans and so they really take their time and effort to make one cup of coffee. They also serve egg sandwiches which has fried egg and spicy mustard spread on the toast.
Cafe Go Go is another great kissaten in Kyoto and it is on Imadegawa dori which is a short walk away from the Kawabata dori. There is an interesting mix of university students and old regulars that come to this kissaten. The reason why a lot of university students can be seen here is because Kyoto University is located near by. Although the outside of the building may not look very nice the inside has a very unique look to it. On the menu they have coffee and a breakfast set that comes with toast and coffee.
(source: https://twitter.com/hashtag/%E5%96%AB%E8%8C%B6%E3%81%A9%E3%82%93%E3%81%90%E3%82%8A)
(source: https://search.yahoo.co.jp/image/search?ei=UTF-8&fr=lmd_poi&p=%E5%96%AB%E8%8C%B6%E3%81%A9%E3%82%93%E3%81%90%E3%82%8A)
Kissa Donguri is about a two minute walk away from Marutamachi station so it is right in the middle of the Kyoto business district. It has a very laid back atmosphere where it can help you forget about the hustle and bustle of the outside world. At this kissaten you can pick your own beans and then it is hand poured for you by a barista. There are a few breakfast sets that you can choose from and then a few other dishes like past and curry that you can choose from during lunch time. They also have cake sets where you can choose a cake and add a cup of coffee to it.
(source: https://tabelog.com/kyoto/A2601/A260501/26001505/dtlphotolst/4/smp2/)
(source: https://tabelog.com/kyoto/A2601/A260501/26001505/dtlphotolst/4/smp2/)
Along Imadegawa Dori there is another kissaten called Cafe Shizuka. There are a few older women who work here and when a customer enters they raise an eyelid to acknowledge the customer. It was first built in Show 12 (1937) so it is an extremely old school kissaten. It appears as though the booths, window decorations and floor tiling have not changed in decades. On the menu there is coffee, tea, pancakes and sandwiches.
(source:; https://ja.foursquare.com/v/%E5%96%AB%E8%8C%B6%E3%83%8B%E3%83%A5%E3%83%BC%E9%9B%B2%E4%BB%99/4ef454dd4fc69ad418ecd7bf/photos)
(source: https://cafesnap.me/p/6059)
Located a 6 minute walk from Karasuma station is a kissaten called Unzen. Unzen first opened in 1935 and the interior has hardly changed since it first opened. From their in house roasted beans they serve some of the most flavourful coffee that they proudly serve to their customers. There are lots of old daily regulars that stop by to have a cup of coffee.
(source: https://kyotomoide.exblog.jp/14911211/)
(source; https://www.my-fav.jp/spot/54240/)
In 1971, a kissaten called Maeda Coffe opened up in Kyoto. The original owners of Maeda Coffee originally worked at a very famous coffee shop called Inoda Coffee before becoming independent. Their coffee has a delicious aroma that is enjoyed by very wealthy merchants who come to this shop. They also offer a very delicious homemade spaghetti which is a must try when coming to this kissaten.