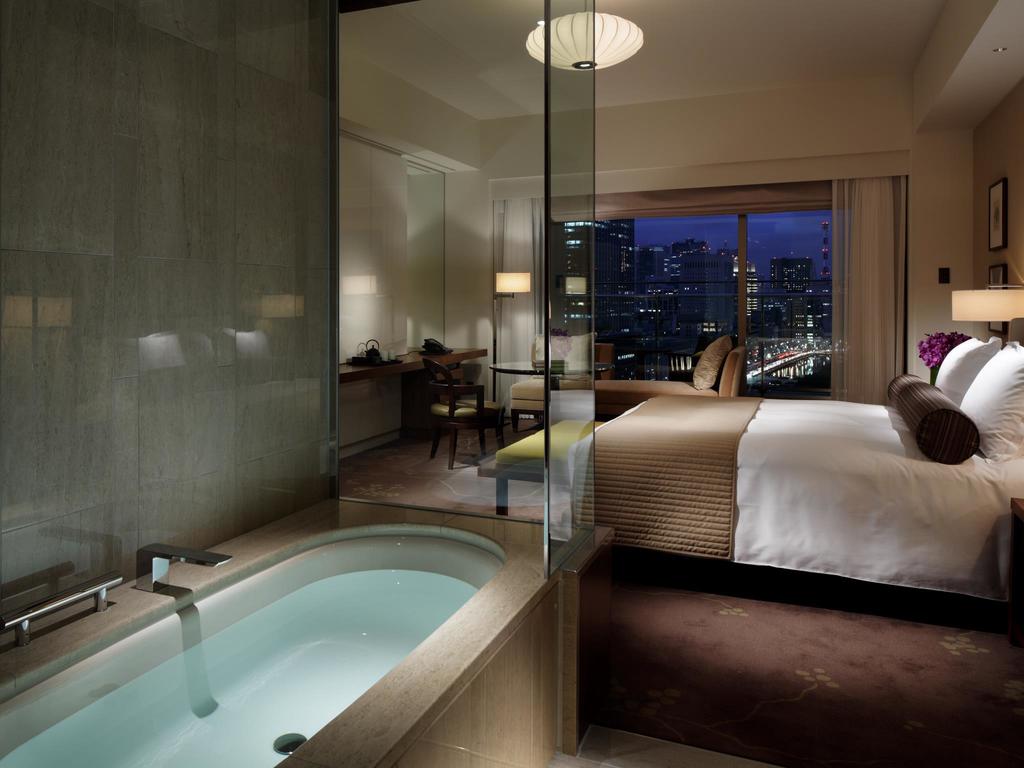 Top Searched Rooms in Tokyo (Part 2)
Top Searched Rooms in Tokyo (Part 2)
In the first part of this blog I mentioned two hotels that are most searched and they are the Hotel Gracery and the Park Hotel Tokyo. If you want to know more about why those are the most searched hotels make sure to check out part 1 of this blog.
(source: https://www.booking.com/hotel/jp/palace-tokyo.ja.html)
The third most searched hotel in Tokyo is the Palace Hotel Tokyo. It is only an eight minute walk away from Tokyo Station and is also very close to popular tourist attractions like the Imperial Palace, Ginza and Nihonbashi. Ginza is a popular shopping district and Nihonbashi is a historical location most famous for the Nihonbashi Bridge which is the most famous bridge in Japan.
Palace Hotel Tokyo was first built in 1961 in order to prepare for the Tokyo Olympics in 1964 and it was then newly opened in 2012. The building has 23 floors and has everything that you need when staying in Tokyo. The hotel has amazing service, comfortable rooms and is located in a convenient area.
In the hotel there is a restaurant that serves Japanese cuisine, French cuisine, and Chinese cuisine. It is right in the comfort of your hotel so you don't have to go out looking for a place to eat. But of course if you want to eat out there are lots of great restaurants that you can find near the hotel.
The hotel also offers a bicycle rental service so you can cycle to all of the close areas to your hotel. So instead of walking to Ginza or Nihonbashi you can cycle there which will save you a lot more time than walking.
(source: http://www.eatacity.com/guide/tokyo/hotels/granbell-hotel-shinjuku/)
The fourth most searched hotel is Granbell Hotel. It is located just a three minute walk away from Shibuya station so it is an extremely popular hotel to stay at. Unlike many of the other hotels with automatic glass entrance doors, the Granbell Hotel entrance is a huge brown door.
The Granbell Hotel can be found in Shibuya, Shinjuku and Akasaka and their concept is "fun to stay at." Their goal is to provide their guests with a relaxing stay yet have an enjoyable time. They also have designed their rooms to be minimalist yet pop and artistic. There are different rooms that you can choose from including the Feminine Suite, Penthouse Suite and Business Suite. There is only one suite room of each type so if you want to make a reservation make sure to do it way in advance.
(source: https://www.amoma.com/hotel-remm-akihabara-262055/en)
Fifth on the list of most searched hotels is the Remm Hotel Akihabara which is located a two minute walk away from the Akihabara station. Akihabara is very vibrant and busy with all the otaku people as Akihabara is the Japanese subculture and pop culture of the city. But it can get tiring when you are in Akihabara so if you are looking for amore toned down and simple hotel to stay at then this is the perfect place for you.
The beds at the Remm Hotel were designed by the hotel and it spreads your weight across the bed so that you can get the best sleep possible. And you can even choose your pillow in accordance to your preference. The very white walls of the rooms give you a very relaxing atmosphere as well.
You can also book in room massages and you can enjoy your breakfast at the Portal Cafe Akiba which is located on the second floor of the hotel.