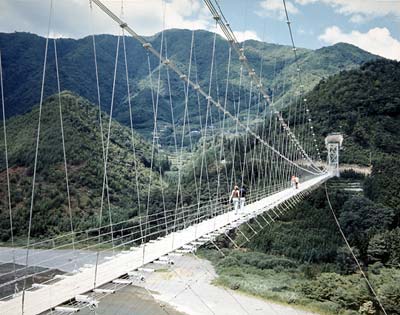 Totsukawa
Totsukawa is a great place to visit if you are looking for a place with a great scenery, a peaceful atmosphere and a relaxing getaway. This village which is deep in the mountains have a few trails that run through it that are a part of the Kumano Kodo pilgrimage routes. These routes have hardly changed since ancient times. There is a restored Meiji era house called the Omorinosato which you can stay at in order to get a real village life experience. Here, you can meet a bunch of the locals and learn how to make sushi or learn a little about farming and fishing.
(source: https://www.kumano-experience.com/WP2017/ex/en/?p=2704)
Yoshino and Mount Omine are connected with Kumano Grand Shrines by the Omine Okugake Trail. The Shugendo practitioners have to take this route as a part of their pilgrimage. The views from this route are absolutely spectacular but it is also a very difficult trail and is even said to be dangerous. So if you would like to take this trail it is best to have an experienced hiker with you.
(source: https://www.japanhoppers.com/en/kansai/tenkawa_totsukawa/kanko/1649/)
In the forest of ancient cedar trees there is a shrine called the Tamakijinja that is far removed from modern life. It is one of the main areas to stop off at when traveling on the Omine Okugake Trail. Although for over a thousand years it was only able to be accessed by foot, there are now buses that go to a nearby location. But you still do have to walk for 20 minutes in order to get to the Shrine and it is a pretty steep walk. When you get to the shrine you are rewarded with an amazing view and a free green tea that is served right to you.
(source: http://www.takadakiko.com/products/case/detail0036.html)
There is a beautiful suspension bridge called the Tanize Suspension Bridge and it is great during all seasons of the year. There is a festival that takes place on the suspension bridge called the Yuredaiko festival every year on August 4th. There is a taiko performance that takes place that is absolutely spectacular.
(source: https://www.visitnara.jp/lists-and-stories/story/mastering-the-art-of-onsen/)
And for those who are hiking there is a public hot spring called Iori no Yu Onsen where you can relax after a tiring hike. The tubs here are all made from cedar and there is a free foot bath and cold drinking water. Right when the sun sets you will see the sun go between the two ridges of the mountain which makes for a wonderful view.
(source: https://www.visitnara.jp/venues/A01152/)
While you are in Totsukawa you should definitely try riding a yaen. This is a human powered ropeway which is hand operated and is a cable car for one. This was once a very important ropeway as it was an essential means of crossing the rivers and deep valleys. One of the few places where you can still try this is at the Hotel Subaru. It does require some strength but it is worth the experience.