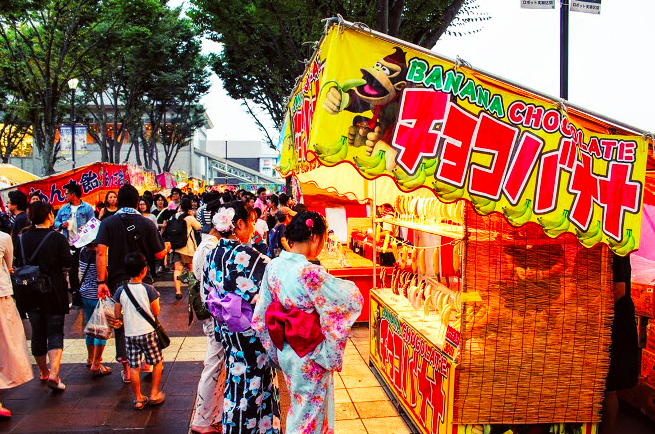 Traditional Japanese Festival Games (Part 2) 
Traditional Japanese Festival Games (Part 2) 
As I mentioned in the first blog, there are many many different festivals to enjoy during the summer time in Japan. All throughout Japan there are various different traditions so all of the festivals are very different. Usually you will find that there is a parade that takes place and a lot of dancing. There are almost always lots of food stalls where you can enjoy the delicious foods while enjoying the festival. The other thing that you will find at festivals are games.
These games are mainly for children but adults can enjoy them as well. They are traditional Japanese games that all Japanese kids have played growing up so it is a great way to experience how kids have fun at Japanese festivals. I've already mentioned some of the most popular games and here is a continuation of all the other games that are popular at these Japanese festivals.
(source: https://www.scape.sg/online/get-your-game-on-at-the-super-japan-matsuri-festival/)
The Shateki game is a gun shooting game that has been played in Japan for a very long time. However, you don't really see this game very often at festivals anymore. But there are still some festivals and places in Japan where you will see this game. Odaiba has an edo games area where you can see this game and the Edo Wonderland in Nikko also has this game. It is a very fun game where you use the riffle to shoot down a prize The riffles use a cork which you are to use to hit that prize down. If you are able to knock it down then you have won the prize!
(source: https://blogs.yahoo.co.jp/aki12mari/36185614.html)
Another game that you will see at some festivals is wanage which means ring toss in Japanese. This is a very popular game that is played at summer festivals. Usually there are a bunch of different ways in which this is done. You are either given rings and you toss it and try to get it on a cone or you toss is and try to get it on the prize you want. It is a bit tricky even though it may look easy. But if you have amazing aim then you should go try this game out!
Another popular game that kids love is senbonbiki. This is a game that is a lot like a lottery. But the great thing about this game is that everyone gets a prize no matter what. So how this works is that there are a bunch of strings and on one end of it there are prizes attached to it. Usually the prizes are treats or toys that kids will love. Depending on which string you pull you will either get something that you want or that you don't want. It is an exciting game to play.
(source: https://aminoapps.com/c/anime/page/blog/wednesday-blog-japanese-masks/YMtb_ueGLPGqYV35EWLa0R6n0aWQPq)
Although the next two things i mention are not games these are things that you will often see at Japanese summer festivals that kids love. Summer festivals often have masks of different characters loved by kids. For example you will see super hero masks, disney characters, and other Japanese characters. In Western countries kids will often get face paint done but in Japan you will often see kids wanting masks.
(source: https://psj.xsrv.jp/phototsuku/ibento/syuryou/maturitsukuba2016gallery)
And the best thing about Japanese festivals is the food. This can be enjoyed by both children and adults as everything you find will be delicious. You'll usually have a lot to choose from too but some of the main things that you will find is shaved ice, yakisoba, takoyaki, chilled cucumber, castella, meat skewers and more! There is nothing I love more about Japanese festivals than the delicious food. And you'll always find places with alcohol as well!