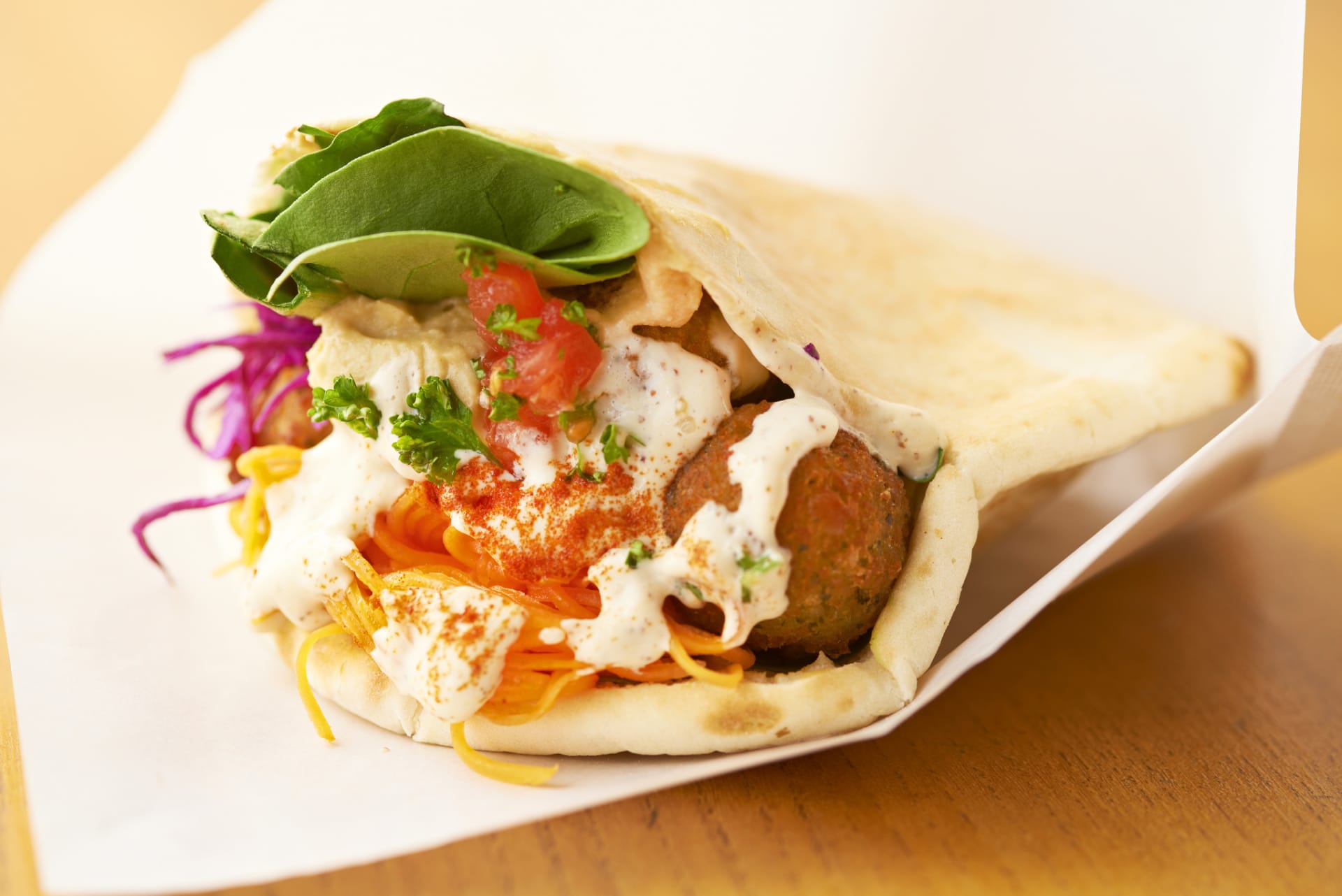 Vegetarian/Vegan Restaurants
Vegetarian/Vegan Restaurants
If you are a Vegetarian/Vegan and you're traveling to Japan, then you may find it a bit challenging. In Japan, you probably won't meet a single person who is a vegetarian/vegan. It is pretty much unheard of for a Japanese to be vegetarian/vegan as it is a part of their culture to eat fish/meat. Even the soup is fish or meat base so it can make it super challenging to find food in Japan.
However, because there are so many foreigners living in Japan, especially Tokyo, it has become much more common to see restaurants that are all vegetarian/vegan or restaurants that have vegetarian/vegan options. It is even becoming more common to see imported vegetarian/vegan foods in some of the supermarkets now. Although, you will most likely only find vegan/vegetarian/gluten free options at International supermarkets you'll see that even regular Japanese supermarkets are slowly starting to put those options on their shelves as well.
If you are staying in Tokyo and you plan on cooking most of your meals then you may want to check out International supermarkets like Nissen in Azabu-Juban, Hiroo International Supermarket, and so on.
However, if you won't be cooking your meals and you plan on eating out then don't worry. I've put together a list of vegetarian/vegan restaurants for you so you don't have to stress about finding a restaurant.
1. Falafel Brother
(picture source: https://www.falafelbrothers.jp)
(picture source: https://www.falafelbrothers.jp/)
The Falafel Brother is located near Roppongi station exit 3. They have both a Vegetarian/vegan options and all of their bread is gluten free. They have salad bowls, sandwiches, burgers, hummus plates and they even have vegan deserts to enjoy. They also have uber eats that is now available so if you're exhausted from a day of doing sightseeing then you can always order it on uber eats and enjoy a delicious meal at home. They are open from Monday through Saturday from 11pm to 10pm.
2. Rainbow Raw Food
(picture source: http://rainbowrawfood.com/english/)
Rainbow Raw Food, which is located in Ebisu, is a Vegan cafe/restaurant. They are all about eating uncooked vegetables so that you can absorb all of the good nutrients of uncooked vegetables which can sometimes be lost when cooked and as their website says it "improves metabolism, detoxification, and digestion, which produces the effect of maintaining health and slimming the body." If you love raw foods and deserts then you will absolutely love this place. They are open from Monday through Saturday and their Lunch hours are from 11:00 to 3pm (Last order is is 2:30). The Dinner menu is served from 5pm to 11pm (Laster order is 10pm).
3. Deva Deva Cafe
(picture source: http://tokyobestburgers.com/devadeva-cafe/)
(picture source: https://slolab.net/cafe/deva-deva-cafe/)
Deva Deva Cafe is a Vegan cafe that serves both American and Japanese style foods. Some of the foods they sell include salads, veggie burgers, sandwiches, curry, pizza, vegan cakes, non-alcoholic beverages, non-caffeine drinks and juice. Deva Deva cafe is located in Kichijoji and is open everyday from 11am to 5pm (last order is 4pm). You can even make reservations to have a birthday party held here in which they can bake a Vegan birthday cake.
4. T's Tan Tan Tokyo Station
(picture source: http://www.bigtentvegan.com/blog/2014/7/31/ts-tantan-inside-tokyo-station-vegan-in-tokyo-japan)
This restaurant is located right in the Tokyo station which is a great stop to make if you are hungry and are passing through. They actually have another restaurant that is located in Ueno, which is also a popular tourist location so you should definitely make a stop by this restaurant if you are at Tokyo station or Ueno. This place is known to serve very delicious vegan ramen, different vegan rice bowls, and veggie gyoza. They have eight different vegan ramen bowls that you can choose from and 5 different types of rice bowls that you can try out as well. It is hard enough finding vegan/vegetarian places in Tokyo but finding a vegan ramen place is even harder. So this is definitely a place that I would recommend if you are a vegetarian or vegan craving ramen. T's Tan Tan is open everyday from 7am to 11pm.
5. Mr. Farmer
(picture source: http://www.eat-walk.com/mf/)
(picture source: http://www.eat-walk.com/mf/)
Mr. Farmer is more for those who are wanting to eat healthy. So although they do have a vegan menu their concept is more about "beauty and health made from the food". This place has become extremely popular in Tokyo especially amongst women. They not only have a Vegetarian menu but they also have foods that are gluten-free and foods that are high in protein and low in calorie to fit the needs of athletes. There are currently four different Mr. Farmer restaurants which are located in Omotesando, Shinjuku, Roppongi and Komazawa Daigaku. Depending on which location you go to the open hours are different. The one in Omotesando is open from 9am to 8pm, the one in Shinjuku is open from 9am to 11pm, the one in roppongi is open from 11am to 11pm, and the one in Komazawa Daigaku is open from 7am to 9pm.
6. Ta-im
(picture source: https://co-trip.jp/article/15155/)
Ta-im which is located right in the heart of Shibuya is an Israeli cuisine restaurant that has a vegetarian menu. They have an assortment of Israeli dishes that you can choose from and they even have a take out menu. The Lunch hours are 11:30 am to 3pm (last order is at 2:30) and their dinner hours are 6pm to 11pm (last order is at 10:00pm). On Sundays and holidays they are only open from 6pm until 10pm (last order is at 9pm). If you are in Shibuya and you would like vegetarian food or are looking to have hummus, falafel, pita and other Israeli dishes then make sure to visit this restaurant.
7. Ain Soph Journey
(picture source: https://www.vegantravel.com/dining/japan/tokyo/shinjuku/all-vegan/ain-soph%EF%BC%8Ejourney/)
(picture source: https://www.vegantravel.com/dining/japan/tokyo/shinjuku/all-vegan/ain-soph%EF%BC%8Ejourney/)
Ain Soph Journey is a company that owns four different Vegan/vegetarian restaurants that have different vegan lunch courses, dinner courses or just regular lunch plates and dinner plates as well as vegan desserts. Some of the dishes that they have include pancakes, salads, curry and rice, vegetarian paella, tofu omelettes and so on. They even have afternoon tea sets which you can enjoy with friends and family and they even accept reservations for parties as well.  Here are the names of the four different restaurants; Ginza, Journey, Soar, and Ripple. For more information and their location/hours of operation please visit their website.
8. Itadaki Zen
(picture source: http://itadakizen.com/2016/01/26/%e3%81%84%e3%81%9f%e3%81%a0%e3%81%8d%e7%b9%95%e3%81%af%e3%81%aa%e3%81%9c%e3%83%93%e3%83%bc%e3%82%ac%e3%83%b3%ef%bc%9f/)
(picture source: http://itadakizen.com/2016/01/26/%e3%81%84%e3%81%9f%e3%81%a0%e3%81%8d%e7%b9%95%e3%81%af%e3%81%aa%e3%81%9c%e3%83%93%e3%83%bc%e3%82%ac%e3%83%b3%ef%bc%9f/)
As I've mentioned many times in this blog post, it can be really difficult to find vegetarian/vegan food in Japan. And most of the vegan or vegetarian places that you do find in Japan have more Western style dishes. But I know that if you are visiting Japan you still want to get the whole experience by eating Japanese food. But most Japanese style restaurants use meat or fish in their dishes and even the soups are fish or meat based. But at Itadaki Zen they serve Japanese style vegan dishes! Perfect for all those who are dying to have Japanese style foods without having to worry if it is really vegan/vegetarian or not. Itadaki Zen is located near Hoya station and is open from Monday to Saturday 11:30am to 3pm for lunch and 5pm to 9pm for dinner. Although you can walk-in during the lunch hours, for the dinner hours they accept reservations only.
9. Darjeeling
(picture source: http://favy-jp.com/topics/269)
Near Nishi-nippori station, you can find a delicious Indian cuisine restaurant that has vegetarian and vegan options. You can't go wrong with Indian curry with rice or Naan bread so if you are ever in the area looking for a place with vegetarian or vegan options than this is a good place for you. They are open from 11am to 11pm everyday!
If you are looking to rent a pocket wifi device or a prepaid SIM card in Japan take a look at the following website: https://www.genkimobile.com/