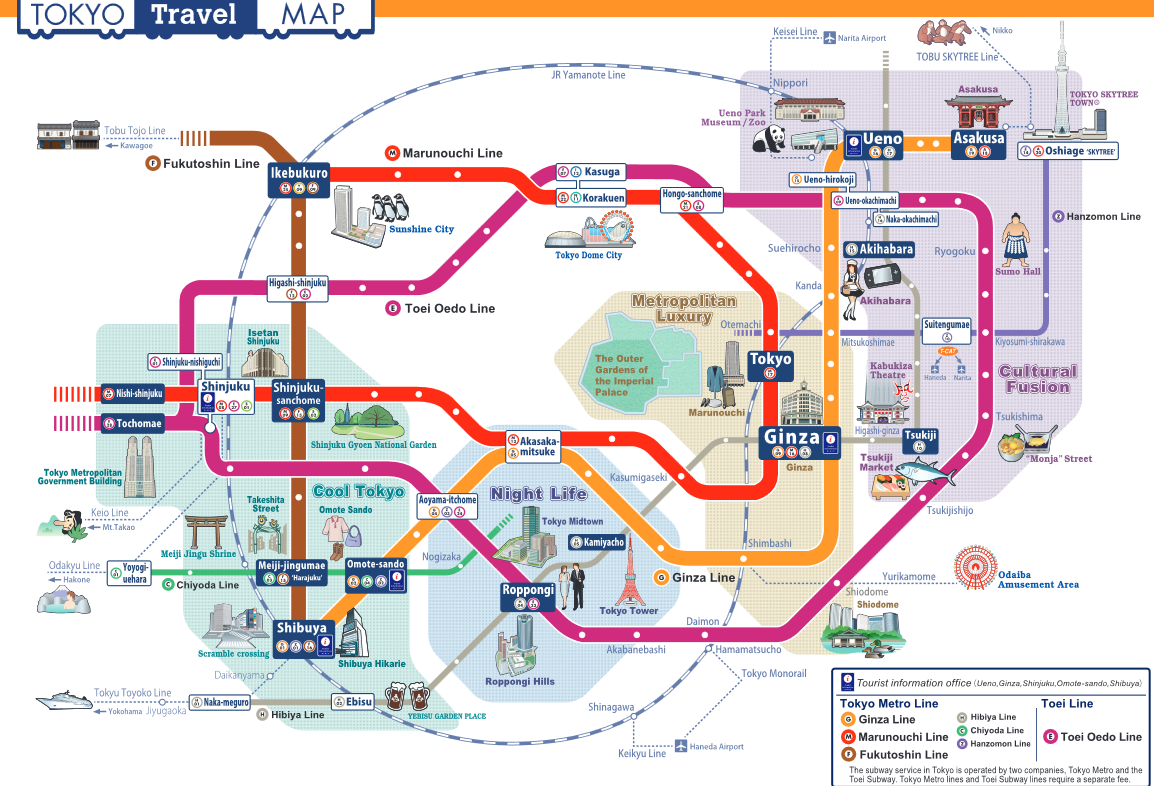 When you first arrive in Tokyo, you will look at the train map and most likely be very overwhelmed. There are so many different train lines that are available that it may look very confusing. But you'll come to find out that it is actually a very well made system that will be very convenient during your travels throughout Tokyo. And if you go to the station or search online you'll find that there are actually really good Tokyo Metro Map Guides that show where and what station all the tourist attractions are located.

If you are looking to buy a Tokyo Metro Train Pass you should know that there are three different passes that you can buy. One is an unlimited 24 hour pass, the second is an unlimited 48 hour pass and the third is a 72 hour unlimited pass. So for example, if you buy a 24 hour train pass then it will be activated from say 8am to 8 am the next day. The reason why these passes are so great is because you can ride the metro as many times as you want and usually one train ride can cost about 200 yen or more. It is a great deal and that is why locals are not allowed to purchase this pass. However, if you are a domestic traveler from outside of Tokyo, Kanagawa, Yamanashi, Tochigi, Ibaraki and Gunma then you can also purchase this pass. You can purchase this pass at Haneda airport, Narita airport, BIC Camera, Laox or HIS and all you have to do is show them your passport.
The cost for the 24 hour train pass is 800 yen for adults and 400 yen for children. The cost for the 48 hour train pass is 1,200 yen for adults and 600 yen for children. The cost for the 72 hour train pass is 1,500 yen for adults and 750 yen for children.
Click here to access the Tokyo Subway Ticket official site for the full details (another window will open).
When looking at the Tokyo Metro Map there are a few things that may need some explanation. You'll see at each station that there is an alphabet letter and then a number. The alphabet letter represents the subway line name and the number shown is the number of the station according to the subway line. There are 9 different subway lines that you can take in total and they are the following: Ginza line, Marunouchi line, Hibiya line, Tozai line, Chiyoda line, Yurakucho line, Hanzomon line, Namboku Line, Fukutoshin line.
Click here to access the official site of Tokyo Metro Subway Map to download PDF files of the Tokyo Subway route map in English, Deutsch and Russian  (another window will open). And we usually enclose a Tokyo Metro Subway Map in English for Genki Mobile customers as it will be quite helpful.

For those of you who would like to download a free mobile app for the Tokyo Subway Navigation then there is one available on both the Apple Store and the Google Play store by searching Tokyo Subway Navigation. This will be very helpful for those who are visiting for the first time.
If you do happen to have any problems though you can always go to the station staff and there is usually always someone who can speak English who can help guide you to your location. People in Japan are so helpful and you'll always have a pleasant experience with the people in Japan as they are so kind and helpful.
Click here a link for the Tokyo Subway Map with the tourist locations that you can visit using the subway lines (another window will open) – you can download a PDF file.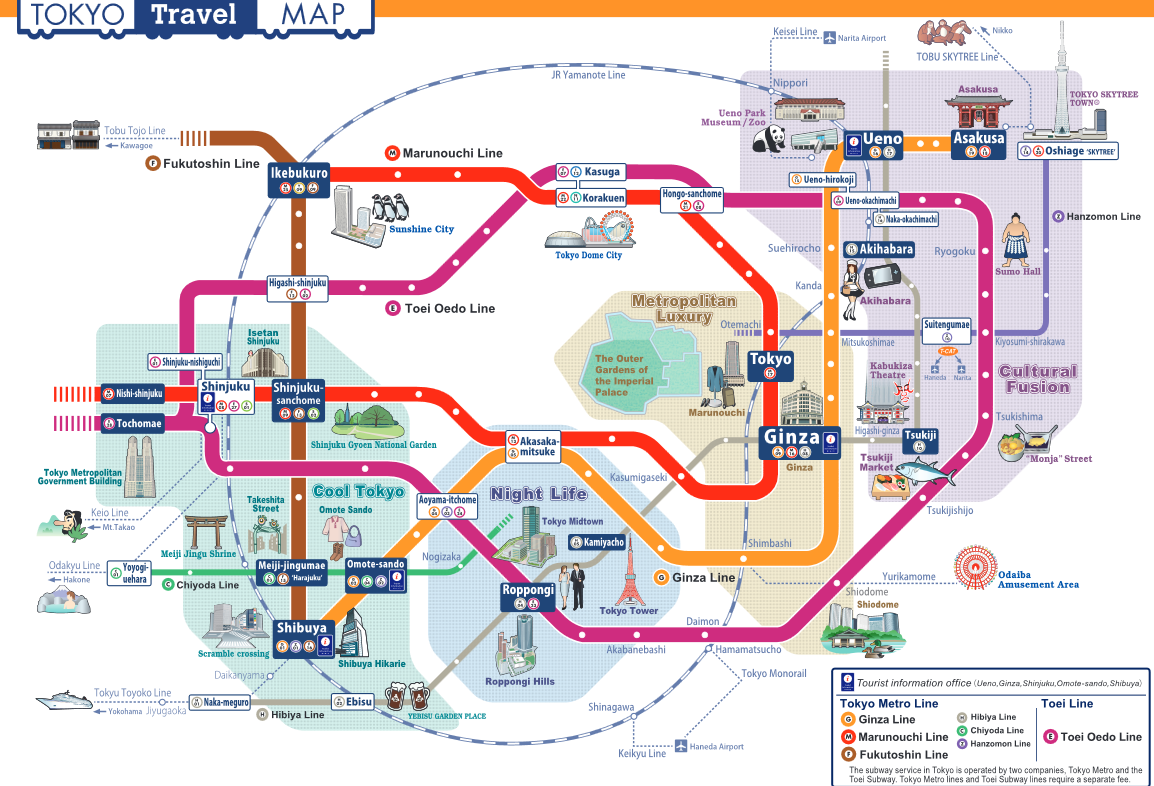 (pc: http://www.tokyometro.jp/en/tips/guide/pdf/tokyo_metro_guide.pdf)
If you are interested in renting a best portable Wi-Fi device (1GB/day or 7GB/day) and a best SIM card (1GB/day) in Japan, make sure to check out our website at  https://www.genkimobile.com/